Delta Apparel, Inc. (NYSEMKT:DLA) reported weak second quarter 2014 results (SEC filing, press release, earnings call). Net sales were $123.5M, down 7% Y/Y and net income reached $2.2M, or $0.27 per diluted share, down 44% Y/Y. For the past nine months of the fiscal 2014, net sales were $338.0M, down 6% Y/Y. DLA posted net loss of $0.2M, or $0.02 per diluted share, compared with net income of $5.6M, or $0.67 per diluted share, in the prior year period. In response to the weak results, the company initiated a broad-based reorganization initiative that included a resignation of its COO in order to slash fixed costs which are dragging the company down as sales fall. Many apparel retailers and small to mid-sized brands have been affected by this weakness. The future outlook remains very uncertain as the current weak market conditions persist across most sales channels and tiers of distribution. As per the company's management: "This pervasive weakness is an unusual condition we have not seen in recent history, and there is no certainty when there will be a reversal of these trends." This uncertainty creates a risk but also an opportunity.
My original long thesis from September 2013 recommended holding a long position in DLA against a short position in a broad Dynamic Retail ETF (NYSEARCA:PMR) which has a large 45% exposure to companies similar to DLA in size as well as being from the apparel industry. The trade worked well for roughly 7 months until mid-April, outperforming the broad retail index by ~10%. But then DLA reported worse-than-expected quarterly results and the stock started underperforming. Following the COO resignation in late July and another weak quarter in early August, and amid broader retail and small-cap sell-off, DLA lost ~30% in total against the pair position.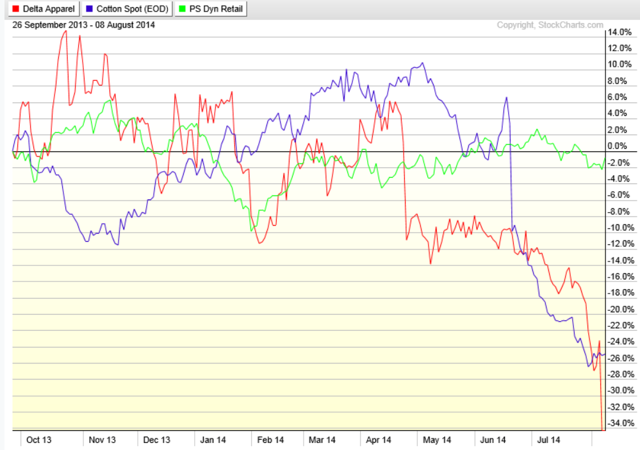 Click to enlarge
This is roughly in line with the sharp ~30% fall in cotton prices in a matter of the several past weeks. The daily chart of cotton spot price covering the period of around one year shows the sharpness, speed and magnitude of the move.

Click to enlarge
Due to the large stock price loss, the current weakness is already priced in. Especially due to the fact that DLA's stock price was very closely correlated with the spot price of cotton, which is a crucial commodity for textile apparel, of course. Therefore, I reiterate my long thesis. DLA should do well as a standalone investment once it downsizes its operations because it trades at a P/S ratio of just $0.18. However, investors should protect the downside, for example using 10% out-of money put options, in case the cyclical apparel industry weakness intensifies, or if cotton prices continue falling. The risk of further fall in cotton prices is large, as China is likely to be a smaller importer of cotton due to its attempts to decrease its large reserves of cotton. As a result, cotton prices are likely to keep falling in the upcoming quarters.
Disclosure: The author has no positions in any stocks mentioned, and no plans to initiate any positions within the next 72 hours. The author wrote this article themselves, and it expresses their own opinions. The author is not receiving compensation for it (other than from Seeking Alpha). The author has no business relationship with any company whose stock is mentioned in this article.
Editor's Note: This article covers one or more stocks trading at less than $1 per share and/or with less than a $100 million market cap. Please be aware of the risks associated with these stocks.