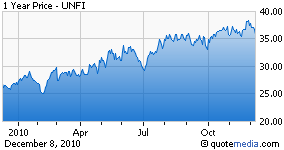 United Natural Foods (NASDAQ:UNFI), a distributor of organic foods and non-food products in the U.S. and Canada, reported today that profits for the first quarter ended Oct. 30 increased by 12% year-over-year to $17.4 million, or $0.39 per diluted share.
Sales were roughly $1 billion, up from $884.8 million.
About 7% of the sales increase was due to United Natural's acquisition of SunOpta's (NASDAQ:STKL) Canadian food distribution assets in June and its October purchase of some of Whole Foods' (WFMI) inventory and distribution assets.
While the company's earnings per share met analyst estimates, sales fell short of the expected $1.04 billion.
Gross margin declined to 18.3% from 18.6% for the first quarter of fiscal 2010 due to unexpected expenses at its new distribution facility in Lancaster, Texas.
For fiscal 2011, the company said that it expects to have revenues in the range of $4.35 billion to $4.45 billion, below analyst expectations of $4.36 billion.
Earnings per share for fiscal 2011 are expected to be in the range of $1.62 to $1.71 per diluted share. Analysts expect the firm to report $1.69 earnings per share for fiscal 2011.
The company's shares dropped 2.3% to trade at $35.95 as of 10:46 am EST.