What to expect from (NASDAQ:LIVE)'s earnings
LiveDeal, Inc. is set to report earnings on August 19th following its nationwide marketing campaign to expand services to 50 cities. It is currently trading at approximately $4.00/share with a market cap of $53.79M, significantly down from its 52/wk. high of $11.94/share earlier in February. This has caused many investors to pull back their enthusiasm, resulting in decreased volume and greater skepticism for holding long term positions. This article will examine LiveDeal's recent financials in an effort to set forth a realistic expectation for this quarter's earnings report.
Financials
Last quarter LiveDeal revealed a significant increase in financing activities through its issuance of additional common stock valued at $9,696,013. This provided their management team with a significant infusion of capital to extend their marketing campaign as well as update their IOS App. Since they are still in their early growth stages, it is realistic to expect a continuing increase in this capital expenditure to meet the demand of its expanding user base. I do anticipate however that this will inevitably lead to a decrease in their overall cash position partnered with a significant increase in their sales and marketing expenses. Given the recent nature of this overall investment, I doubt investors will see very much in the form of an ROI impact this quarter.

Click to enlarge

Click to enlarge
Last quarter, LiveDeal's annual revenues had been on a steady downturn. They issued the following going concern statement claiming, "Because of the infancy of the Company's new lines of business, the Company has yet to generate significant revenue from its online presence marketing or promotional marketing lines of business. Given that the Company has not been accepting new customers for its legacy product offerings since July 2011, and that it did not launch its new product offerings until August 2012, the Company's revenues declined for fiscal 2014 as compared to fiscal 2013 as the Company continued to build a foundation for its new products and services and position the Company for future growth through its LiveDeal.com and Velocity Local™ offerings." They did however see a 22% increase in quarterly revenue based upon the same period in 2013, indicating a more stable revenue growth trend which we should see continue this quarter.

Next, we examine the valuation of LiveDeal. Last quarter's financial results produced approximately $11M in tangible assets, yielding a price/book ratio of 4.11. This puts the tangible value of each share at roughly $1.00 in today's market. Given that is still in its early growth stages this P/B ratio can be expected to continue to remain unchanged as they continue to transfer more capital into growth strategies in an effort to increase their overall user base and revenue stream. This was backed up in a statement from their last 10-Q. "The Company will require additional capital to finance its planned business operations as it continues to build and market its LiveDeal.com and Velocity Local™ offerings and develop other new products. In addition, the Company may require additional capital to finance acquisitions or other strategic investments in its business. Other sources of financing may include stock issuances; additional loans (for example, through our sale and issuance of convertible notes pursuant to the $5 million line of credit that we entered into in January 2014)". This continual plow-back of revenues into marketing/growth strategies is unlikely to produce an increase in dividends in the near future which would offset some of the long term risk for the average investor. For this reason, I don't anticipate any rapid growth in volume until their revenues can at least offset their operational expenses.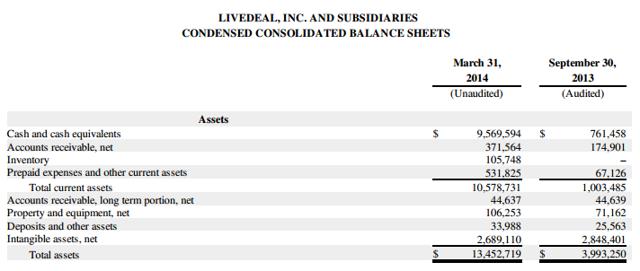 Click to enlarge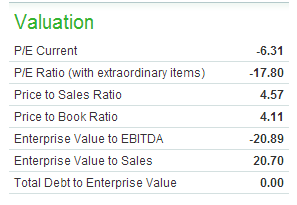 Finally, we take a look at their operational expenses. LiveDeal continues to hemorrhage cash as their operational costs remain greater than their current revenue stream. Last quarter we saw that their six months ending in March 31, 2014, had yielded an operating loss of ($1,396,598). On top of this they had additional adjustments for stock based compensation expenses, depreciation, and interest expenses totaling an additional $431,068. Since the majority of these expenses are associated with general and administrative expenses rather than sales and marketing growth expenditure, it is unlikely this will be decreasing anytime soon. In addition, one can expect to see the continuation of the interest expense based upon the availability of their $5,000,000 line of credit opened in January of 2014.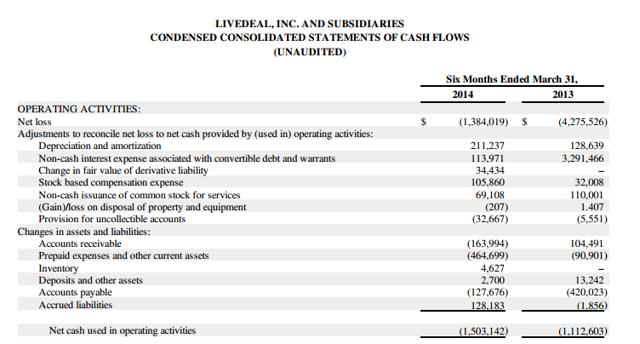 Click to enlarge
Taking all these factors into consideration, I expect to see moderate increases in revenue based upon their recent market expansion attempts. In addition, I expect that their cost of sales will have increased significantly offsetting their previous cash position and negatively impact their tangible book value for the time being. Therefore, without the immediate ROI impact of these recent expenditures, I expect we will continue to see an adverse effect on their overall operational loss which will in turn lead to an EPS this quarter of roughly (-$.09). For this reason, I rate this stock as a hold for the time being.
Disclosure: The author has no positions in any stocks mentioned, and no plans to initiate any positions within the next 72 hours. The author wrote this article themselves, and it expresses their own opinions. The author is not receiving compensation for it (other than from Seeking Alpha). The author has no business relationship with any company whose stock is mentioned in this article.
Editor's Note: This article covers one or more stocks trading at less than $1 per share and/or with less than a $100 million market cap. Please be aware of the risks associated with these stocks.