To further show how I either open positions or add to positions for my own retirement portfolio, I will use the Buy The Dips Portfolio, or BTDP, as my guide to show how there are currently some stocks within this portfolio, at or near my target price, to consider buying right now.
The last few weeks have led some folks to feel as though the markets are in a correction phase. While I see mixed signals, I do see a nice assortment of stocks within the BTDP that will enable you to increase your income without paying the highest price for the stock.
The idea is not to time the market, or to use rather complicated technical analysis to determine when to actually buy stock. The mid-point between the 52 week high and low prices of each stock, for blue chip, mega cap, dividend winning stocks only, offers even the novice investor an opportunity to feel more confident in their purchases.
It has made it much easier for me, and takes plenty of "red tape" away from my decision making process. It just might do the same for you.
Buy The Dips Portfolio Has Been Designed For Active Managers
The BTDP portfolio consists of AT&T (NYSE:T), Exxon Mobil (NYSE:XOM), Johnson & Johnson (NYSE:JNJ), Coca-Cola (NYSE:KO), Procter & Gamble (NYSE:PG), Altria (NYSE:MO), McDonald's (NYSE:MCD), Chevron (NYSE:CVX), Apple (NASDAQ:AAPL), General Electric (NYSE:GE), Ford (NYSE:F), Microsoft (NASDAQ:MSFT), Wal-Mart (NYSE:WMT), Pfizer (NYSE:PFE), Annaly Capital (NYSE:NLY), American Capital (NASDAQ:AGNC), and BGC Partners (NASDAQ:BGCP).
While not every investor will have enough dry powder to buy all the stocks that seem reasonably priced to buy right now, those who have been preparing to make purchases can look at the following chart to see which stocks are at, or close to, the target price: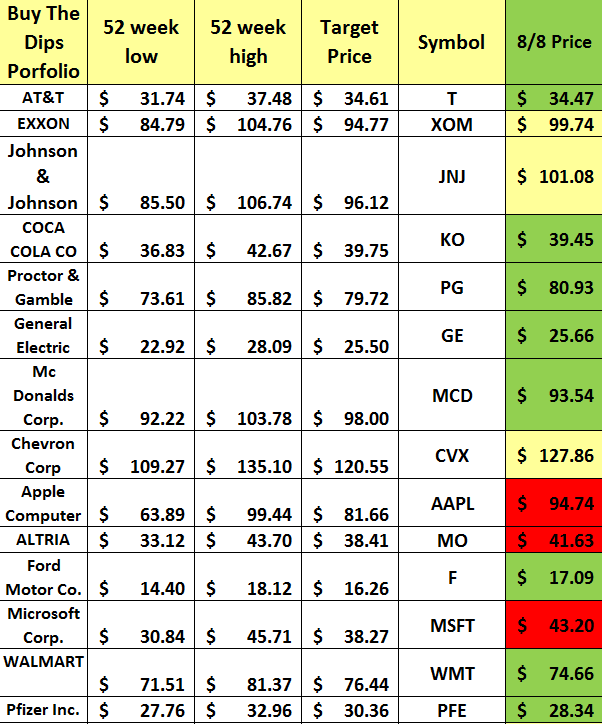 To make it easy for you to see which stocks are within my own buying range, I have color coded the current prices.
Green: I like the price right now.
Yellow: I would keep an eye on the stock to dip further.
Red: I would stick with what I have.
I have also left the dividend opportunity stocks out of the chart, because those have more risks involved that come with their higher yield. I have found this simple strategy is used best only with well known, mega cap, blue chip, dividend winning stocks.
I do not use this approach with momentum stocks, or overvalued growth stocks, that tend to fluctuate much more than these core value stocks.
Historically, each of these stocks have always moved higher over the long term. Yes, the share prices have been lower at various times, but the idea is to put money to work, knowing that you will not be paying the highest price in the last 52 weeks, at least. You might not be paying the lowest amount, but your dollars will begin earning income, which for the purposes of a more secure retirement, is what this is all about.
The Stocks I Believe That Are Priced Fairly Right Now
If you are ready to open a new portfolio, or add to an existing one that already has these stocks, the ones I like right now are; T, KO, PG, GE, MCD, F, WMT, and PFE.
Here are some charts with some basic fundamentals as of Friday: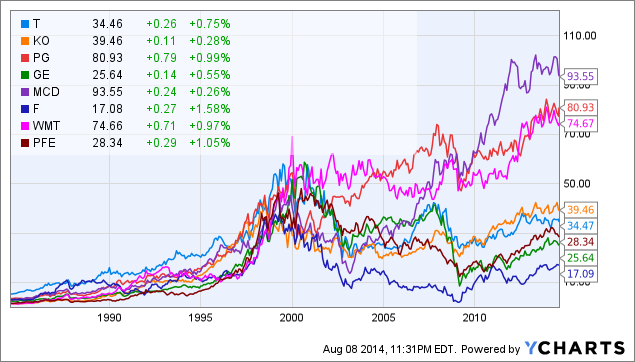 This shows a 30 year historical share price range. The long-term trend is always up, with opportunities to buy at cheap prices from time to time.
This one shows current PE ratios, from 2007. As you can see, the ratios are not overly high or low, but within historical ranges.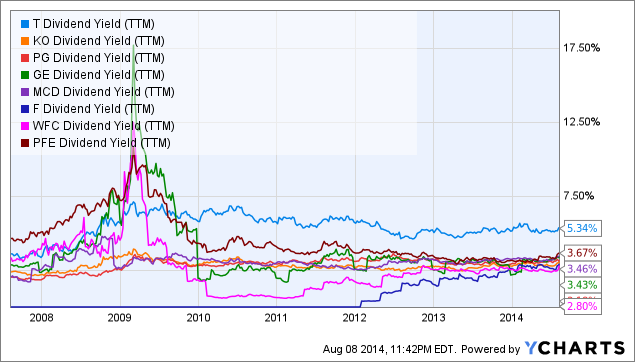 This chart shows the current yield based on Friday's closing price and all of these dividend winners offer attractive returns for investors who want the reliability of the mega cap blue chip dividend paying stocks to offset many of the risks associated with investing.
The Bottom Line
Some brand names seem to be somewhat inexpensive right now, even though the sky has not fallen. If you have some money to put to work, to create a larger income stream, right now could be a very good time to pick up some bargains.
Obviously nothing is ever risk free, but I myself have found this to be a simple and effective way to at least know when the time is right for me.
Can you wait to get these even cheaper? Maybe, but what will your money be doing for you in the meantime?
Disclosure: The author is long AAPL, BGCP, CVX, F, GE, JNJ, KO, MCD, MO, MSFT, NLY, T, XOM. The author wrote this article themselves, and it expresses their own opinions. The author is not receiving compensation for it (other than from Seeking Alpha). The author has no business relationship with any company whose stock is mentioned in this article.