To complement Pershing Square's presentation on the state of the mortgage market, Freddie Mac (OTCQB:FMCC) includes in its quarterly results a review of the housing market that is always very interesting. It starts on page 12.
Regarding Freddie Mac, the situation seems to be stabilizing with almost no draws in the last quarter (only $100 million in Q3), which is particularly good considering the 10% interest of the government senior preferreds. Not only that, but Freddie Mac's single family delinquencies peaked in February in 2010 at 4.2% and improved six quarters in a row.
The FHFA also released projections that show a future where Freddie Mac might be profitable. It is most positive when compared to Fannie Mae (OTCQB:FNMA), for example. The FHFA also reduced its estimated total cost of the GSEs bailout -- between $221 billion and $363 billion is the latest tally -- slowly recognizing that it was a completely made up number at the beginning, which still raises doubts on its recent count.
(Click to enlarge)
At the same time, the Obama administration is pressuring the GSEs, through the FHFA, to participate in a program that allows banks and other creditors to write down mortgages and hand off the reduced loans to the FHA. The objective is to find a way to deal with the loans that are severely underwater: almost 1 out of every 10 mortgages is more than 25% underwater. This looks like part of the arm twisting of the banks to participate. The issue is that the GSEs would relinquish their options of collecting from mortgage insurers or put back loans to banks when a loan defaults.
This news might explain the strong performance of the mortgage insurers today.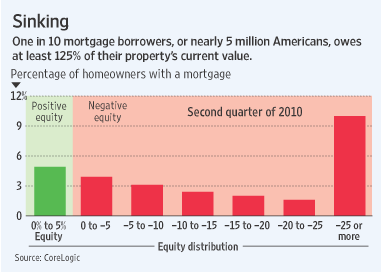 (Click to enlarge)
Disclosure: Author long FRE preferreds