Lime Energy - A Potential Overextended Play
Lime Energy (NASDAQ:LIME) has climbed 160% upon news of its new utility program business, creating a potential short opportunity with significant downside potential. Underlying problems with the company's operating cash flow still represents a cause for concern for investors and this recent spike represents the ideal profit-taking opportunity for long term shareholders.
Lime has suddenly sprung to life in the wake of this new utility deal. The deal came in the form of modified and new arrangements with four utilities with the recognition that the projected revenue will be over 5 years. Lime is currently up over 160% today on news of new utilities deal valued at $180 million. The deal would mean that revenue would be recognized over a period of five years, amounting to a $36 million inflow in revenue on average each year. For a company with a market cap of approximately $8 million before today, this is great news. The problem is Lime's poor profit margin and a few statements that have raised some degree of concern.
The utility business deal included the following:
The awards reflect modified and new agreements with four separate utilities that provide, in different cases, for contract extensions, modifications to program budgets, and territory expansions, including, in one case, the addition of a program budget to facilitate LED measure adoption.
This statement suggests that not all of the $180 million awarded by the deal would represent new sources revenue coming into the company. The deal would represent annual average inflows of 36 million over the five year period. While the revenue appears to be substantial for a company the size of LIME, the figures appear less substantial when combined with LIME's modest profit margins which stood at 26.8% of the end of 2013.
If we hold the profit margins and operating expenses for 2013 to be constant, the 36 million dollar inflow would represent 9.64 million in additional profit for each of the five years. Assuming that the revenue was a pure increase and not somewhat offset by being partially derived from previous arrangements, the revenue would only marginally eclipse the $9.13 million in operating loss in 2013. With this, the question mark over Lime's ability to turn an operating profit remains. The main issue here continues to be the profit margins and not the revenue. While the revenue does seem big on paper, further research into the company's situation, and the deal itself gives an underwhelming feeling. The truth is LIME always had very impressive revenues for a company with its market cap.
LIME's History of Impressive Revenues
 

Year Ended Dec. 31,

 

2013

2012

2011

Revenue

$ 51,585

$ 35,447

$ 41,928

 
 
 
 

Cost of Sales

$ 37,758

$ 28,109

$ 35,221

 
 
 
 

Operating Profit

$ (9,136)

$ (15,625)

$ (9,377)
Source: Yahoo finance.
Reasonable Downside Potential
LIME closed today at $5.57 per-share per-share up from a previous close of $2.12 per-share. It is likely that the stock will return at least 50% of this gain in the short to medium term. The chart below illustrates the parabolic uptrend, which is unlikely to be sustained in the short to medium term.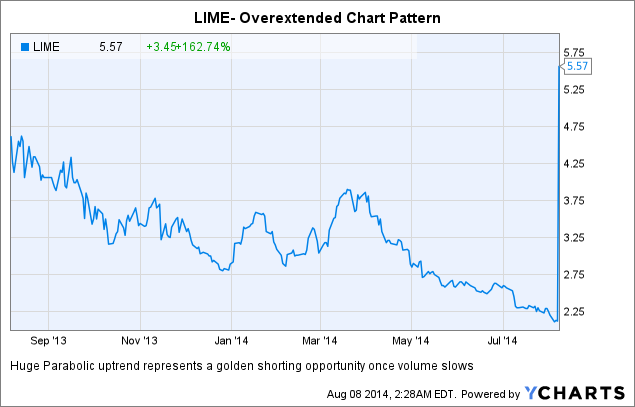 LIME data by YCharts
The chart is strongly bullish, but growth will decrease in the coming days without additional positive news. It would appear the market has already overreacted to the deal, but there is always room for further increases. It can never be recommended to chase a stock that is up 160% in 24 hours, but in the same breath the stock may create a better entry point as the chart implies a bullish trend.
Risk of Continued Upside
The deal represents a very good moment for Lime Energy. The stock does deserve to go higher than the recent $2.12 price. While 160% is a bit optimistic, there is further room for upside as the breakout is still in its early stages. Higher prices will come as long as this unusually high volume remains with the stock. While I wouldn't chase the upside at this stage as the initial breakout has already passed, I would be cautious about shorting early. With a low float of 3.7 million shares outstanding, there is a heightened risk of short squeezes, encouraging momentum buyers to continue going long. It is very possible to see this stock pushed up further significantly before the ideal short opportunity presents itself.
In closing, I would definitely watch this stock for slowing volume or for break downs in sideways price action before I open a short position. Overextended plays such as this are often a matter of waiting until there is a confirmed breakdown, rather than trying to 'call a top'. The heightened risk for short squeezes here must be considered in any trading strategy. Happy Trading.
Disclosure: The author has no positions in any stocks mentioned, but may initiate a short position in LIME over the next 72 hours. The author wrote this article themselves, and it expresses their own opinions. The author is not receiving compensation for it (other than from Seeking Alpha). The author has no business relationship with any company whose stock is mentioned in this article.
Editor's Note: This article covers one or more stocks trading at less than $1 per share and/or with less than a $100 million market cap. Please be aware of the risks associated with these stocks.