There is a multitude of ways to make money in the investing field. The types of investments that hold particular appeal to me are those that offer above average gains while taking below average risk. By emphasizing the lower risk plays, the potential loss is far less when an investment thesis fails to play out. One of my favorite plays is companies with stable cash flows that embark on an aggressive capital return policy. The return of capital typically in the form of share reduction schemes, lower the total amount of shares outstanding. If executed properly, the long-term shareholder should see an above average gain on their holding. I believe CBS Corp (NYSE:CBS) is now embarking on such a path which should lead to much higher share price over the course of the next two years. In the article below, I will update my original bullish thesis on CBS.
CBS is undergoing a transformation into a more balanced enterprise. The company is looking to generate a 50/50 revenue split between advertising and non-advertising revenue. The larger dependence on advertising revenue introduced a rather cyclical component in CBS revenue structure. As we can see from the chart below, CBS revenue growth has been a tad erratic. CBS has taken decisive steps in addressing this issue, most notably in a recently completed tax-free exchange of the remaining portion of CBS Outdoors (CBSO). The following quote from CBS neatly sums up the exchange offer.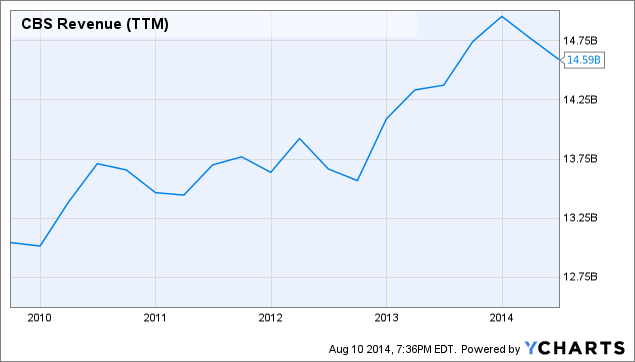 CBS Revenue (NYSE:TTM) data by YCharts
The exchange offer expired at 12:00 midnight, New York City time, on July 9, 2014. Under the terms of the offer, 2.1689 shares of CBS Outdoor common stock will be exchanged for each share of CBS Class B common stock accepted in the offer. CBS accepted 44,723,131 of the tendered shares in exchange for 97 million shares of CBS Outdoor common stock owned by CBS.
The exchange of CBSO for CBS shares reduced some of CBS dependence on advertising for its revenue. CBSO recently converting into a REIT, with a very low growth rate. CBS received an additional boost with Nielsen's ratings service adopting a C7 method in measuring a particular show's audience. Nielsen's will now measure viewer engagement for 7 days after a show broadcast to determine how many are actually viewing a particular program. In my view, this will offer a more realistic view of a particular show's strength as I have no doubt many will watch at some time other than during a live broadcast. The following quote from Les Moonves, CEO of CBS neatly sums up the impact of the shift towards C7.
Many people look at a show like our drama, Elementary, and only see a live plus same-day audience of 9 million viewers on CBS. We look at Elementary and see a big audience that grows to nearly 14 million, when you add in 7-day viewing on DVR, VOD and online viewing, plus a healthy demo boost as well.

The audience across all these platforms has built an important program asset for our company that led to huge syndication deals with Hulu and WGN. There are many more examples.

This summer, Under the Dome averages about 8 million viewers on the day of air. But after 7 days, that number increases to 13 million. And Extant goes from 9 million viewers to 12 million. And that's just domestic TV viewing. It does not include the significant viewers we get from streaming on Amazon and cbs.com.
I would like to draw your attention to the number of shares CBS retired by exchanging them for CBSO. The exchange coupled with CBS' previously announced $5 billion share repurchase plan indicate management's aggressive stance towards rewarding shareholders. The following quote taken from the recent earnings report can be attributed to Joseph R. Ianniello - Principal Financial Officer and Chief Operating Officer. The quote neatly sums up CBS repurchase activities.
Just to give you an indication of how the separation of Outdoor and our transformation overall are leading to higher shareholder returns, we spent $2.4 billion to retire 38.5 million shares of our stock in the first 6 months of 2014. Then in July, we retired an additional 44.7 million shares through our Outdoor exchange offer.

So in the last 7 months, we have retired more than 83 million shares of our stock, which is approximately 15% of our total shares outstanding.
Weighted average number of common shares outstanding:

Three Months ended June 30, 2014

Three Months ended June 30, 2013

Six Months ended June 30, 2014

Six Months ended June 30, 2013

Basic

570

609

578

615

Diluted

581

624

590

631

Dividends per common share

$

.12

$

.12

$

.24

$

.24
Source CBS press release.
As the chart above clearly demonstrates, management has been very aggressive in reducing the overall share count. What can we as investors reasonably expect from management going forward. The announcement of an additional 5 billion to the share reduction plan sends a strong signal that management plans on staying the course. The company currently has $1 billion remaining on its share reduction authorization; the additional $5 billion will be added to the current authorization. At a current market cap of roughly $34 billion, the share reduction plan would eliminate an additional 17.5% of all shares outstanding. The reduction will certainly aid CBS in growing its earnings per share.
Management took additional steps to reward shareholders with a 25% boost in the quarterly dividend. The dividend was raised to 15 cents from 12 cents. CBS' current yield is roughly 1% which won't excite most investors. CBS' payout ratio is less than 20% leaving ample room for future dividend increases. Management will skew a larger portion of its excess capital towards reducing the share count, however, that shouldn't dissuade investors. The combination of share reductions and rising dividends should provide superior total returns.
In summary, CBS, in my view, offers a very attractive total return. The shift in ratings measurement should allow CBS to charge higher advertising rates which will help grow revenues. The share reduction plan will aggressively reduce the shares outstanding which should lead to a much higher share price. I am long the shares and plan on holding the shares for quite a while to allow ample time for the story to play out. I would like to thank you for reading and I look forward to your comments.
Disclosure: The author is long CBS. The author wrote this article themselves, and it expresses their own opinions. The author is not receiving compensation for it (other than from Seeking Alpha). The author has no business relationship with any company whose stock is mentioned in this article.
Additional disclosure: Investors are always reminded that before making any investment, you should do your own proper due diligence on any name directly or indirectly mentioned in this article. Investors should also consider seeking advice from a broker or financial adviser before making any investment decisions. Any material in this article should be considered general information, and not relied on as a formal investment recommendation.