It's been a while since I wrote on Kimco Realty (NYSE:KIM), the New York-based REIT and the nation's largest landlord of shopping centers. If you recall, I wrote an article on Kimco with the title, "Nobody Does It Better" (over two years ago) and while I have always admired the company for its early success for being the first REIT to go public in the "modern REIT era," my primary attraction to the company has been the culture of the organization founded on the integrity of a handshake.
Indeed the two founders (Milton Cooper and Marty Kimel) created a unique company over 50 years ago based on integrity and that legacy continues today as the foundation of the business model. I have been fortunate to interview both Milton Cooper (the current chairman) and Dave Henry (the current CEO) on multiple occasions and the outstanding leadership at Kimco is clearly reflected in the dialogue with these senior REIT executives - both demonstrating powerful alignment of interests.
Beyond the desire to have vetted and trusted management working for me, I'm also interested to own a security that assures uniquely-positioned value - or a promising model of differentiation that can sustain through time. As a value investor, I'm consistently seeking securities that offer a distinct competitive advantage in the marketplace where I'm able to invest in the best companies - blue chip stocks - that I can buy with a margin of safety.
In a previous article (two years ago) I explained that Kimco reminded me of the Roger Moore classic, "The Spy Who Loved Me," not so much that Milton Cooper was a spy trying to defend the world, but because Kimco offers an extremely attractive business model of value creation. That's the basis of my article today as explained (or performed) by Carly Simon:
Nobody does it better

Makes me feel sad for the rest

Nobody does it half as good as you

Baby, you're the best
Kimco - How'd You Learn To Do The Things You Do?
As James Bond and Agent Amasova developed a special attraction to each other, there was "some kind of magic inside" and similarly, in investing there is a unique feeling when you discover a REIT that makes me wonder, "How'd you learn to do the things you do?"
Kimco is the owner and operator of the largest publicly traded portfolio of neighborhood and community shopping centers in North America. The company was founded in 1958 and listed shares in 1991. In 2006 Kimco was added to the S&P 500 Index.
Kimco's well-balanced portfolio consists of 840 properties totaling 121 million square feet. The footprint extends to 41 states, Puerto Rico, and Canada. Kimco owns 741 properties in the US (103 million square feet), 29 properties in Mexico (4.4 million square feet), and 67 properties in Canada (12.7 million square feet).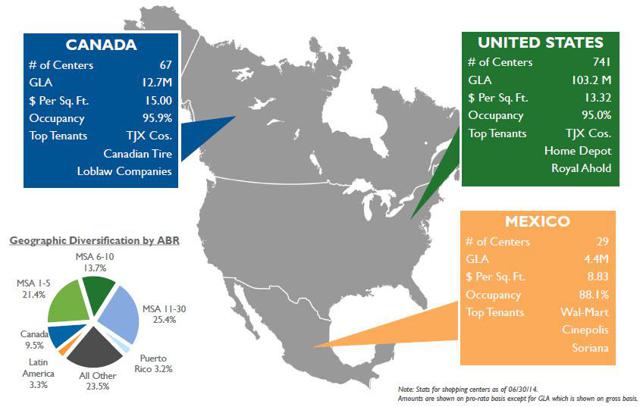 Kimco has a very diverse revenue model with over 13,000 leases and 6,500 tenants. No one tenant accounts for more than 3.3% of income. The largest tenants include TJ Maxx (NYSE:TJX), The Home Depot (NYSE:HD), Wal-Mart (NYSE:WMT), and Ahold. 8 of Kimco's top 10 tenants are investment grade rated.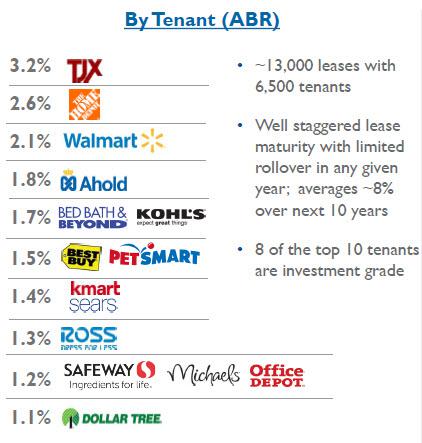 Kimco also enjoys a well-balanced geographic footprint with the states with the largest concentration including California (13.4%), Florida (8.4%), New York (8.1%), and Texas (5.1%). The Canadian portfolio represents around 9.5% of ABR.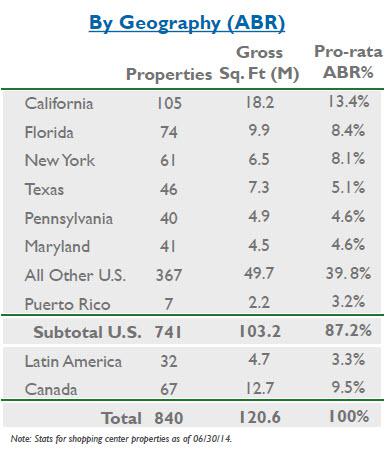 In the US, Kimco has maintained a focused strategy of owning high-quality assets with above average median household income. The following may illustrate Kimco's key markets where median household income is 11% higher than the US average.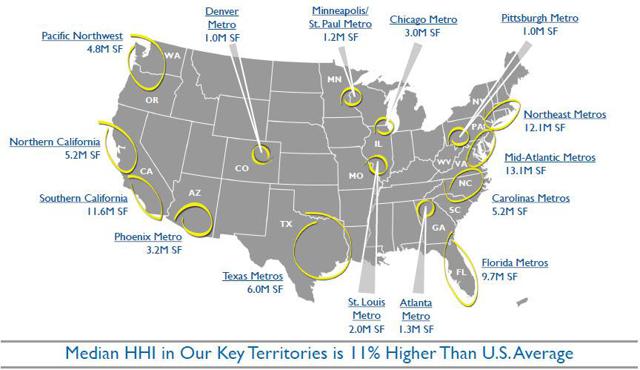 Kimco has continued to focus its investment strategies on markets with strong population, income and growth prospects. Accordingly, in these markets Kimco has scale, a physical presence, and established long-standing retail tenant relationships. Here is a snapshot of Kimco's current US footprint including portfolio pruning (disposition) candidates: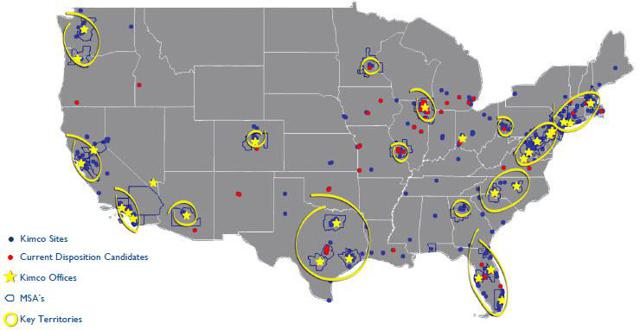 Here's a snapshot illustrating how Kimco intends to dispose of around 180 "Tier II" properties. Currently the "Tier I" assets represent around 73% of Kimco's portfolio and Kimco has said that it plans to sell the Tier II properties over the next 1 to 3 years: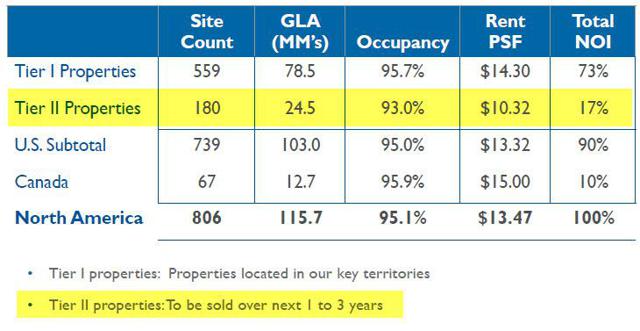 As illustrated below, the Tier I properties enjoy much more favorable demographics: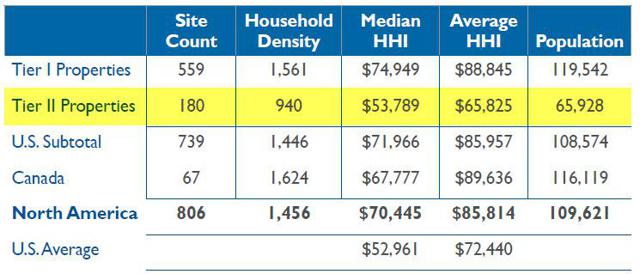 Upon selling off the Tier II properties, Kimco will enjoy a more focused model. Here's a snapshot of the longer term portfolio footprint (Tier I):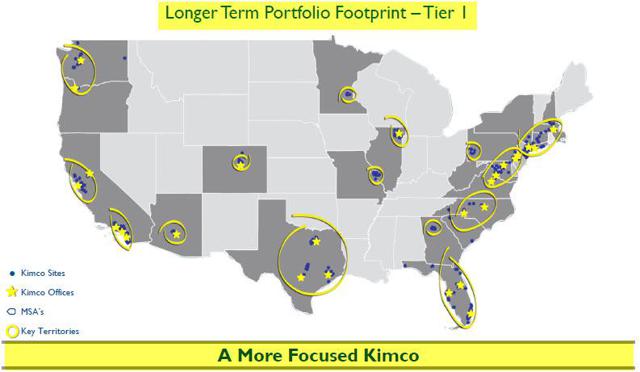 Since September 2010, Kimco has acquired 133 properties and disposed of 180 properties. The results of the strategically-focused initiatives include increased average rent, improved occupancy, and stronger markets (demographics).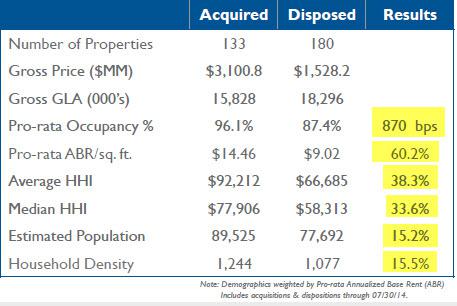 The net results of Kimco's transformation has yielded improved occupancy (up 270 bps) and higher rents (pro-rata ABR/sq. ft. up 14.6%).

Here are some examples: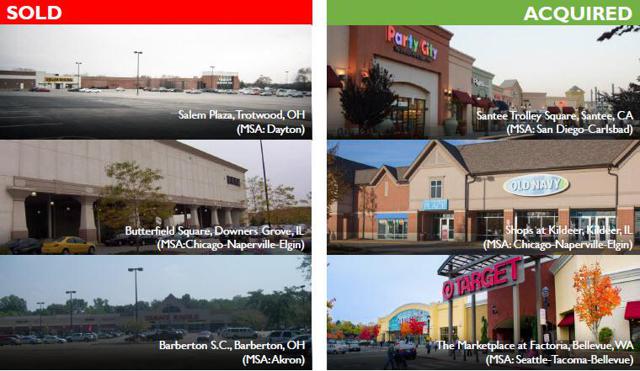 Here are more examples: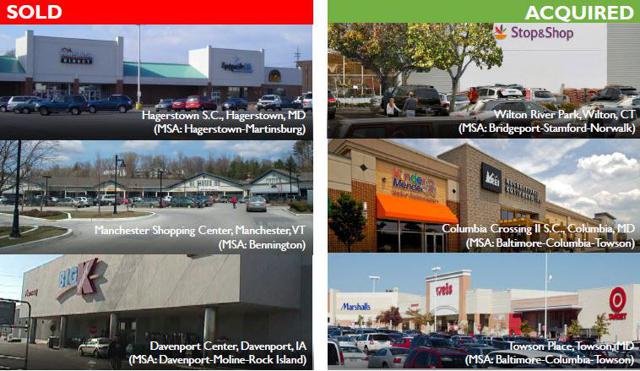 More Simplification for Kimco
In addition to fine-tuning Kimco's US portfolio, the company has also opted to monetize its Latin America assets. According to Kimco, the lack of scale and operating inefficiencies in South America has resulted in less desirable risk adjusted returns. In addition, in Mexico net inflows made it timely for Kimco to exit the market.
In 2013, Kimco sold 112 properties in Latin America for a gross purchase price of $1.1 billion (Kimco's share of proceeds was $360.3 million) and in the first quarter (2014) Kimco sold 9 properties for a gross price of $222 million. In the second quarter, Kimco sold 4 retail properties for a gross price of $82.1 million. Kimco has another 29 shopping centers remaining in Mexico (4 under contract and the balance under active negotiations to be sold). Three properties are remaining in South America and should be monetized in 2014.
Kimco has also reduced its number of JV partnerships - further simplifying the story. The company has reduced its JV exposure from 551 properties to 377 (as of Q2-14). Most of the JV properties were purchased by Kimco as the benefits include shorter due diligence time, certainty to close, debt assumed, no brokerage fees, and knowledge of the assets.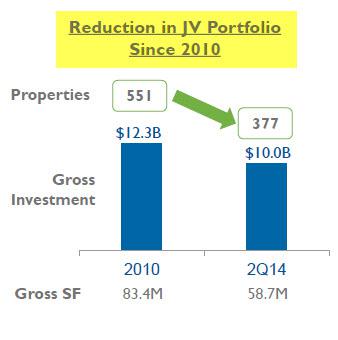 What Makes Kimco Uniquely Positioned?
As noted above, Kimco is the largest shopping center REIT in the US and the scale of the business offers this REIT a strong competitive advantage.

Kimco has a market capitalization of around $9.162 billion:

While retail supply remains historically low, consumer confidence has trended higher. Here's a snapshot illustrating strip center supply growth: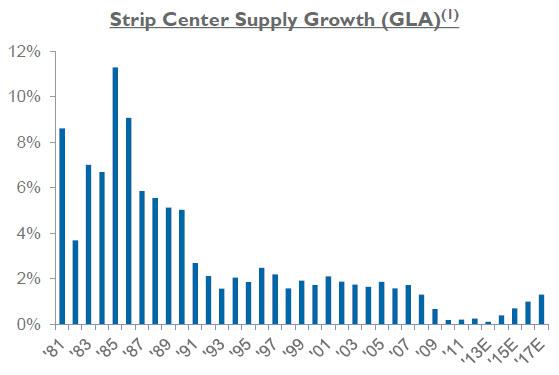 As the nation's largest landlord, Kimco should continue to benefit from the 77,000 store openings scheduled over the next two years. Here's a snapshot of retailer planned store openings (on a yearly basis):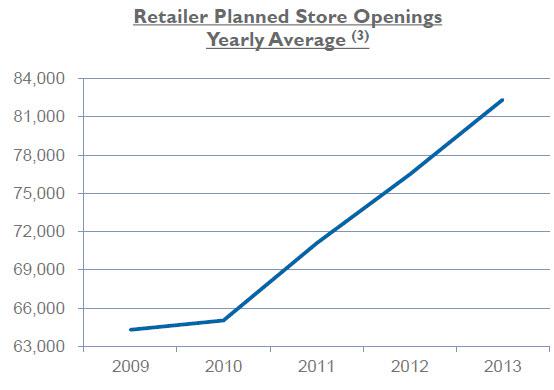 One way that Kimco will benefit (from the supply and demand fundamentals) and increase portfolio value is with redevelopment. By leveraging its tenant relationships, Kimco has the ability to revitalize its centers and improve the stability of the recurring NOI. Kimco targets redevelopment yields of 8% to 16%.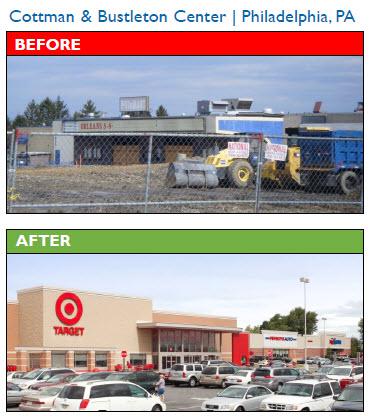 Kimco also owns a large number of ground leases (15% of GLA) and vintage leases (17% of GLA). The company's ground lease rates average $9.89 per square foot and the vintage leases average around $10.71 per square foot. While this may not appear to be meaningful, it's important to recognize the impact of the ground leases and vintage leases - and the impact ($1.46 per square foot) on the overall ABR.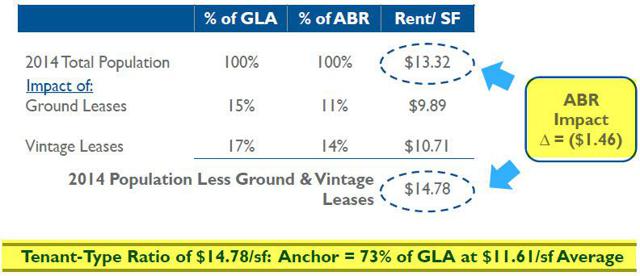 With anchors representing 78% of Kimco's GLA, the snapshot below illustrated the enormous potential for Kimco to add value with its small shop lease portfolio - representing 22% of GLA.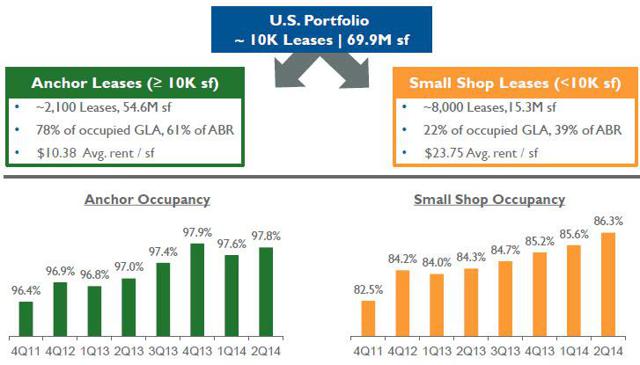 Kimco is targeting that its shop space portfolio will hit 90% by 2016 (it's 86.3% now) and the company's below market anchor leases should further drive organic value creation.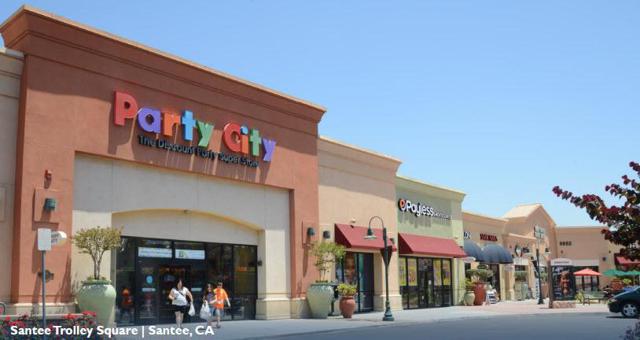 Kimco's current pipeline of development consists of $919 million - that includes redevelopment ($832 million), value creation ($54 million), and pads ($33 million).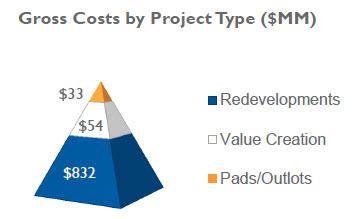 Here's a snapshot of costs by estimated year of completion:

Kimco - An Income "Plus" Business Model
As part of the evolution of Kimco's circle of competence, the continued focus on opportunistic retail partnerships provides Kimco with strong value creation. Kimco, with decades of retail property experience and financial acumen, has "partnered" with numerous retailers to unlock value via sale/leasebacks, bankruptcy transactions, repositioning underperforming stores, and finance.

As an example, Kimco was instrumental in turning around Albertsons, an investment that allowed the company to enjoy a 13.6% stake in 190 store locations.

More recently Kimco partnered with other investors in a two-step transaction to acquire Supervalu (NYSE:SVU):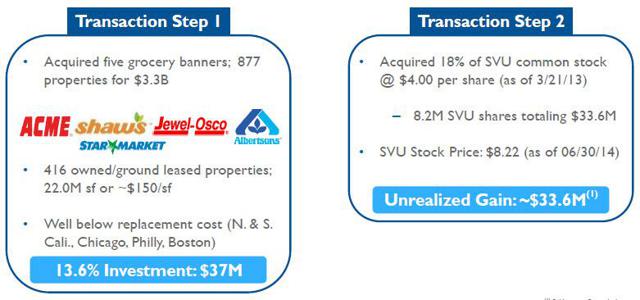 (The pending merger of Albertsons and Safeway remains under FTC review. The Safeway shareholders voted overwhelmingly to approve the transaction on July 25).
Kimco's Blue Chip Balance Sheet
Kimco's balance sheet metrics and liquidity position are in excellent shape. In the second quarter, Kimco issued a $500 million 7-year bond at a coupon of 3.2%, using the proceeds to repay higher coupon maturing mortgage debt and unsecured bonds.
Kimco ended the quarter with net debt to recurring EBITDA of 5.8x, within the target range of 5.5x to 6x, and fixed charge coverage of 3x. Kimco has over $1.4 billion of immediate liquidity available through cash on hand and our revolving credit facility ($1.75 billion available from new unsecured line of credit that matures March 2019).
Kimco maintains strong investment grade ratings with S&P (BBB+), Moody's (Baa1), and Fitch (BBB+). Here's a snapshot of the company's capital structure: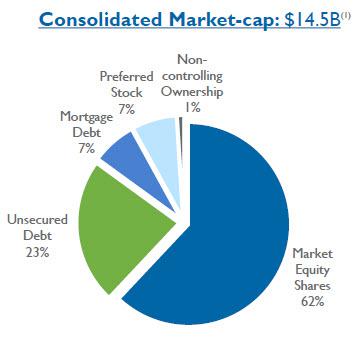 Kimco has raised in excess of $600 million in 2014 and here's a snapshot of the improved debt metrics: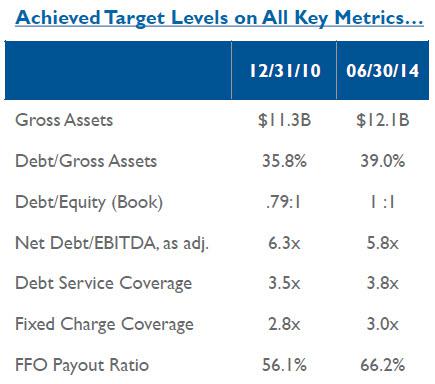 Here's a snapshot of Kimco's well-staggered debt maturity schedule:

Here's a snapshot of Kimco's debt to total capitalization compared with the peer group:

Kimco has the second lowest secured debt ratio in the peer group:

Kimco's Latest Results
Kimco has drastically simplified its business model and the results of the transformation include:
Consistently growing recurring retail earnings; grew 4% in 2013
Recurring retail earnings have an over 5% CAGR from 2010 to 2013
Seventeen consecutive quarters of positive same-site NOI
Q2-14 gross occupancy of 94.9%, an increase of 100 bps over Q2-13
541 new leases, renewals and options totaling 2.1 million square feet executed in Q2-14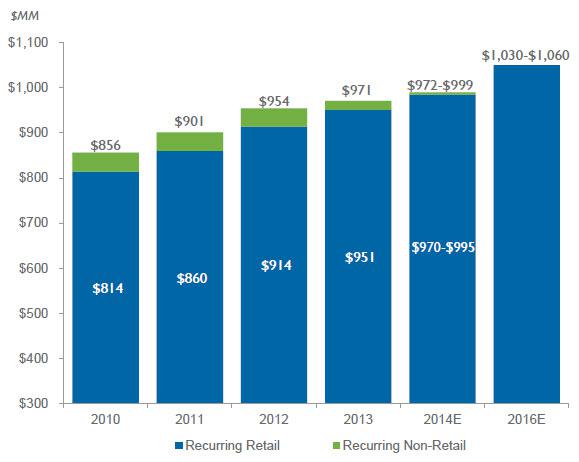 By the end of 2014 Kimco's retail contribution (to earnings) is expected to be 100%. As a result of the transformative initiatives, Kimco has delivered consistent and predictable results in recent years: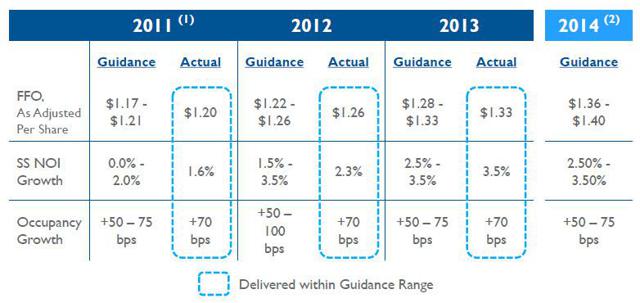 Here's a snapshot of occupancy: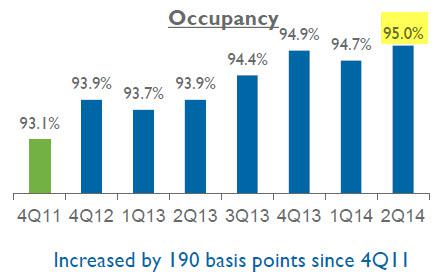 Here's a snapshot of rent per square foot: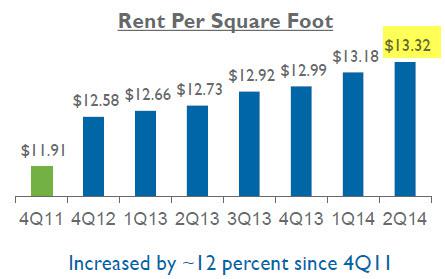 Here's a snapshot of same space leasing spreads - 14 consecutive quarters: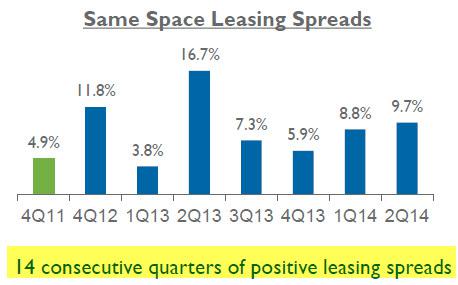 Here's a snapshot of same property NOI - 17 consecutive quarters: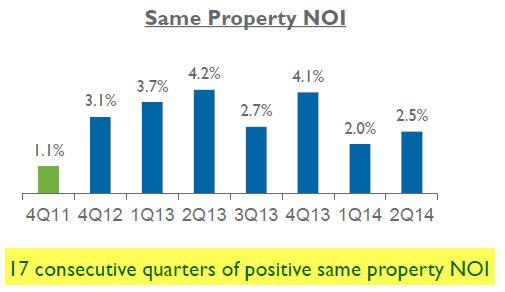 On the latest earnings call, Kimco reaffirmed its 2014 guidance range of FFO as adjusted per share of $1.36 to $1.40, with a bias towards the midpoint of $1.38. FFO as adjusted per share was $0.35 for the second quarter, up from $0.34 last quarter and $0.35 a year ago. For the 6 months ended, FFO as adjusted per share was $0.69 as compared to $0.67 last year, a 3% increase.
Year-to-date, Kimco acquired 26 new properties for a gross price of $393 million, and the remaining interest in 25 properties from its joint venture partners valued at $777 million.
Kimco's acquisition target range for the year is $1.1 billion to $1.2 billion, which has been substantially completed. And the disposition target range, including Mexico and South America sales, is $1.1 billion to $1.3 billion.
Here's a snapshot of Kimco's FFO guidance: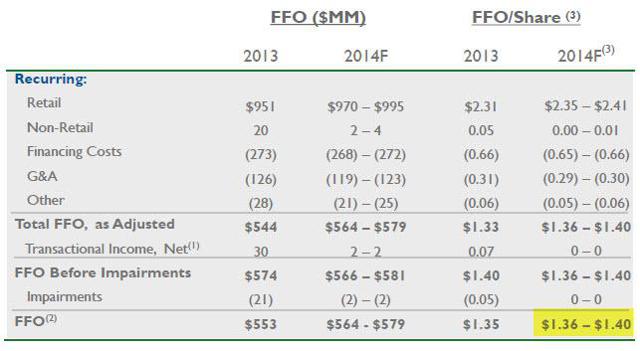 No Share Price Appreciation for Kimco's Simplification
After researching Kimco in detail, I decided to make an initial investment in the company on January 3rd (2014) with shares trading at $19.06.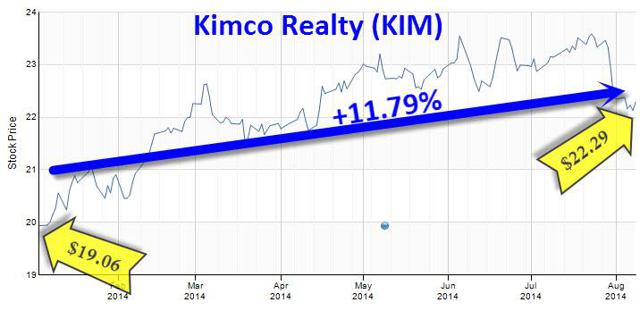 Considering Kimco's more recent history (and dividend cut in 2010), I was cautious with my entry point with Kimco and I felt like I found an adequate "margin of safety" in January. I understood the reasons that Kimco was forced to cut its dividend during the Great Recession, but admittedly, I was looking to score a 30% total return within 12 months.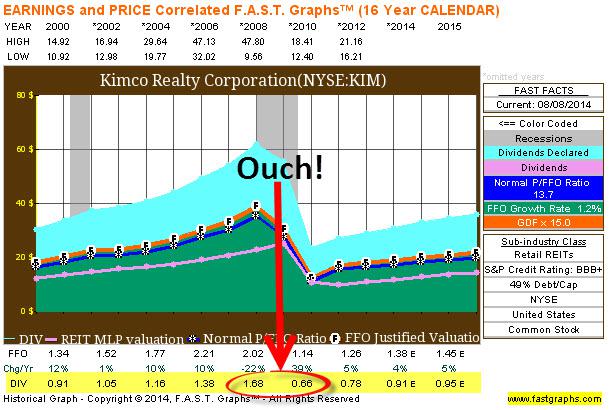 Since the Great Recession ended, I was paying close attention to Kimco's transformation and its simplification strategies. As evidenced by the snapshot below, Kimco has achieved consistent earnings results by focusing on its necessity-based tenant base.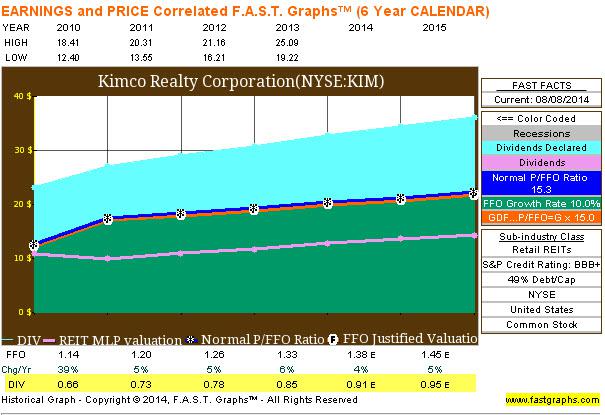 Given the exceptional risk control demonstrated of late, I was hoping that Kimco would have outperformed the peer group (and my REIT portfolio): however, the company has maintained a "fair value" range without moving ahead of the pack.

Kimco is known for being the largest but perhaps the market has not provided the same value as it relates to the company's fortress balance sheet and judicious capital management practices. Also, as referenced in this article, Kimco has "untapped" value as it relates to its ground leased and vintage leased assets. Although Kimco's current dividend is 4.04%, I find the yield opportunistic given the "untapped" value offered in the form of the current share price.

Perhaps due to the lessons learned during the Great Recession, Kimco has maintained a safe FFO payout ratio: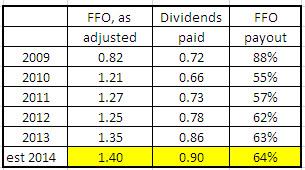 Before I provide you with my BUY recommendation, let me tell you what Milton Cooper, co-founder and Chairman, had to say on Kimco's recent earnings call:
From time to time over the years I have trumpeted the fact that, as compared to other real estate assets, one of the unique attributes of neighborhood community shopping centers is the very, very high ratio of land to total value. The typical shopping center is comprised of a one-story building and 5x as much land as the square footage of the building's footprint. The land component often exceeds the parking requirements, and thus becomes an additional asset.

In a growing economy, land is one of the best and least risky long-term investments. It is irreplaceable, indestructible and a natural hedge against inflation. And as the land increases in values, it allows the center's extra land to be set aside for a land bank, as I like to say, for additional investment opportunities. In the meantime, the revenue generated from the improvements covers the real estate taxes and other tariff costs and other carrying costs of the land.

Today the opportunities that land banking affords us can take many forms, including the expansion of existing centers, development of our parcels, sales to third parties and possibly mixed-use development. As markets change and evolve, it is incumbent upon us to make sure that we are maximizing each asset's value in order to maximize top shareholder return…

Our ability to unlock additional value in our current portfolio can play an important part in our future growth. And given the size of our portfolio, and the length of ownership of many of our properties, some have been owned for more than 50 years, I am confident that we will continue to find value-creation opportunities within our portfolio.
Kimco's total returns since the IPO (11-22-99) comparing against the S&P 500 and the SNL REIT index are significantly higher: KIM returned 1,560%, the S&P 500 returned 1,207%, and the SNL REIT Index returned 713%. This provides the best evidence of Kimco's long-term track record. In an internet/e-commerce world, I also strongly believe the neighborhood shopping centers will continue to perform well because they are all about essential goods and services.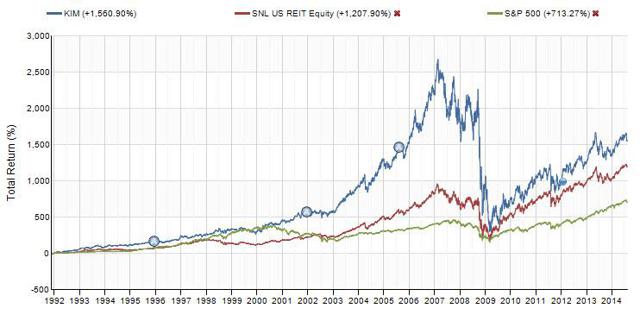 In closing, I consider Kimco a BUY at the current share price of $22.29. All of the cylinders are clicking for Kimco - leasing spreads up 9.7%, small shop occupancy up 200 bps, and steady acquisitions and pruning. In a previous article, I suggested that Kimco could hit $30 by year-end (2014) and while that could have been a little ambitious, I believe the company has potential to outperform the peer group.
While the market sometimes doesn't give credit to well-executed management strategies, I believe that Kimco offers one of the best C-suites in REIT-dom and for that reason; I consider the shares to be trading at "sound" value. At some point, I believe that the market will reward Kimco investors and I'm continuing to increase my exposure because "nobody does it better," makes me feel sad for the rest, nobody does it quite the way you do, nobody does it best.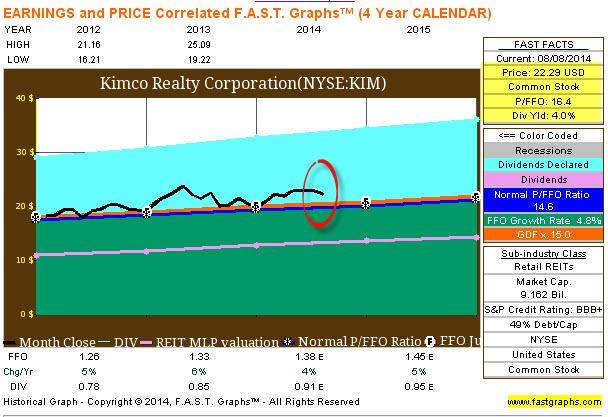 For more information on REIT investing, check out my monthly newsletter HERE.
Other REITs mentioned: (NASDAQ:WHLR), (NYSE:FRT), (NYSE:REG), (NASDAQ:ROIC), (NYSE:UBA), (NYSE:EQY), (NYSE:AMRE), (NYSE:WRI), (NYSE:RPAI), (NYSE:DDR), (NYSE:EXL), (NYSE:RPT), (NYSEMKT:WSR), (NYSE:KRG), (NYSE:BRX), and (NYSE:IRC).
Disclaimer: This article is intended to provide information to interested parties. As I have no knowledge of individual investor circumstances, goals, and/or portfolio concentration or diversification, readers are expected to complete their own due diligence before purchasing any stocks mentioned or recommended.
Disclosure: The author is long O, DLR, VTR, HTA, STAG, UMH, CSG, GPT, ARCP, ROIC, HCN, OHI, LXP, KIM, WPC, DOC, UDF, EXR. The author wrote this article themselves, and it expresses their own opinions. The author is not receiving compensation for it (other than from Seeking Alpha). The author has no business relationship with any company whose stock is mentioned in this article.