Editor's note: Originally published on August 5, 2014
The financial results of 33 Nifty companies are out, and we seem to have a rough quarter on our hands, with average EPS growth of just 9.2%. An outlier exists in the form of Sesa Sterlite (SSLT), which, by virtue of its merger with Sterlite and having to include Cairn (OTCPK:CRNCY) in consolidation, saw a huge increase in the outstanding number of shares, and also had a one-time hit of Rs. 1650 cr. due to an accounting change. Minus Sesa Sterlite and Cairn, we will still see EPS growth of 14%.
In the table, we have a list of all Nifty companies with results. We've used consolidated results where we can, and have adjusted past EPS for bonuses or splits. If we have something wrong, please let us know. (All figures are in Rs. Cr., except Earnings Per Share.)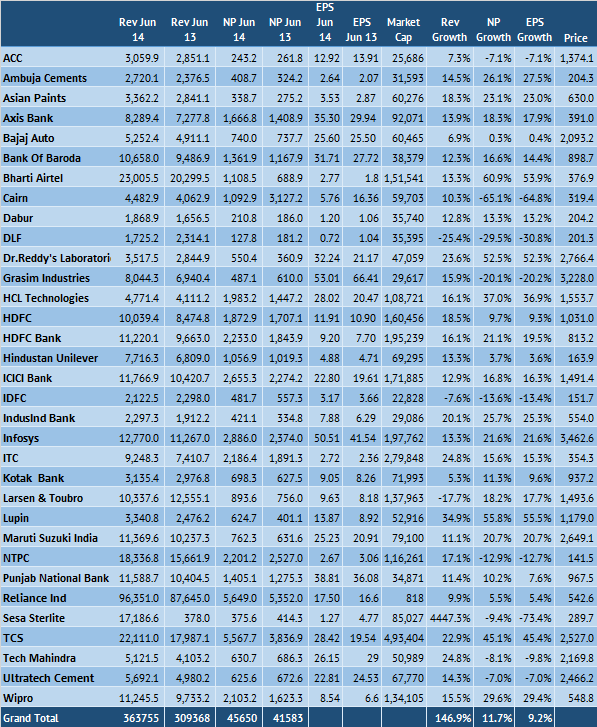 Outstanding in their contributions are:
Lupin and Dr. Reddy's (NYSE:RDY), with excellent 50%+ EPS growth in the Pharma space
TCS, HCL Tech and Wipro (NYSE:WIT) did 25%+ (TCS stands out!)
DLF dropped EPS 30%
Banks Do Well
Profit-wise, banks are going strong, with 20% profit growth:
Great performances by Central Bank (428% on a low base), Federal Bank (doubled profits, but again, not that big a base) and State Bank of Mysore (40% EPS growth).
Many banks issued more capital, so their EPS growth is slow in comparison with profit growth.
There's a lot more out there. We have over 280 companies announcing results till yesterday, and we've compiled them in a convenient and easy-to-read PDF report, available to all subscribers of Capital Mind Premium.
Disclosure: The author has no positions in any stocks mentioned, and no plans to initiate any positions within the next 72 hours. The author wrote this article themselves, and it expresses their own opinions. The author is not receiving compensation for it. The author has no business relationship with any company whose stock is mentioned in this article.