With a shaky start to market index performance in August, increasing geopolitical tensions, and the recent holding of record low interest rates by the European Central Bank to stimulate inflation, traders have understandably become quite jittery regarding future prospects for wheat prices. Currently, the US is the third-largest wheat exporter in the world (surpassed by only China and India). Recently, the US has faced quite tight competition from Europe, with the continent set to ship 27.5m tones of wheat in 2014-15; this would surpass US exports for the first time since the 1950s. To better understand the dynamic of US Wheat Prices, this article will examine how wheat prices are influenced by the rate of US imports and exports, along with the impacts of relative inflation levels across the US and Europe.
Price Action
To provide some context, we saw significant price movement to the upside at the beginning of 2014, only to begin a sharp reversal in June: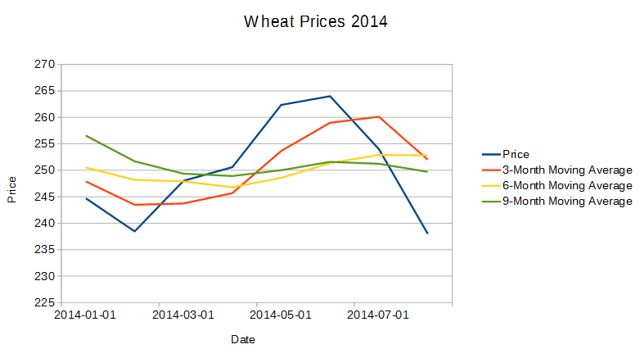 In terms of the moving average, we can see that the 3-month moving average has breached the 6-month moving average to the downside. Taking price action in isolation, this acts as a bearish signal and may suggest a further drop in price. In addition, we can also see that our higher and lower Bollinger bands have a wide gap, which indicates high price volatility. While the price is approaching the lower band, this is still accompanied by high volatility. If there were a "Bollinger Band Squeeze", i.e. the high and low bands were close to each other, this may signal a change in price direction due to low volatility.
Imports and Exports
Based on price action alone, one would not expect a sudden rebound in wheat prices. At a more fundamental level however, import and export levels would appear to have quite an impact on price. For instance, let's take a look at US imports and exports for the latter half of 2013 and the first half of 2014:

Based on these two separate time periods, we can see that the level of US exports have a significant correlation with wheat prices. As exports increase, so do wheat prices. As imports increase, wheat prices decrease. Naturally, causation is not so much of an influence in this case. It stands to reason that during periods of high prices, a country will export more in order to get the most bang for its buck. Moreover, given the US harvest typically takes place from mid-May to mid-July with planting occurring from August through October, one would expect that wheat prices will either decrease (or increase at a lesser rate) throughout the second half of the year. However, there have been instances (such as July 2012) where a sharp increase in wheat prices brought a corresponding increase in imports due to U.S. drought conditions at the time. While currently drought conditions are most ominous in California, there is a distinct possibility of upward pressure on wheat prices if such conditions spread to mid-Western regions such as Kansas which is a primary production site for wheat supplies in the U.S. While Russia has banned U.S. food imports including wheat, the downward pressure on price is not expected to be great as a result. However, should drought conditions in America become more severe, one could see significant upward pressure on wheat prices despite current geopolitical tensions. US imports would naturally increase, benefiting competitors in key markets such as Europe and Australia. Indeed, extended drought conditions in the US could come to be the "black swan" event that sends wheat prices higher.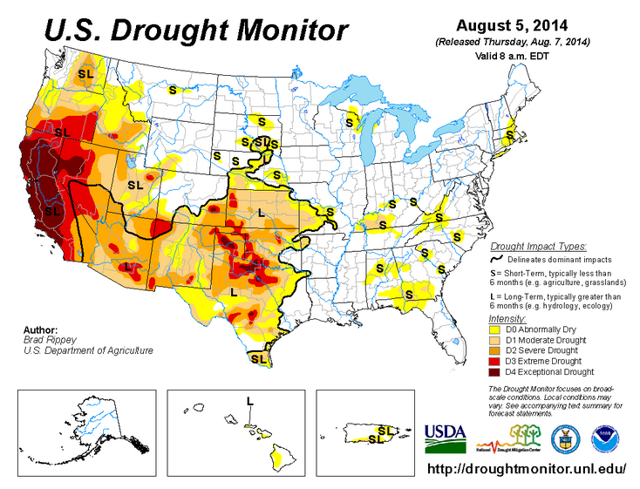 US vs. EU Inflation Rates
Given that the European Union is a significant competitor to the US in wheat production, I focus on these two markets in isolation with respect to international trade. As above, we have seen that prices play a significant role in a nation determining whether to import or export - it makes sense to buy at a low price, and sell at a high price. In this regard, it also stands to reason that inflation and exchange rate differentials between the two countries will also have an impact. This is because as the world's third largest wheat exporter, international exchange rates will play a key role as to whether world markets wish to buy wheat from the U.S. or other markets. Given the standing of the U.S. in the world wheat markets, I would argue that increased exports from America specifically will result in greater price appreciation. As below, we can see that when US inflation is lower, the USD appreciates against the EUR, and vice versa. For the latter half of 2013, one can see that with lower inflation in the US and a stronger exchange rate, prices decreased and US imports concurrently increased. However, for the first half of 2014, US CPI numbers have rebounded and exports from the US have subsequently increased. While the USD/EUR has stayed relatively static during this time, exchange rate expectations as a result of higher inflation resulted in increased exports in anticipation of cheaper USD rates in the latter half of the year. In addition, the holding of ECB interest rates at record lows and encouragement of policy towards a weaker euro, we may well see U.S. wheat exports increase in the near future. Given that the U.S. is still the world's third largest exporter, increased U.S. exports will likely place greater upward pressure on price than that of Europe.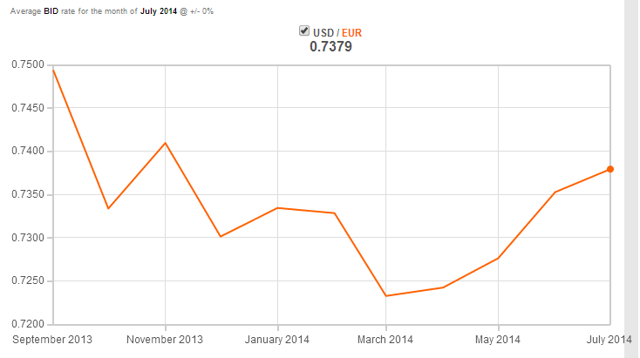 To conclude, while markets have remained somewhat bearish on wheat prices as a result of economic and political tensions, the anticipated strengthening of the USD vs. EUR combined with possibilities of further drought in the U.S., there remains a distinct possibility of increasing wheat prices despite current price action suggesting otherwise.
Disclosure: The author has no positions in any stocks mentioned, and no plans to initiate any positions within the next 72 hours. The author wrote this article themselves, and it expresses their own opinions. The author is not receiving compensation for it (other than from Seeking Alpha). The author has no business relationship with any company whose stock is mentioned in this article.