Editor's note: Originally published on August 10, 2014
Brian Langenberg reviews the August 11 article on pages 19-20 titled "Building the Case for Terex" by Jack Hough.
Barron's makes the case for 30% upside over the next year for Terex Corporation (NYSE:TEX), based upon four drivers:
Non-construction pick-up
Efficiency gains
Port cranes
Valuation
Before diving in, a few points.
I enjoy reading Barron's. I get to read interviews with extremely insightful fund managers (and some not so insightful), catch up on market niches outside my day to day bailiwick, and the investment ideas are usually very good. Also, given the sad state of the fund management industry and lack of performance by so many hedge funds, the recent shift in emphasis to interviewing high-quality wealth management advisors is prescient to where the world is going (in some ways back to 1960).
The headline is not always the story. Much of my primary research effort is spent studying the energy sector for both current conditions and investment ideas. But sometimes, the best idea is not the featured company, but another name in the sector where "everything isn't going right" just yet.
Now let's start with the four primary US construction equipment companies - actually, make that CAT ($65 billion market cap) and the rest (< $12 billion total market cap).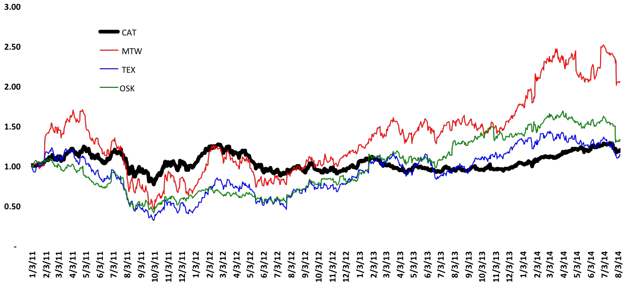 Caterpillar Inc. (NYSE:CAT): The 800-pound gorilla - construction equipment, mining, locomotives and power generation.
Manitowoc (NYSE:MTW): Cranes and food equipment.
Terex Corporation: Construction equipment, material handling, port cranes. If you don't like their precise portfolio, wait about 15 seconds… it'll change.
Oshkosh Corporation (NYSE:OSK): Aerial work platforms, construction equipment, refuse collection and fire trucks buried under a large (45% of company), declining defense business.
Nobody I know trades MTW, TEX, or OSK versus CAT - the market caps are too different.
But trades between MTW and TEX are common. When I make stock recommendations within the industrial sector, I organize my valuation and trading matrix sheets into "pairs" wherever possible so I can compare "apples to apples" (MTW, TEX) and "apples to oranges" (MTW, CAT or TEX, CAT) to make relative comparisons.
This allows me to communicate recommendations to a broad spectrum of investment styles, where a stock that is a "Buy" in absolute terms could also be the short side of a pair trade, or a "Sell" idea could be the long side of a pair trade in a market neutral strategy.
Let us take each of the four drivers cited by Barron's in making the TEX case and see a) what holds up, b) who benefits, and c) where is there really upside.
1. Non-construction pick up - we concur with the broader thesis - and mix could benefit TEX faster given its pure play business mix (MTW has foodservice equipment).
EDGE: Terex
2. Efficiency gains - Terex told Barron's the company has over 70 accounting departments and should have 8, and has many other streamlining opportunities that other companies did a decade ago.
Yes, other companies did do this work a decade ago. And we heard almost a decade ago how they were becoming more operationally focused. But while they have probably improved...
EDGE: Manitowoc
3. Port cranes - infrastructure build is rising and TEX has the product line, MTW does not (except towers). This is easy:
EDGE: Terex
4. Valuation - the key variable. I don't care if 95 of 30 variables favor company A, if company B is cheap enough I pick company B.
Here is a "relative price change" look at Terex relative to Manitowoc since the beginning of 2011.
MTW shares have obviously had a better go of it (we've done well, making calls from $11-12 to $19ish and $19-20 to $29-30, and backing away at the right time).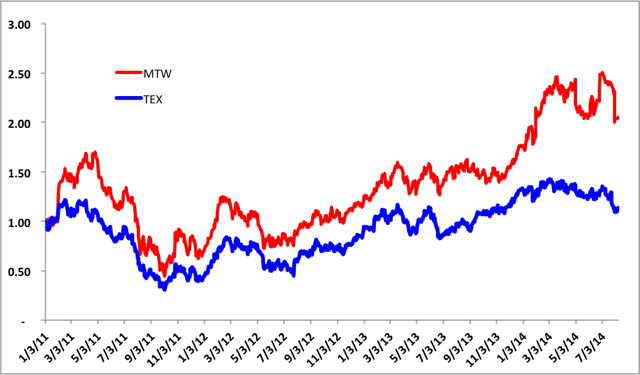 Without a detailed news and event timeline to go with this chart, one would only know that TEX has badly lagged MTW over the past 3+ years.
Let me add in that a) MTW shares were depressed after doing a huge, leveraged deal for Enodis (food equipment). Subsequent progress in the form of achieving promised margin improvement in the acquired business, coupled with deleveraging drove the improvement.
But where is the value? Cyclicals are best valued relative to their earnings power, NOT current fundamentals. When fundamentals roll over, there is no support; when the cycle recovers remove the words "mid-cycle earnings" from your vocabulary because that is how wimps bail out too early.
On the surface, TEX looks extremely cheap at only 0.6X enterprise value to revenue, whereas MTW trades at 1.2X EV/revenue.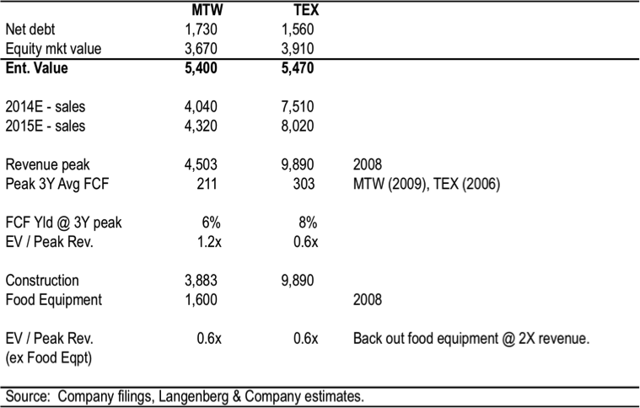 A fund manager, whether long only or hedge, has three value decisions to make.
Manitowoc absolute valuation.
Terex Corporation absolute valuation.
Manitowoc versus Terex.
Manitowoc closed Friday at $27.15, and reached an all-time high of about $50 at the end of 2007.
We value the food equipment business at $3.2 billion. Cranes generated peak EBITA of $559 million, and the company is into its sixth year of lean and vertical integration.
Let's assume $650 million at next peak, or about $725M of EBITDA. Putting even five times on cranes and building in $200 million per year of debt reduction suggests a $40 stock at next peak, and works to 45%-50% upside over the next 2-3 years.
Terex peaked around $95 in 2007, and was trading hands last week at $35. Our peak EV/sales valuation on MTW's crane segment is perhaps 1.1-1.2X - putting the same on Terex works to a stock price of $110-120. Potentially 3X to the next peak.
Finally - it always helps to figure out if you are in front of the herd, with the herd, or trailing the herd!
As we see below, Terex is relative unloved, along with most of the group, with 10 buys but 13 holds.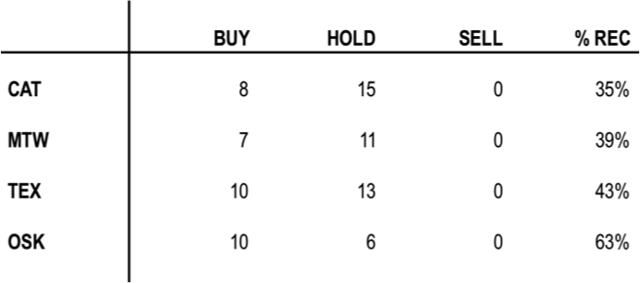 PUNCH LINE: While we like OSK for the near-term bounceback to $55-60 over the next 6-12 months, Terex provides even more upside potential than the article suggests!