Elevator Pitch
After declining 20% from all-time highs in February, analysts are finally chasing Mylan (NASDAQ:MYL) by downgrading price targets for the year, which has proven to be a classic contrarian indicator. A recent deal to acquire several assets from Abbot (NYSE:ABT) will result in a new corporate HQ address in Switzerland and a tax footprint of 20% compared to their current 35%. Mylan remains deal hungry and has the balance sheet to satisfy that hunger. With multiple prized companies trading at discounts, this is a buyers market.
Company Description
Mylan is one of the world's largest pharmaceutical companies by market cap and revenue. This deal with Abbot will allow the company to release generic versions of Celebrex and other blockbuster drugs coming off patent while simultaneously expanding its drug portfolio and international distribution channels by giving the company a foothold in several large non-US markets.
Thesis & Catalyst For Mylan Inc
Once the deal with Abbot is closed, the company will benefit from a smaller tax footprint on global revenues. Although Washington is not happy with these "inversion" transactions, they are powerless to stop them without making the US less competitive to foreign companies operating here.
Beyond the tax benefits, Mylan is purchasing over 100 specialty and branded pharmaceutical products, 2 state-of-the-art manufacturing facilities and over 2000 sales rep's spread throughout 40 countries. The deal includes several drugs that are still under patent, therefore adding to the deals long-term potential yield on investment. Once the deal closes, Mylan's portfolio of drugs will grow to over 1400 names and their global infrastructure will improve to achieve massive economies of scale. With Mylan's existing distribution channel, they can take Abbot's portfolio and immediately generate revenue while simultaneously leveraging the added global workforce to distribute their existing portfolio of drugs.
Valuation
After a 20% decline from all-time highs, the stock has become undervalued in the short-term and Investment Capitalist is forecasting a 3-6 month price target of $53, or a 20% gain from current levels. By 2016, we see the stock well into the mid $70 range.
The current all-stock transaction gives Mylan the entire generic drug portfolio of Abbot for 105 million shares at $50.20/share. The deal will give Abbot a 21% ownership in Mylan and is worth approximately $5.3 Billion. Expected to close in early 2015, expect to see the stock price edge closer to the transaction price of $50.20 by hedge fund arbitrageurs.
Company Management
This is a critical strategic decision by company management to shift their focus on growth by expanding into several of the largest non-US markets. With the financial strength and unlevered balance sheet to do so, buying the stock at a 20% discount from February highs is a low risk bet on a very capable management team.
Technical View
The chart below provides a brief visual on the past 7 months of trading activity. The most important variable is the range between $45 and $56. Now at the lower boundary of that range, the stock is oversold with 10 consecutive trading days of lower lows and lower highs. The past 2 trading days of last week involved significant institutional buying in the last hour of trading, indicating large fund accumulation of the stock. When these large institutional funds buy stock, they aren't looking for short-term gains and therefore the stock will be locked up and removed from the trading float for the foreseeable future. The volume spike over the past few trading sessions is indicative of this buying, generally referred to as a "selling climax". Short-term target is $50, then $54. Until the upper boundary of the range is broken, expect to trade the range, which is over 10% to 25%. Once the upper boundary is taken out, which we expect to happen by mid 2015, we should see the stock close in on our target of $73.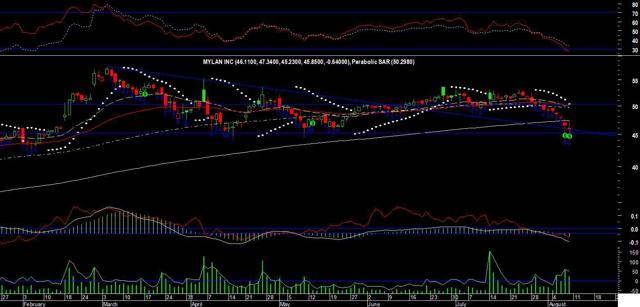 Competitive Landscape
In a rapidly changing global market for "big pharma", Mylan is looking well ahead into the future as blockbusters come off patent and greater competition from foreign generic manufacturers is seen as a real threat. This transaction attacks this challenge head on and gives Mylan a key edge at time when economies of scale are going to be the difference between being acquired or being the acquirer.
Revenue & EPS Outlook
Mylan will double its revenue in Europe by establishing footholds in Italy, the UK, Germany and France. The deal will more than double the company's sales in Canada and Japan, while also strengthening its presence in Australia and New Zealand. Moreover, the transaction will result in approximately $600 million in additional EBITDA, thus allowing the company to reach its stated target of $6 in adjusted EPS. When you add the tax savings into the equation, the deal is a huge win-win for Mylan.
Variant View
A rejection of the deal by regulators could be the only impediment to this transaction, but any interference is unlikely because it will be seen as anti-competitive to foreign companies doing business in the United States. Moreover, several companies have already completed tax-inversion deals with nothing but sound bites from politicians. Sound bites don't carry any teeth.
Disclosure: The author is long MYL. The author wrote this article themselves, and it expresses their own opinions. The author is not receiving compensation for it (other than from Seeking Alpha). The author has no business relationship with any company whose stock is mentioned in this article.
Additional disclosure: Initial shares bought at an average of $45.58, with additional shares to be accumulated below $46.50 and an eye on in-the-money Jan. 2015 calls to add a little leverage to the trade.