The Copenhagen listed Carlsberg (OTCPK:CABGY) group is world's 4th largest brewery selling 119 million hectoliters of beer in 2013. It owns 500 beer brands including for example Carlsberg, Tuborg, Kroneburg and Baltika, the leading beer brand in Russia, where Carlsberg has the biggest market share. In 2013, group's revenue were 66.6 billion DKK resulting in 7.5 billion in operating profits after tax. (In USD 12 billion in revenues $ and NOPAT 1.35 billion $.) The company's stock price has recently hit 52 week lows because of the worries regarding the Russian economy.
Company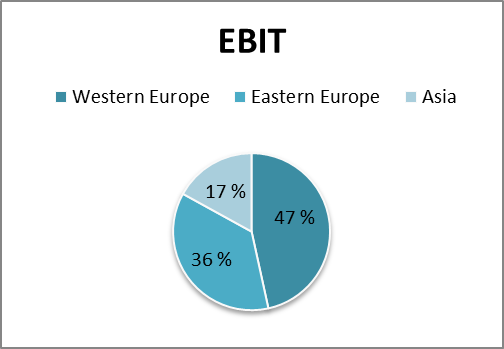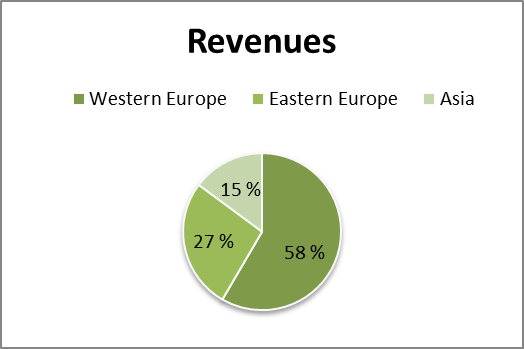 The company operates in Western & Eastern Europe and Asia. The biggest market is Western Europe accounting for 58% of revenues and 47% of EBIT. The market in Eastern Europe is also quite important for the company, since it accounts for 36% from the profit, mainly because it has the highest margins. (EBIT margin was 23.3% vs. 13.6% in Western Europe and 19.5% in Asia)
(Source: Carlsberg Annual reports.)
Growth in revenues has been in mid-single digits (CAGR 7%) in 2005-2013 but more recently 2010-2013 CAGR has been 2.6% and growth has been driven mainly by Asia (CAGR 15%). Sales in Russia took a big hit in 2012-2013 mainly because of tax hikes. Taxes on beer were raised by 20% in 2012, 25% in 2013 and are set to rise in 2014 also. There are still worries about tax hikes even further. The positive side is that despite the fall in revenue the margins remained stable in 2013. And the growth in Asia and Western Europe actually compensated the large (-9%) decline in Russia. However the stock has plummeted recently because of the worries regarding Russia and the situation there will remain very uncertain. I still think that an investor from these prices will be well compensated for bearing this risk.
Russia
Russia has been recently in the headlines because of the Crimean crisis. The EU and US has imposed sanctions and GDP growth projections for the Russian economy has been revised downwards. Also the inflation has risen and the central bank has increased interest rates to stabilize the depreciation of the ruble. All this combined will probably hit the average consumer in Russia and will most likely also affect Carlsberg.
However beer is not exactly a luxury good and it has actually the lowest income elasticity of demand from alcoholic beverages based on many studies. (see: here) This would indicate that the demand should be quite resilient, even if the economic situation gets even worse. So I think that the biggest hit to Carlsberg would be the exchange rate and depreciation of the ruble. However Carlsberg has been quite conservative in estimating the EUR/RUB exchange rate. The recent Q1 guidance is based on 51 EUR/RUB rate. Exchange rate right now is 48.5. Actually the exchange rate remained quite stable in 2014 despite the headlines. The major movement was in early 2014 and after peaking in march EUR/RUB has come down. This is probably due to interest rate hikes and Russian energy exports. So if the situation in Russia does not escalate into a major conflict and war in Ukraine, Carlsberg can most likely meet the expectations based on 51 EUR/RUB.
Even though there are dark clouds currently above the Eastern Europe it could still be a success story in the longer term. Economic growth in 10 years will probably be much higher in the Eastern Europe than in mature European countries. When the growth picks up, this should quickly translate into growth in earnings which could push the multiples up. Right now the stock price does not expect much from the future.
Carlsberg also has an initiative to improve operating margins in Western Europe. They are going to integrate the supply organisation. This should bring the operating margins up by 250bp during next few years. This should bring the operating margins to about 16% (4 year average). This is quite good and would result as higher margins than Heineken's (OTCQX:HEINY) (14%) for example. In time the growing Asia business should also bring average operating margins up if the current margins there can be sustained.
Valuation
Next I will present a few valuation scenarios to get some idea of the fair value of the company. In my DCF model I have used owners earnings (EBIT(1-t)+D&A-capex) projecting 10 year growth + terminal value. Because of the long horizon I have used fairly modest growth scenarios and terminal value growth is 2%, which I consider to be quite low, since over half from company's EBIT comes from high growth emerging markets. For the 10 year period I have considered growth rates of 2-4%. Discount rate is varied in 8-10%. The average from all scenarios is 28% return to fair value (666 DKK) from current price. The upside from the return to fair value varies from -11%-75% in my scenarios, so I think that risk/return profile from current prices is asymmetric for an investor at these prices.
Because there are a lot of assumptions in DCF models it is worthwhile to look valuation compared to peers. I think that the closest comparable is probably Heineken, since it is the third biggest beer company and also European. Based on EV/EBIT there would be a 25% upside which is close to DCF model. (Carlsberg EV/EBIT 11.97, Heineken 14.94) Comparing PE ratios gives more upside, but this partially reflects Carlsberg's higher leverage.
| | |
| --- | --- |
| Company | PE(ttm) |
| Carlsberg | 14.72 |
| SAB Miller (OTCPK:SBMRY) | 24.81 |
| Heineken | 21.66 |
| Anheuser-Busch Inbev (NYSE:BUD) | 19.00 |
| average(peers) | 21.82 |
Simple comparison to average PE-ratios of the major competitors would give a 48% upside.
Risks
Short to medium term, the situation in Russia could escalate. This would no doubt affect also Carlsberg's operations.
There is also political risk in terms of raising taxes on beer even further in Russia.
Stock price could be under pressure in the short term depending on the news stream regarding Russian situation.
Conclusion
I think that Carlsberg is quite low risk way to play the current Russian situation. Based on very modest growth DCF and peer valuations about 25-30% upside is fair assumption. As soon as the conflict ends, I think that the stock should bounce back. And even if the uncertainty in Russia continues and the GDP growth there turns negative, I think that Carlsberg would not be suffering the most. It does not operate in strategic industry like oil, gas or finance and the demand for beer has traditionally been quite resilient to changes in income. Also the operations in Eastern Europe, although big, are 36% of the operating profit. The strong growth in Asia and future margin improvements in Western Europe would compensate the Russian decline somewhat, even if the profits there would plummet. For example in 2012-2013, Russian sales were -9% down, but the top line revenues still grew a little (0.13%).
There is also a possibility of greater upside for a long term oriented investor if the growth picks up again in the Eastern Europe. Historical 7% revenue CAGR and 2.5% terminal value growth would imply 64% upside.
The Q2 results will be published on 20th of August. For an investor, it could be wise to wait for the results and see the market reaction. It might be that the bottom prices are yet to be touched, but the longer-term potential is there.
Disclosure: The author has no positions in any stocks mentioned, and no plans to initiate any positions within the next 72 hours. The author wrote this article themselves, and it expresses their own opinions. The author is not receiving compensation for it (other than from Seeking Alpha). The author has no business relationship with any company whose stock is mentioned in this article.
Additional disclosure: The OTC listed security is not very liquid. The Copenhagen listed security offers a lot better liquidity.
Editor's Note: This article discusses one or more securities that do not trade on a major U.S. exchange. Please be aware of the risks associated with these stocks.