Monitoring where asset allocation funds are putting their money gives an indication of whether fund managers are being more conservative or aggressive this week. MyPlanIQ's smart money indicator is derived based on comprehensive analysis of top asset allocation Gurus' recent asset exposure. Currently, it tracks the aggregate asset exposure on US equities and bonds.

We track two separate indicators:
This is calculated weekly and covers the last one year.

Trends for the Top 3 Moderate Allocation Funds (Smart Money), click to enlarge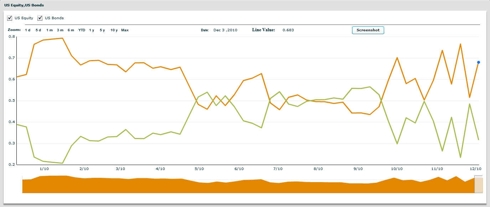 The top three funds we tracked have shifted from bonds into equities in the week ended on 12/3, increasing their equity exposure from about 50% a week earlier to about 68% in the week ended on Dec 3. Market sentiment improved and lifted risk appetite after encouraging signs in U.S. economic reports and eased concern over Europe's sovereign debt crisis.

Amidst signs of stronger economic recovery and rising interest rate expectation, the demand for bonds has been slackening. Although easy monetary policy and Fed's bond buying program are in place to support yields in the near term, yields may go up as the economic picture improves, further driving outflows of bond funds.
click to enlarge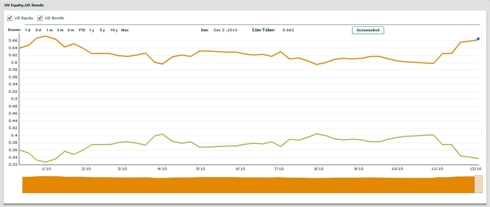 We see more evidence of investors' shift from bonds into equities when we look at the trend for the 481 moderate asset allocation mutual funds we tracked. They continue to be more aggressive and have increased their equity exposure to about 66% in the week ended on Dec 3.

Disclosure: I have no positions in any stocks mentioned, and no plans to initiate any positions within the next 72 hours.