Vanguard Natural Resources LLC (NASDAQ:VNR) is an energy exploration and production company that acts as a limited partnership for tax purposes. It is essentially an energy LP without any IDRs or GP interest. You will need a VNR K-1 for your taxes. VNR attempts to generate stable cash flows for monthly distributions to unit holders. It attempts to increase these as much as it can. Its properties are located in the Green River Basin in Wyoming, the Arkoma Basin in Arkansas and Oklahoma, the Permian Basin in West Texas and New Mexico, the Big Horn Basin in Wyoming and Montana, the Piceance Basin in Colorado, the Gulf Coast Basin in Texas and Mississippi, the Williston Basin (Bakken) in North Dakota and Montana, the Wind River Basin in Wyoming, and the Powder River Basin in Wyoming.
VNR had a mixed Q2 2014. Its adjusted EBITDA increased 22% to $97.7 million from $80.3 million in the year earlier quarter. It reported average production of 315 MMcfe/d for Q2 2014. This was up 44% over the 219 MMcfe/d in the year earlier quarter. It was up a whopping 18% over the 268 MMcfe/d produced in Q1 2013. The production breakout for Q2 2014 was 17% crude oil, 68% natural gas, and 15% NGLs. Unfortunately distributable cash flow available to common and class B unit holders decreased 5% to $46.1 million from the year earlier figure of $48.4 million. However, distributable cash flow did increase 10% from the $41.8 million of Q1 2014.
For Q2 2014 the distribution coverage ratio was 0.90x. This was down from 1.05x a year earlier; but it was up from 0.83x in Q1 2014. Including the impact of hedges VNR realized an average natural gas price of $3.48/Mcf in Q2 2014. The unhedged price would have been $3.55/Mcf. The price realization for oil was $84.40 per barrel. Unhedged this would have been $91.74 per barrel. The impact of NGL hedges was minimal. The hedged realization was $25.37 per barrel for NGLs.
The production gains above are good to great. However, the distribution coverage ratio of only 0.90x for Q2 2014 and 0.87x for 1H 2014 is worrisome. The fact that the distribution coverage ratio improved in Q2 2014 from Q1 2014, even with lower natural gas prices in Q2 2014, is heartening. It makes one think that VNR will soon bring its distribution coverage ratio above 1.0x. Natural gas prices are likely to rise for the 2014 - 2015 winter weather. This might be enough to complete VNR's task of getting to 1.0x or above in 2H 2014. VNR may even get some help on natural gas prices early in the fall. Some are predicting "polar vortex" weather for September 2014.
On August 4, 2014, VNR announced an agreement to acquire 23,000 net acres in North Louisiana and East Texas for a purchase price of $278 million from the Hunt Oil Company. The properties are producing about 17.5 MMcfe/d of approximately 67% natural gas and 33% liquids (oil and NGLs). The effective date of the acquisition is June 1, 2014; and VNR expects it to close on or before October 1, 2014. VNR will at least temporarily use its credit facility to fund this acquisition. VNR expects this acquisition to be immediately accretive to distributable cash flow (at closing). VNR estimates a reserve life of 23 years and proved reserves of 150 Bcfe. This should help the 2H distribution coverage ratio. VNR also sees meaningful horizontal drilling opportunities for some of the acres being acquired. The table below describes the proved reserves and the current net production more thoroughly.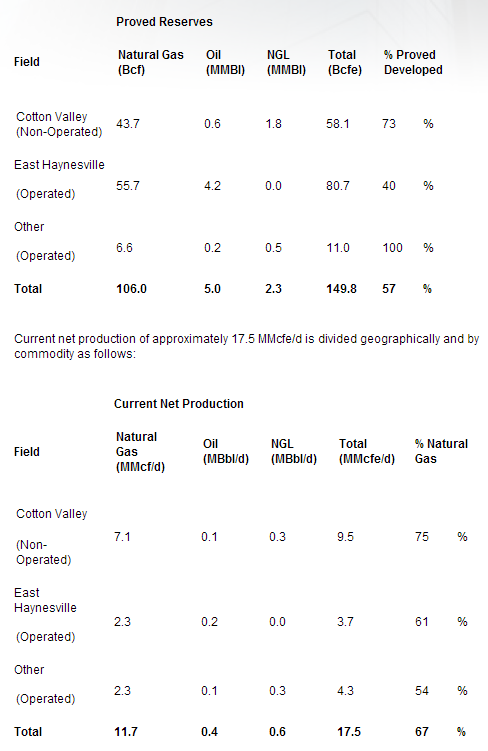 Total capital expenditures for Q2 2014 were $36.4 million compared to the year ago figure of $14.8 million. For 1H 2014 those figures were $67.7 million and $29.4 million respectively. This almost certainly negatively impacted distributable cash flow. VNR expects total capital expenditures for 2H 2014 to be between $65.0 and $70.0 million, excluding future acquisitions. It expects to spend about 60% of this in the Pinedale acquisition in the Green River Basin. VNR is participating as a non-operated partner in the drilling and completion of vertical natural gas wells. In many cases, being a non-operated participant can be a huge negative. However, in this case VNR is partnering with Ultra Petroleum (UPL) and QEP Resources (NYSE:QEP). QEP is more of a middle of the pack developer with respect to natural gas all-in costs; but UPL is a leader in low cost natural gas drilling with recent all-in costs of $2.86/Mcfe. Not only that, but UPL has been aggressively driving down its costs specifically in the Pinedale (see chart below).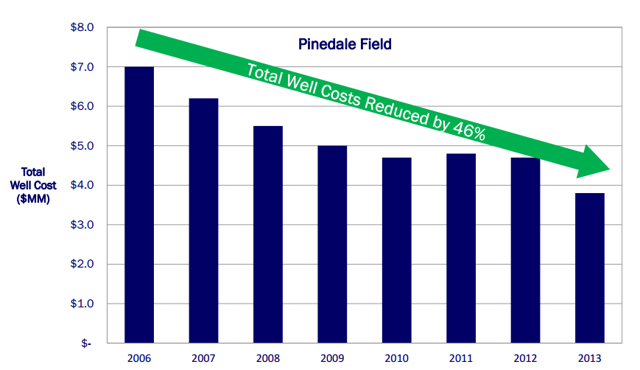 Click to enlarge
VNR will be able to ride UPL's coattails to good profits for itself. VNR's Pinedale acquisition should turn out to be a great one for VNR because it also acquired one of the top low cost drillers in the US as the operator. Further VNR may get to learn things from UPL in this partnership that it can apply to its other holdings. That may be an immeasurable boon, which could turn out to be a big positive for VNR.
When you combine this new acquisition and partnership with VNR's 44% production increase year over year in Q2 2014, you have to like VNR going forward. You have to like that it is partnering with a low cost development leader in UPL. With 60% of the capital budget going into the Pinedale in 2H 2014, you have to like VNR's chances of getting its distribution coverage ratio above 1.0x in 2H 2014 and beyond. This was a brilliant strategy for VNR. When you factor in the possible "polar Vortex" weather for as early as September 2014 for the Pinedale area of the country, VNR could get great natural gas prices soon for the Pinedale production. The apparent bad news by VNR on earnings was misleading. When you look at the big picture (and add in the Pinedale acquisition), things are looking up and not down. Remember the distribution coverage ratio did improve from 0.83x in Q1 2014 to 0.90x in Q2 2014, even without the new Pinedale property. I expect a further movement upward in Q3 and Q4 2014. All of the above make VNR a BUY. It is headed in the right direction. It also pays an approximate 8% distribution, which is high enough to make most investors happy.
The two-year chart of VNR provides some technical direction for this trade.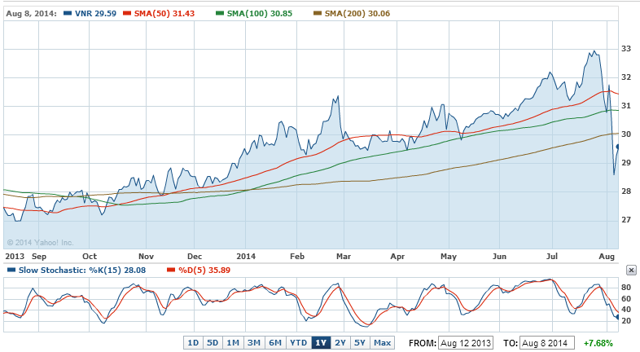 Click to enlarge
The slow stochastic sub chart shows that VNR is near oversold levels. The main chart indicates that VNR has broken through its long-term uptrend. However, it has rebounded off even longer-term support. Plus the Q2 2014 earnings news was not as bad as many people made it out to be. The Pinedale acquisition with UPL as the operator partner is a big plus. Fundamentally, VNR should continue to rebound upward. It has historically been a conservative company. It appears to me to have had a momentary problem. I expect it will resolve that; and it looks to be already well on its way. That makes VNR a buy at this time, even if the overall market is in a state of uncertainty due to global geopolitical events. The average analyst recommendation is 2.4 (also a buy). The +5% insider buying over the last six months is a further plus.
NOTE: Some of the fundamental fiscal data above is from Yahoo Finance.
Good Luck Trading.
Disclosure: The author has no positions in any stocks mentioned, but may initiate a long position in VNR over the next 72 hours. The author wrote this article themselves, and it expresses their own opinions. The author is not receiving compensation for it (other than from Seeking Alpha). The author has no business relationship with any company whose stock is mentioned in this article.