Staples (NASDAQ:SPLS) is a bruised and battered company operating in the office supplies industry. Competitors such as Amazon (NASDAQ:AMZN) and Wal-Mart (NYSE:WMT) are putting up a good fight, but they don't offer services such as tech support and print/copy capabilities. Licking their wounds, SPLS is moving forward with the flexibility needed to fend off their opponents while also rewarding patient, long-term oriented investors via a 4.3% dividend and share buyback program. SPLS also has a good balance sheet and a solid brand name. Mr. Market is concerned with SPLS' shrinking revenues and has punished them for it. Now is the time to go long.
Why Does the Market Punish Staples?
The war for total e-commerce dominance is a no-holds-barred fight to the death. Companies such as Amazon, Wal-Mart, and Staples are all competing against one another for the opportunity to wield the largest online presence amongst retailers. According to Alexa.com, AMZN is ranked as number 5 on the country's most visited site, while WMT is 39 and SPLS is 199.
However, comparing online traffic between AMZN, WMT and SPLS seems fair because all three companies are both in direct competition over goods such as office supplies and technology (computers, cell phones, etc.), but it's really unfair because AMZN and WMT sell goods that SPLS does not. Take for example, clothes. As long as I know my sizes, I can log onto AMZN or WMT and buy a complete outfit, from head to toe. In contrast, SPLS doesn't offer that luxury. In fact, Amazon.com sells over 200 million different items.
It's easy to understand that SPLS does not offer as many SKUs as AMZN, so comparing SPLS to its competition, based solely off online sales is the same as comparing apples to oranges. Both are fruits, but they're different fruits used in different recipes. A more fair comparison would be Staples versus Office Depot (NYSE:ODP). According to Alexa.com, Officedepot.com is ranked 598 in American popularity. In contrast, SPLS is ranked as 199.
Furthermore, SPLS just isn't performing too well. Q1 saw a reduction in sales by 2% year-over-year. Additionally, investors were told that SPLS plans on witnessing a deterioration of total sales for Q2 when comparing to last year's Q2. This bad news doesn't even include SPLS' decreasing spot amongst Internet Retailer's top two websites.
Staples' news is not reassuring, but their guidance on how they're going to improve is. However, talk is cheap. Wall Street wants to see SPLS make money, not hear about their plans on doing so. Until SPLS starts publishing more positive numbers, the majority of the street is going to remain bearish. This is the value investor's time to get interested.
Why I'm Bullish
Staples' management understands that the company must evolve if they wish to remain competitive. I am attracted to Staples because they have a solid balance sheet, a great plan at cutting costs, a promising reinvention program, and they are very generous to shareholders. I believe that the rewards far outweigh the risks.
Fundamentals
Despite such negative performance, Staples still holds some solid fundamentals that would make any value investor look twice. Trading at just above book value with $9.53 a share, Staples offers a decent margin of safety, especially when you factor in the dividend. Moreover, Staples' current ratio of 1.55 and quick ratio of .86 allow liquidity, while trading at 13.4x earnings means the stock isn't overvalued.
Looking towards 2015, it doesn't seem unreasonable for investors to expect a profit of about 30%. I came to this conclusion by multiplying analysts' estimated EPS of .98 by a PE of 15. I'll use a chart from Fastgraphs.net to illustrate my point.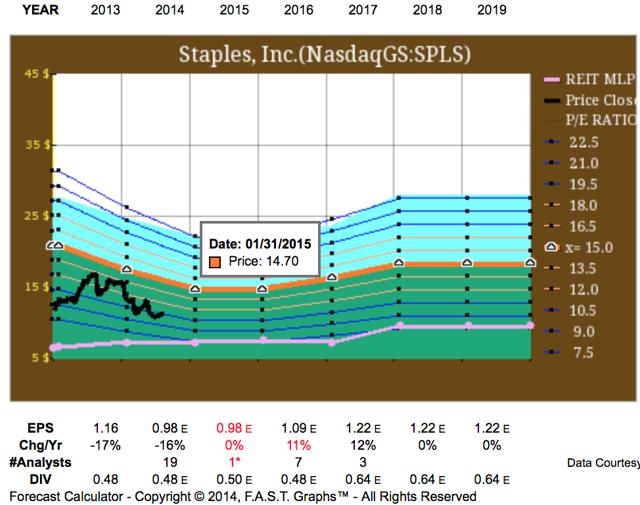 Cutting Costs for Future Returns
Realizing competition is tough and that it'll take some costs saving strategies in conjunction with growing revenues strategies in order to win back investor confidence, Staples has began streamlining their supply chain in North America and Europe, properly managing expenses, and most notably, improving retail store productivity in an attempt at cutting costs.
Retail productivity will be seen in the form of closing under-performing stores, downsizing stores to 12,000 square feet, and remerchandising the remaining stores. By 2015, SPLS predicts that 225, or 12% of North American stores will be closed. The closures and downsizing should help Staples save $500M in costs.
If reducing store footage seems counterintuitive, think again. Bill Simon, head of WMT's U.S. Division is quoted as saying, "You'll see us increasingly moving into smaller formats…They compete really well against multiple channels" in regards to WMT introducing smaller stores that will be less than 60,000 square feet.
Also noteworthy is SPLS' success in their 12,000 square feet stores. According to their most recent 10-K, "Our new smaller store format incorporates omnichannel features to better address changing customer needs, while generating over 95% of the sales we generate in a 24,000 square foot store."
Shutting down stores is a difficult decision, but it's better for SPLS to lose physical stores so that they can focus on what's going well for them- select stores and an enhanced online presence.
Staples is Reinventing Themselves
Staples is reinventing themselves in more ways than one. For example, they're closing and downsizing stores (as previously discussed), diversifying their goods sold, improving the consumer's online experience, and starting a new, more aggressive advertising campaign.
Staples is Diversifying
Knowing that the selling of office supplies exclusively is no longer a winning strategy, Staples has introduced approximately 300,000 new items on their website. The goods are in categories such as office décor, teaching and education supplies, technology products, and specialty products that will appeal to restaurants and other retail businesses. This timely introduction brought their total products available on Staples.com to over 850,000. Additionally, Staples plans on offering over 1.5 million products in total by the end of 2014.
Not to forget about physical stores, Staples re-merchandised over 600 USA stores with products that go beyond office supplies. This is significant because growth was seen in the break room supplies, copy and print and facilities categories. The remaining stores are scheduled to be re-merchandised by the end of Q2.
Also interesting is the unveiling of 3-D printing services stores. So far the only two stores with the capability to do so are in New York and Los Angeles, but they're experimental and will focus on educating consumers on the emerging technology of 3-D printing. In the future, Staples does plan on expanding the new venture.
Staples' Website is Improving
Staples has made improvements to their website by making it faster, more intuitive, optimizing mobile/tablet capabilities, introducing a lot more products, and allowing customers to customize products.
Earlier in May, Staples announced their $67M purchase of PNI Digital Media. With this purchase, Staples.com now gives customers the opportunity to customize many products such as photo books, calendars, business cards, wedding invitations and more. Current users of PNI's software include Wal-Mart and Office Depot.
SPLS' strategy of improving the consumer's experience online is important because the elimination of stores will contribute to a decrease in brand awareness. Furthermore, roughly half of SPLS' sales come from their website.
Advertising Campaign
In order to increase brand awareness while simultaneously closing 12% of stores is a challenge. Also challenging is Staples' task at making it known to consumers that SPLS sells much more than just office supplies. Tasked with doing this, Staples has replaced their "That was easy slogan" to "Make more happen."
Additionally, Staples is also changing their logo. No longer content with the letter "L" in their name, SPLS has gotten creative and is now replacing it with items that are beyond office supplies, like a bright yellow rain boat or two brushes. Photo taken from (here)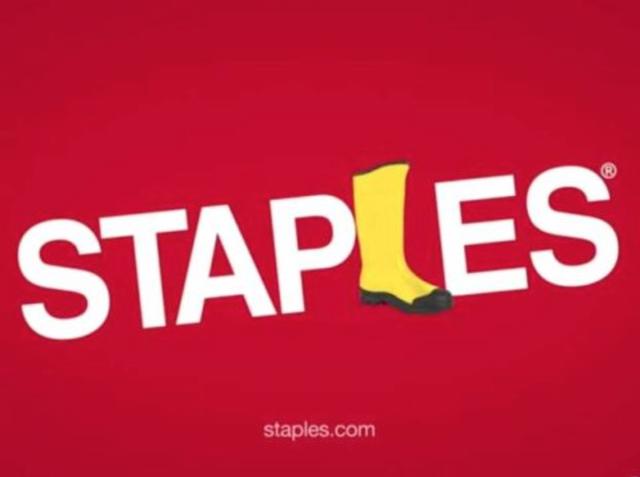 Staples' Competitive Advantage
A lot of people look at Staples and see it falling victim to their many competitors. I look at them and immediately stare at their 'Economic Moat.' AMZN and WMT are impressive companies, but they don't offer copy and print services or a generous rewards system. Luckily, Staples does.
Many small and medium-sized businesses take advantage of Staples' copy and print services. In fact, copy and print same-store sales in North America grew in the high single digits, while growing in double digits on Staples.com. Sometimes you just need a couple hundred copies and you need them right away. Running into a Staples and making the copies gives immediate results. People like convenience, immediate results and options. Physical stores offer all of that.
And finally, SPLS offers a generous rewards program filled with perks like free shipping, price matching and 5% off. Competitors offer low prices, but SPLS will match it and return 5% back to the consumer. Add in free shipping and I can't understand someone's reason to not purchase from Staples.com.
Shareholder Friendly Practices
Staples is a shareholder friendly company and has rewarded investors via dividends and share buy backs. This is great for patient, long-term investors, as they will be rewarded nicely while they wait for the stock price to appreciate.
The current dividend is 4.3%, or .48 a year. For the past five years, Staples has not skipped or reduced their dividend. In fact, their five-year annual dividend growth rate is 7.78%. For Q1, 5.7 million shares were repurchased for $17M. Additionally, Staples has $492 million of remaining authorization on our current share repurchase plan.
Risks
Risks come in all shapes and sizes and plague every company. Issues such as fluctuating currency, inclement weather that hinders logistics, and interest rates all have an effect on Staples. However, I feel that SPLS' biggest threats are logistical concerns and their competition.
In order to replenish stores and deliver goods to customers, SPLS relies on two networks. The first network is composed of four large distribution centers and supports all of SPLS' U.S. retail store operations. The second network fulfills the majority of customers' orders. This is done through Staples' own distribution network and third parties. My concern with logistics is the need for it to expand in sync with the introduction of more goods. If too many goods are offered and SPLS can't deliver, they will lose money and creditability.
My next worry is the competition. SPLS' main competitors are AMZN and WMT. With both competitors expanding inventory, offering low prices, and having the largest presence online, Staples has a lot of work to do. Office supply rival, Office Depot, felt the pressure and bought out Office Max in 2013. The two combined companies now have more stores than SPLS, but SPLS' sales are greater than ODP's.
Conclusion
The risks involved in taking a long position in SPLS are already implied at its current price. The hazards of having to expand distribution while fighting off competition are very real, but Staples offers services that their competitors don't. Even though people enjoy the convenience of shopping online, they also like bargains and the ability to see and feel products. Consolidation of the most profitable stores and a competitive advantage give me faith in Staples' ability to weather this storm. In the mean time, patient investors that look long term can sit back and enjoy their dividends and share buybacks.
Disclosure: The author has no positions in any stocks mentioned, but may initiate a long position in SPLS over the next 72 hours. The author wrote this article themselves, and it expresses their own opinions. The author is not receiving compensation for it (other than from Seeking Alpha). The author has no business relationship with any company whose stock is mentioned in this article.