By Carly Forster
The Walt Disney Company (NYSE:DIS) is a Burbank, California based multinational mass media corporation and one of the world's largest and best-known entertainment studios in Hollywood. Disney started as the leader in the American animation industry and has grown into live-action film production, television, and theme parks. The entertainment company released its second quarter earnings report on Tuesday, August 5th and its results were very successful. It is being speculated that the main reason for the positive results is largely due to the success of its Marvel franchise.
During its Q2 results, Disney reported $1.28 earnings per share, beating analysts' consensus estimate of $1.16 by $0.12. During the same quarter last year, the company posted $1.03 earnings per share. The entertainment giant had revenue of $12.47 billion for the quarter, compared to analysts' consensus estimate of $12.17 billion. The company's quarterly proceeds were up 7.7% on a year-over-year basis. On average, analysts expect that Disney will post $4.20 earnings per share for the current fiscal quarter.
There are many reasons as to why Disney did so well this quarter, such as strong theme park attendance and strong profits in its video game division. However, the main reason for Disney's more-than-impressive quarter is due to the huge success of its Marvel franchise, including the extremely popular movie, "Captain America: The Winter Soldier", which came out this past April. Disney CEO Robert Iger said in a conference call with analysts, "We've now generated greater earnings per share in the first three quarters of fiscal year 2014 than we have in any previous full fiscal year." Marvel franchise's newest addition is the highly anticipated film, "Guardians of the Galaxy," a goofy space adventure, which has already made $181 million worldwide since opening on Friday.
Shares of Disney opened at $86.17 on Thursday, August 7th. The entertainment giant has a 1-year high of $87.63 and a 1-year low of $60.41. The stock's daily moving average is $86.85 and has a 50-day moving average of $85.60. The market cap for Disney is $149.96 billion and its P/E ratio is 20.81.
On August 5th, FBR Capital analyst Barton Crockett reiterated an Outperform rating for Disney with a $97 price target. He reasoned, "I think the bigger story in Disney is they are on a great trajectory, you know, I think they are spending this quarter on ramping up more sports in the US, they have got a higher contract with the NFL, they have launched an NCC network, you know these things are paying dividends over time [...]" Crockett has a +20.9% average return on all stocks and a 70% success rate in making recommendations. He also has a +20.7% average return on Disney stock.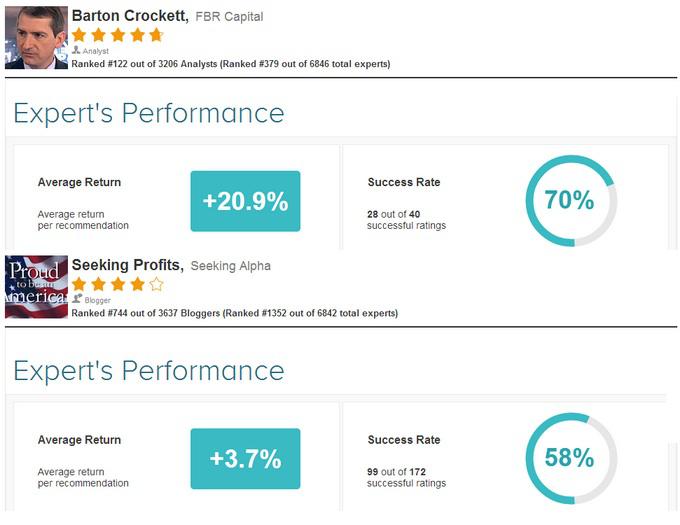 On August 6th, Seeking Alpha blogger, Seeking Profits, also recommended a BUY. He noted that 2014 has been a "surprisingly strong year" for Disney and believes the movie studio will continue to deliver exceptionally strong results. Seeking Profits has a +3.7% average return on all stocks and a 58% success rate in making recommendations. He has a +4.4% average return on Disney stock.
On average, the top analysts' consensus for The Walt Disney company is MODERATE BUY.
Disclosure: None
Disclosure: The author has no positions in any stocks mentioned, and no plans to initiate any positions within the next 72 hours. The author wrote this article themselves, and it expresses their own opinions. The author is not receiving compensation for it. The author has no business relationship with any company whose stock is mentioned in this article.