Franklin Resources (NYSE: BEN) is a mispriced stock right now. BEN is benefiting from massive fund flows into its mutual fund complex. For the overall company through the first 9 months of the year, net fund flows are 11% of previous year-end assets under management (AUM).
This is best among its peers; nevertheless, BEN is trading at a below average valuation, even though its peers have less robust or even negative flows.
Here is a comparison table showing publicly traded asset managers with market capitalizations above $2 billion. The table shows market cap, assets under management, net debt outstanding, EV/EBITDA, and 3rd Quarter fund flows and YTD fund flows expressed in terms of beginning assets. Companies are ranked by EV/EBITDA valuation.
We can see from the table that BEN has best-in-class fund flows expressed as a percentage of existing AUM. However, it is the third cheapest stock in terms of enterprise value to EBITDA.
click to enlarge images
Source: Company reports
Asset Managers Have High Quality Businesses
Let's take a step back to discuss the characteristics of the asset management industry. The asset management business model is one of the highest quality business models in existence. Asset managers have recurring revenue. They get paid on time in cash. They grow with market appreciation. With net positive fund flows, they can grow their revenues faster than the market. They have no balance sheet risk. They have minimal capital expenditure requirements. They can use their free cash flow to make acquisitions, buyback stock or pay dividends.
Assets managers are one of the few segments of the Financials sector where generalist portfolio managers feel comfortable investing. Many portfolio managers hate the Financials sector because of the opaque balance sheets found at banks and insurance companies. But, asset managers are one of the few niches in Financials with low or no balance sheet risk. The others niches are the securities exchanges, the discount brokers, the financial transaction processors, and the insurance brokers.
Massive Fund Flows
BEN's mutual fund flows are simply massive. Through the first 9 months of 2010, investors added $60 billion to BEN's mutual funds. $60 billion is a huge amount of fund flows for one company. This is the equivalent of the entire company of Waddell & Reed being added to the BEN's funds. These flows are easily the best among its peers.
The table below ranks the asset managers (mkt cap >$2B) by their year-to-date fund flows expressed as a percentage of beginning of the year assets under management.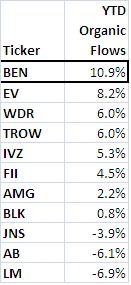 Source: Company reports
Note – FII flows are for equity and fixed income assets only. Money market assets are excluded.
Diversified Asset Mix
Unlike smaller asset managers, BEN has a diversified asset mix. This adds stability to the franchise and reduces risk.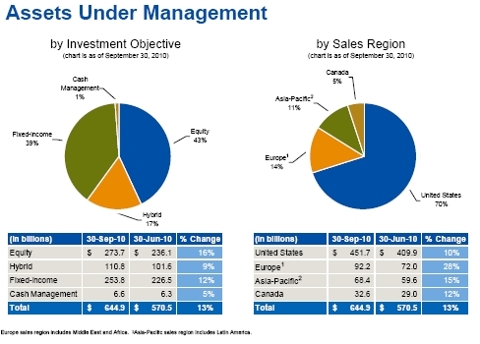 Source: Company reports
Importantly, BEN has very little in money market funds. The money market business is at a cyclical low given low rates require fee waivers and given rate competition from banks. The longer-term issue with money market funds is the potential regulatory changes as a result of the need to bailout the money market industry after First Reserve broke the buck in September 2008. If there is a regulatory change that hurts the money market fund industry, it won't be material to BEN.
Rock Solid Balance Sheet
BEN's management keeps the balance sheet strong by holding a large amount of cash. As of September 30th, BEN had $5.8 billion of cash and only $1.0 billion of debt on its balance sheet. This amount of cash provides downside protection in the case of severe declines in the capital markets. Recently, management commented that the strong balance sheet helped them win new business for the first time as clients were attracted to the stability the balance sheet provided the organization.
Capital Stewardship
In addition to a strong balance sheet, management has been a good steward of shareholder capital. The company has not made a transformative acquisition since acquiring the Mutual Series fund complex in 1998. Instead, growth has come organically. Management has used excess cash to steadily repurchase shares. They have managed the company's capital to create more shareholder value.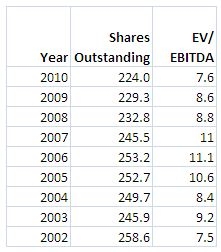 Source: Company reports
The table shows how BEN's management has reduced shares outstanding overtime. While not perfect every year, it appears that the management only repurchases shares when the stock's valuation is at the lower end of the range.
Low Valuation Compared to Peers
BEN trades at just 7.7x EV/EBITDA, which is one of the lowest valuations of its peer group. I like to look at EV/EBITDA ratios to account for differences cash and debt outstanding across the asset managers. On this basis, only Federated Investors (NYSE:FII) and Janus Capital (NYSE:JNS) have lower valuations than BEN. Both of these franchises have near term business issues than BEN does not have, so they deserve to trade at a discount to BEN. Federated has had serious outflows from its money market funds. Plus, as discussed above, it continues to grant fee waivers and faces a strong regulatory threat. Janus has had performance issues in some of its larger fund offerings in 2010, so their prospective fund flows are at risk.
At the other end of the spectrum, BEN is trading at a material discount to both T. Rowe Price and BlackRock (NYSE:BLK). T. Rowe is a loved stock on the buy-side and commands a premium valuation. Reasons given for the premium valuation are the company's strong retirement franchise and its high percentage of equity funds. I'd argue that based on fund flows, Franklin has at least a comparable distribution franchise to T. Rowe, if not better. BEN should not trade at 3.5 EBITDA multiples cheaper than T. Rowe.
BEN's discount to BlackRock makes no sense to me. I believe that the iShares acquisition made by BlackRock will prove to be a bad acquisition. The acquisition was made at a high price and the business is going to suffer from coming price competition in ETFs. I would point to Vanguard's refocus on the ETF business since 2008. Also, the 2011 entry of Russell Investments into the ETF business is problematic for BlackRock as the iShares ETFs based on the Russell indices are among the highest revenue generators in the iShares ETF line-up.
Ultimately, the ETF business will become a commodity business with only the index providers extracting economic profits from the business. BlackRock has also missed the huge industry flows into actively managed fixed income funds (its original core franchise) due to portfolio manager turnover. BlackRock should trade at a discount to BEN. We've already seen the market recognize this as BlackRock's shares have underperformed BEN's shares in 2010: -25% to +10%.
Low Valuation Compared to Its Own History
BEN has a low current valuation compared to its own history. At 7.7x EBITDA, BEN is 2-3 EBITDA multiples below its average valuation over the past 7 years. This is at the same time as its new business flows are the best they've been. If BEN traded up to its average of 10.5x EBITDA, the stock would trade at $154 or a close to 30% increase from today's price. Of course, given its strong fund flows, it is easy to make the case that BEN should trade at the high end of its valuation range.
Risks to BEN
Concentrated Flows – BEN's fund flows are concentrated into the Templeton Global Bond Fund.

This fund has a great long-term record and has been uncorrelated with flows into U.S. domestic fixed income funds.
Industry-Wide Flows Into Fixed Income Are Heavy – Investors have been piling into fixed income funds aggressively over the past two years.

If this were to change, BEN could see its fund flows change.
Margins Are Already High - BEN has less potential operating leverage than its peers because it already operates at high margins.

This could be a reason why BEN trades at a valuation at the low end of its peer group.

BEN's Strong Balance Sheet Reduces Upside Potential

– A downside to holding cash on its balance sheet is that it is tougher to get an attractive high returns as a common shareholder.
Asset Managers Are Leveraged to the Capital Markets – All asset managers are leveraged to the capital markets.

If asset values fell across the capital markets, asset managers would see their income decline faster than the market.
Asset Managers Are Exposed to Personnel Changes – All asset managers are at risk to turnover of fund managers.

A fund manager departure can lead to negative fund flows.
Conclusion
I believe that Franklin Resources is mispriced stock right now. Given its best in class fund flows and margins, it should trade at an EV-to-EBITDA valuation at the higher end of its peer group. The organic growth provided by its fund flows are very valuable to its shareholders. I own the stock outright in the Gator Blue Chip Portfolio and own the stock while shorting BlackRock for my long/short Financials-focused strategy.
Please do your own research on BEN before buying it. I suggest you read the company's securities filings here, read the last few years of earnings press releases, and listen to the last few years of quarterly conference calls.
Disclosure: I am long BEN, short BLK, JNS, AB