CombiMatrix Corporation (NASDAQ:CBMX) announced financial results for the second quarter ending June 30th, on August 7th. Aside from a large litigation expense, results were very much in line with our numbers. Importantly, almost all of the operational and financial fundamentals point towards consistent continued growth of CBMX's focused target market - that being chromsomal (prenatal and miscarriage analysis) microarray analysis.
The company also set new records on several metrics through Q2, including the number of billed customers, the number of microarray tests performed, the number of prenatal microarray tests performed, prenatal microarray testing revenue, total microarray testing revenue and total testing revenue. The only meaningful fundamental metric which underperformed our expectations was revenue per prenatal microarray test ($1.40k actual vs. $1.52k estimated).
Total revenue was $1.94M, including $1.91M from diagnostic testing services, which compared to our $1.84M total revenue and $1.80M diagnostic testing services estimates. Testing services revenue set a new all-time record and was up 32% yoy from $1.45M in Q2 2013 and up 7% sequentially from $1.79M in Q1 of this year. Testing revenue has now grown sequentially for four straight quarters.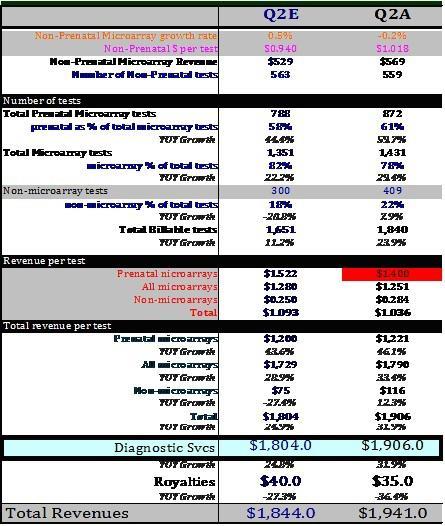 And despite the dip in revenue per prenatal microarray test (which fell to $1.40k from $1.53k in Q2 2013 and from $1.52k in Q1 2014), gross margin held up very well, coming in at 44.8% compared to 41.1% in Q2 2013 and 44.2% in Q1 of this year. Gross margin benefited from lower test processing costs from the company's recent switch to an Illumina platform as well as much higher total revenue per test compared to Q2 2013 ($1.04k in Q2 2014 vs. $0.97k in Q2 2013). And although total revenue per test did fall slightly from $1.07k in Q1 of this year, gross margin still widened by 60 basis points from Q1 to Q2. We see this as a testament to the company's focus on increasing efficiencies to help drive more of the growing revenue to the bottom line in their quest to reach profitability as soon as possible.
Operating expenses were $3.6M, but stripping out $860k in litigation expense, operating expenses would have been $2.7M compared to our $2.8M estimate. Compared to Q2 2013, operating expenses (ex-litigation) were up on both an absolute basis ($2.7M vs. $2.1M) as well as a percentage revenue basis (139% vs. 137%), although this was not unexpected as the company has significantly grown its sales force and invested in its billing and reimbursement departments over the last 12 months.
These investments are already paying significant dividends via revenue growth, record cash collections, increasing reimbursement, and a growing list of managed care contracts (which most recently includes an agreement with Stratose Networks, one of the largest directly managed PPO networks in the U.S., which was consummated in July). In addition, these investments have facilitated the company's strategic focus on ramping growth of their prenatal microarray platform, which commands the highest revenue per test among the company's offerings and also holds the most potential for outsized long-term growth. Prenatal microarray testing now accounts for 47% of all billable tests (and 64% of total testing revenue), up from 37% (58% of total testing revenue) in Q2 2013 and 36% (57% of total testing revenue) for all of 2013. So while operating expenses have been incrementally higher recently, we expect these investments, coupled with revenue growth to result in positive operating leverage in the near-term.
Net loss and EPS were $2.6M and ($0.23), compared to our $2.0M and ($0.18) estimates. However, excluding the unexpectedly significant litigation expense, net loss and EPS would have been $1.7M and ($0.16). We have made some small adjustments to our model following Q2 results. We are maintaining our Outperform rating and $3.50/share price target. See our previous Seeking Alpha article on CBMX here for comprehensive background on the company and our valuation methodology.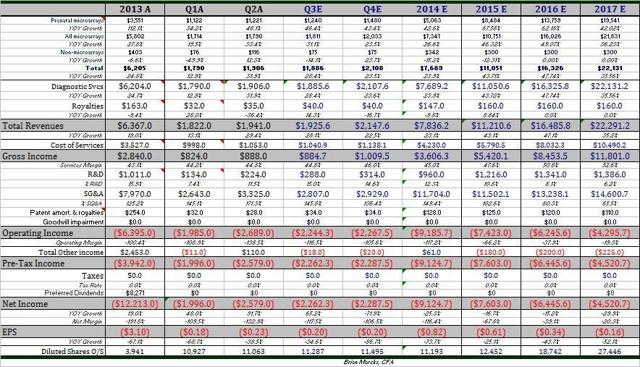 Disclosure: The author has no positions in any stocks mentioned, and no plans to initiate any positions within the next 72 hours. The author wrote this article themselves, and it expresses their own opinions. The author is not receiving compensation for it (other than from Seeking Alpha). The author has no business relationship with any company whose stock is mentioned in this article.
Disclosure: I/we have no positions in any stocks mentioned, and no plans to initiate any positions within the next 72 hours.
Business relationship disclosure: I work as a Consultant Analyst for Zacks Investment Research. The article is written by me and is 100% my opinion. I receive compensation from Zacks for writing equity research reports and providing valuation analysis on this company's stock and expect to do so in the future. Zacks receives compensation from the company. Please see the Zacks Disclaimer for further information: http://scr.zacks.com/Disclaimer/default.aspx
Editor's Note: This article covers one or more stocks trading at less than $1 per share and/or with less than a $100 million market cap. Please be aware of the risks associated with these stocks.