Recent Performance and Company Background
Texas-based oil and gas driller Ring Energy (NYSEMKT:REI) beat its revenue and earnings expectations for Q2 2014. This marks the third profitable quarter in a row for Ring Energy. This shows that the company has turned the tide from posting negative earnings to becoming profitable. Revenue increased 767% year-over-year to $11.2 million, beating expectations by $1.29 million. If the non-cash charge for stock-based compensation was excluded, EPS for Q2 was $0.13, beating estimates by $0.01. EPS was $0.11 when stock-based compensation is included. Excluding stock-based compensation is more in-line with comparing the operational trends of the company to other oil and gas producers. Net income increased to $2.8 million as compared to a net loss of $890,393 in Q2 2013. The increases were the result of increased production volumes due to increased development. It is this increase in production that will drive the growth for the company and the stock going forward.
Ring Energy has a stated goal of enhancing shareholder value through the growth of underlying proven reserves with an emphasis on positive cash flow. This shareholder-friendly mission is already materializing as shown in the Q2 results. Oil sales volume increased to 118,533 barrels in Q2 2014 as compared to 14,261 barrels in Q2 2013. Gas sales volume increased by 50 MCF to 7,142 MCF. As of the end of 2013, the company's proven reserves were 7.2 million BOE's worth an estimated $198 million in PV-10 (future net revenue discounted by 10%). Twenty-four percent of the reserves are developed and 94% of it is oil. Ring Energy's management team has over 150 years of combined experience in the oil and gas industry. Therefore, I think that the company will execute well on its shareholder-friendly growth mission.
Currently, Ring Energy operates in the Permian Basin in Texas and the Mississippian Lime play in Kansas. This includes over 20,747 gross acres in the Permian with 16,997 gross acres in Kansas. The good news for Ring is that the Central Basin Platform provides significant production history and predictability. There is a history of achieving attractive returns in the region and historical success with continued well-down spacing. This adds significant upside for Ring going forward.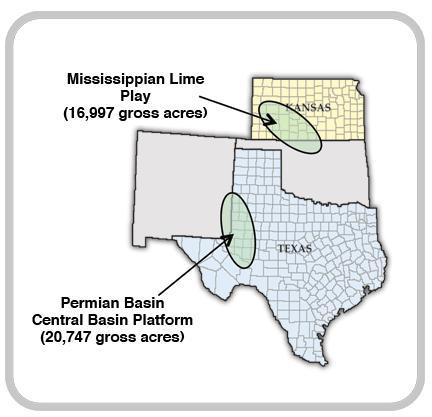 Map source: Ring Energy Investor Presentation
Growth Strategy and Catalysts
The company's strategy for growth looks solid and set-up for success. First, Ring looks for low-risk multi-play reserves in the Permian Basin with upside opportunity. The company also ensures that it has a credit facility in place and access to capital markets. Ring then employs its exploit strategy. This involves applying new technologies, adding additional pay zones, seeking the potential for down spacing, and secondary recovery. It also involves controlling costs and maintaining margins. Finally, Ring executes its exploration strategy. This involves step-out with drillbit, minimizing exploratory risk while experiencing the upside impact, and acquiring additional acreage on favorable terms. This focused approach is likely to allow the company to successfully grow revenues and earnings, which is bullish for shareholders over time.
For 2014, Ring Energy has a capital budget of $115 million. The company's forecast for the year is for 130 new development wells, 10 re-fracs, and infrastructure improvements in the Permian Basin. In Kansas, Ring plans to establish 10 vertical wells.
Ring Energy is currently in discussion with pipeline companies to begin delivering a portion of its production directly to pipelines, thus reducing the company's transportation costs. The company is also looking at potential acquisitions that would complement its existing properties. The lower costs associated with using pipelines would help to increase margins, while potential acquisitions would bring in more revenue to enhance growth going forward.
Undervalued as Compared to the Industry
The oil and gas drilling industry currently trades with a forward PE of 13. Ring Energy is trading at only 12 times next year's expected EPS of $1.48. This is also below the market's forward PE of about 16 as measured by the S&P 500. I think that it is important to look at forward valuation metrics with regard to Ring since the company recently turned profitable. Ring's stock is still valued lower than the industry even after an impressive run from the single-digits in 2013 to the current price of about $18.
Ring Energy is expected to grow earnings at 169% in 2015 over this year. This gives the stock a very low one-year PE/Growth ratio of 0.07 (12/169). However, I think that most of the stock's expectations are baked in to the current price after the strong performance for the past 12 - 18 months. Therefore, I think that the company will achieve more conservative stock gains over the next year if Ring meets its expectations. The conservative estimate calls for an approximate 8% gain in stock price. This involves using the inverse PE approach, taking the expected EPS of $1.48 and dividing it by the price of 18. If Ring exceeds its estimates, then I would expect better gains. For example, if the company achieves an EPS of $1.75 for 2015, the stock could gain nearly 10%.
The Risks
Since Ring Energy is a small producer, larger companies can have the advantage of negotiating more favorable prices for large quantities of oil/gas. Therefore, Ring could have a price disadvantage. The company is also sensitive to the price of oil and gas. However, I think that the supply/demand situation for these commodities is relatively stable according to EIA.gov, so prices should remain in a sweet spot for profitability for the foreseeable future.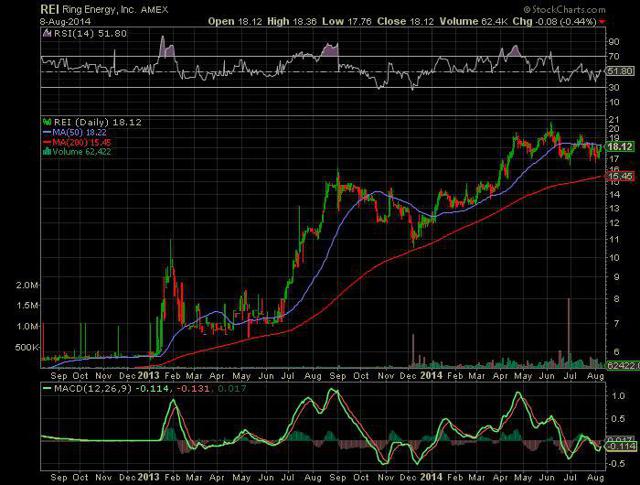 Click to enlarge
Conclusion
Ring Energy's stock is attractively valued when looking forward. Management is committed to maintaining a clean balance sheet (the company currently has zero debt). Ring has a good strategy in place that is likely to help the company achieve positive results for shareholders through increased production. Since the stock already had a strong run over the past year, my current estimates are more conservative for the next 12-18 months. I expect a conservative rise of 8% to 10% over the next year. If the company makes a strong acquisition within that time, then the results could be higher.
Disclosure: The author has no positions in any stocks mentioned, and no plans to initiate any positions within the next 72 hours. The author wrote this article themselves, and it expresses their own opinions. The author is not receiving compensation for it (other than from Seeking Alpha). The author has no business relationship with any company whose stock is mentioned in this article.