Buoyed by a healthy financial position and robust outlook of Whole Foods Market, Inc.'s (WFMI), the company's Board of Directors has reinstated the quarterly dividend after a hiatus of more than two years. The Board approved a quarterly dividend of 10 cents a share.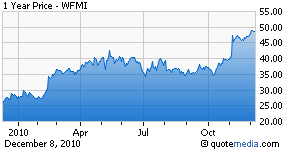 Management said that the dividend will be paid on January 20, 2011 to shareholders of record as on January 10, 2011, and will amount to approximately $17 million on a quarterly basis or approximately $69 million annually.
Austin, Texas-based Whole Foods, suspended its dividend in August 2008 to better manage its liquidity in the wake of a challenging economic environment. The company had at that time witnessed a 31.4% drop in its third quarter earnings per share.
Whole Foods, which faces stiff competition from other supermarket operators such as Kroger Company (NYSE:KR) and Supervalu Inc. (NYSE:SVU), hinted that its recent strong financial performance and disciplined capital expenditures have helped in generating healthy free cash flow consistently, which aided the company to reinstate the dividend payout. This was quite evident from its fourth quarter and fiscal 2010 results.
During fiscal 2010, Whole Foods generated operating cash flows of $585.3 million and incurred capital expenditures of $256.8 million, which resulted in free cash flows of $328.5 million.
The company ended the year with cash and cash equivalents, restricted cash, and investments of $644.7 million, and total debt of $508.7 million. Following the fourth quarter results, Whole Foods paid down $100 million of its term loan scheduled to mature in August 2012, with $390 million still outstanding.
For fiscal 2011, Whole Foods now expects an increase of 10%-12% in total sales, driven by a 5.5%-7.5% rise in comparable-store sales and a 5%-7% growth in identical-store sales. The company guided earnings in the range of $1.66 to $1.71 per share, and anticipates capital expenditures between $350 million to $400 million for the year. The company had previously forecasted earnings in the range of $1.59 to $1.64 per share.
Currently, we have an Outperform rating on Whole Foods. Moreover, the Zacks #1 Rank, which translates into a short-term Strong Buy recommendation, correlates with our long-term view.