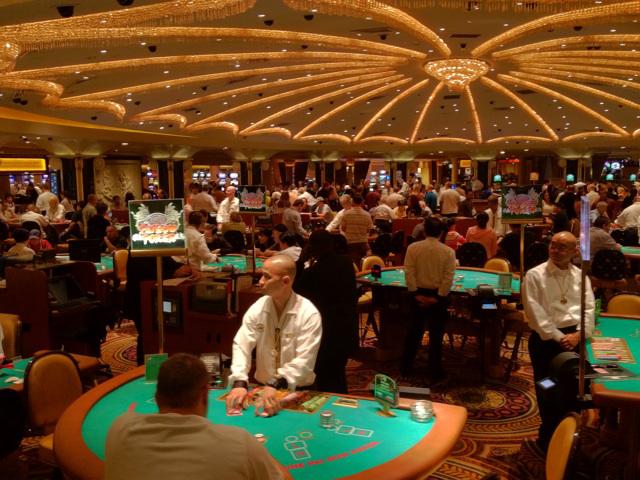 Picture: Caesars Palace, Las Vegas. Source: travelsworlds.com
Caesars Entertainment Corporation (NASDAQ:CZR) is expected to announce Q2 earnings on Monday. The company owns, operates and manages over 50 casinos in over 13 states and five countries. Its 39 casinos in the U.S. are primarily land-based, riverboat and dockside casinos. Analysts are expecting revenue of $2.22 billion, and loss per share of $1.19. The company was sold in 2008 in a leveraged buyout for $6 billion in cash and $22 billion in debt. The global economy has not rebounded since the financial crisis, yet the company remains saddled with $21 billion in debt and nearly $600 million in quarterly interest expense. The revenue estimate implies 3% growth Y/Y and 6% Q/Q. Below are the company's historical financial results: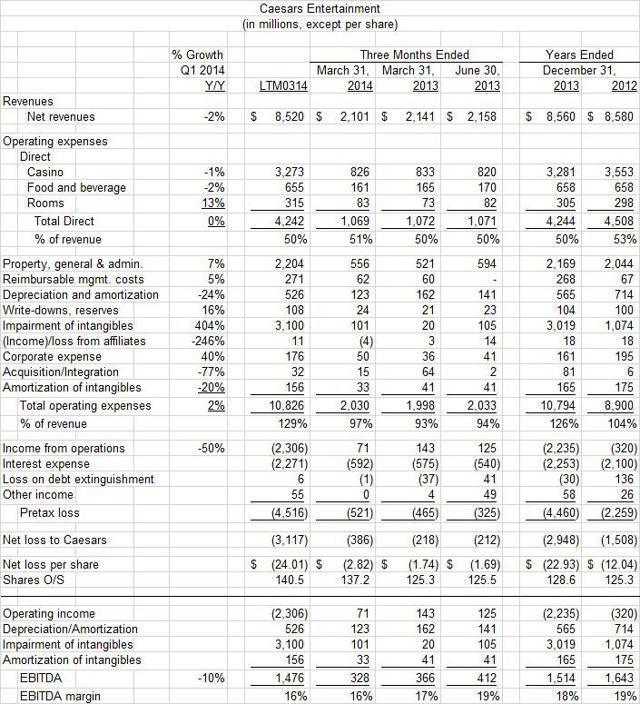 Click to enlarge
Revenue
Q1 2014 revenue of $2.1 billion declined 2% versus Q1 2013 revenue.
Revenue has been flat in the $2.1 billion to $2.2 billion range for the past few quarters. Annually, revenue has been flat at $8.6 billion.
Earnings
Direct costs - casino, food & beverage, and rooms - were 51% of revenue for Q1 2014, versus 50% for Q1 2013.
Total operating expenses as a percentage of revenue were 97% of revenue for Q1 2014, versus 93% for Q1 2013.
Operating income declined 50% annually from $143 million to $71 million. Meanwhile, EBITDA declined 10% from $366 million to $328 million over that same period. EBITDA margin of 16% declined slightly from the 17% achieved in Q1 2013.
The Q1 2014 net loss of $386 million was largely driven by $592 million of interest expense on the company's $24 billion (face value, $21 billion book value) of long-term debt.
Valuation
EBITDA through the last 12 months ended March 31, 2014 was $1.5 billion. The company's long-term debt of $21.0 billion alone is 14x EBITDA. It enterprise value - long-term debt plus an equity market capitalization of $1.9 billion - equates to 16x EBITDA.
The company's flat-to-declining revenue and EBITDA do not justify a 16x EBITDA multiple.
Secondly, Moody's recently opined that the $21 billion debt load rendered the capital structure of the company's operating subsidiary, Caesars Entertainment Operating Company, unsustainable.
Conclusion
Caesars has experienced flat-to-declining revenue and operating income. The company trades at 16x EBITDA, and Moody's is questioning the company's unsustainable capital structure. Caesars is in deep trouble going into earnings.
Disclosure: The author has no positions in any stocks mentioned, and no plans to initiate any positions within the next 72 hours. The author wrote this article themselves, and it expresses their own opinions. The author is not receiving compensation for it (other than from Seeking Alpha). The author has no business relationship with any company whose stock is mentioned in this article.