Brazil's largest low-fare airline operator, GOL Linhas Aereas Inteligentes S.A. (NYSE:GOL) reported passenger traffic for November 2010 in comparison with November 2009. Total traffic surged 5.4% with domestic traffic increasing 2.9% and International traffic up 27.2% year over year.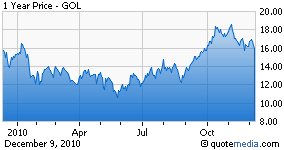 The prime reason for the significant increase in passenger traffic was the recovery in market conditions and particularly the emerging economies like Latin America. Secondly, domestic traffic was moved by the holidays in November and International traffic was influenced by the continuous increase in the frequency of flights to the existing high-demand markets and the addition of new routes in the Caribbean and Argentina.
In addition to the above, GOL is expected to largely benefit from its fleet renewal program. GOL closed the third quarter of fiscal 2010 with a total fleet of 121 aircraft, with an average age of 6.8 years. During the quarter, the company took delivery of two Boeing 737-800NG SFPs to replace one Boeing 737-300, and two Boeing 737-800s.
GOL is in the final phase of its plan to replace 737-300 and 767-300 aircraft with 737-800NGs and 737-700NGs for operations on short- and medium-haul routes. By the end of 2010, it will have renewed its entire fleet. The total operating fleet size would reach 111.
The fleet modernization plan guarantees that GOL's fleet will maintain its status as one of the youngest and most modern in the world. At the end of 2012, 65% of the fleet will comprise 737-800 SFP aircraft, maintaining a low average age of 6.9 years.
However, an intensely competitive environment particularly due to the proposed merger of two major Latin American airlines - LAN Airlines S.A. (NYSE:LFL) and TAM S.A. (NYSE:TAM) - will put the stock under pressure. The combined company will be called LATAM Airlines Group S.A. (LATAM). Thus, over the long term, we maintain our Neutral recommendation on GOL.