Misinformation And Exaggeration Always Ignore The Facts
There is no vaccine to immunize stocks against misinformation and exaggeration that spreads like a contagious virus with devastating effects. The virus can overpower a stock almost instantly. The only known antidote is a healthy diet of factual information. But unlike the disease, the antidote requires time to effectively cure the virus. One of America's most renowned authors put it this way:
A lie can travel half way around the world while the truth is putting on its shoes. - Mark Twain
RetailMeNot (NASDAQ:SALE) is Wall Street's latest victim of misinformation and exaggerated reports that border on delusional convictions and contempt for factual information. The company is portrayed by some as a horrible, disastrous and doomed enterprise whose only useful function is to be cast into a fire. Here's the most recent example of this inaccurate information:
During its Q2 results, RetailMeNot reported $0.08 earnings per share, missing analysts' consensus estimate of $0.17 by $0.09.
The confusion has taken its toll on the share price creating what is in my opinion a nice buying opportunity.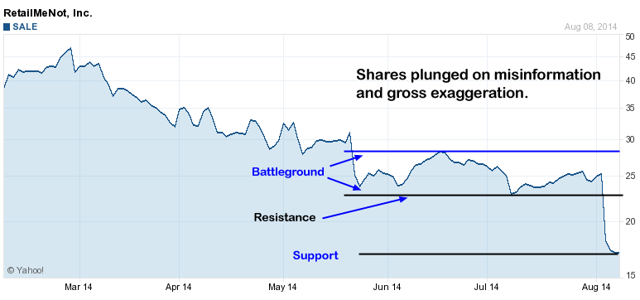 The basis of their criticism flows from Google's (NASDAQ:GOOG) (NASDAQ:GOOGL) algorithm change that caused a temporary fluctuation in the company's search engine ranking. As initially stated by the company, the algorithm change was overstated in the media. Panic selling followed the exaggerated reports as short sellers and media pundits plied their trade by concocting doomsday scenarios and comparing the stock to kindling in a fire. The company responded on May 22, 2014:
These reports greatly overstate the impact on RetailMeNot. It is too early to judge any potential impact of the latest Google algorithm change.
Since the initial release of the exaggerated reports, the company's stock price fell from $31 to $17 on misinformation of company's EPS and exaggerated and convoluted stories by fear mongering short sellers.
During the company's Q2 CC and earnings release, the facts began to provide an entirely different picture than the false stories being propagated. Let's review the company's performance and projections of future revenue growth and the impact of the algorithm change. You may be surprised to learn the sell-off is totally unwarranted as you examine the facts.
Impressive Q2 Performance And Highlights
Earnings exceed estimates: GAAP estimate of $0.07 EPS came in better than consensus at $0.08 EPS, beating by a penny. The non-GAAP estimate $0.17 EPS came in better than consensus at $0.18 EPS, a penny better than expected.
Cash and cash equivalents for the 6 months ending June 30,2014 up 22% from $165.8 million to $213.9 million.
Q2 was the 3rd consecutive profitable quarter for the company as shown here.
Total net revenues grew 37% to $59.5 million and organic net revenues were up 34%.
Net revenues from mobile totaled $10.7 million, reflecting growth of 114% and representing approximately 18% of total net revenues.
International net revenues grew to $13.5 million, reflecting growth of 57% and representing approximately 23% of total net revenues.
Net income was $4.3 million, reflecting a decline of 16% compared to $5.1 million.
Adjusted EBITDA was $19.7 million, reflecting growth of 25% and resulting in adjusted EBITDA margins of approximately 33%.
Strong gross margins of 92%; Adjusted EBITDA margins of 33%.
Growing Metrics Performance
Management has guided the company into a successful and growing enterprise. The following table demonstrates the company's solid and substantial performance quarter-over-quarter since Q2 2012. RetailMeNot's EPS for the past 3 quarters were $0.32, $0.21, and $0.18, respectively, on a non-GAAP basis. Management has shown it has the experience to navigate through difficult waters and still turn a profit. They have discovered how to increase market share, grow revenues and turn a healthy profit for their shareholders.
The following table highlights steady growth for RetailMeNot and deserves more than a passing grade.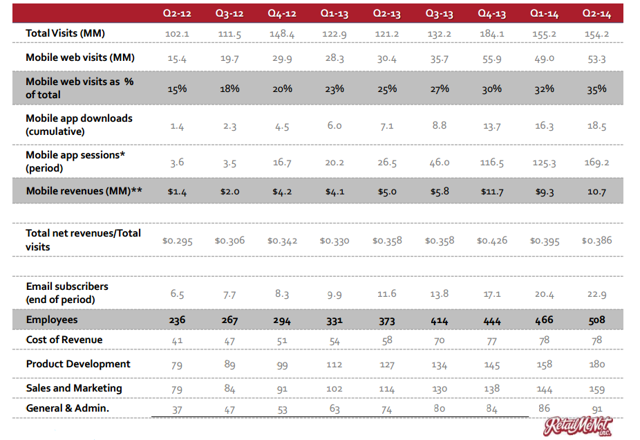 A Fly In The Ointment?
As an investors I am always concerned about any and every aspect of a potential challenge or change that could positively or negatively alter a company's success. Perhaps that is why you are reading this article now, trying to discern if you should consider buying or selling this company's stock. Let's drill down a little more into the company's response to the algorithm change.
During the Q2 2014 conference call, Debra Schwartz of Goldman Sachs and Ralph Schackart of William Blair asked the CEO, Cotter Cunningham, about the effects of the algorithm change on the company's financials.
Cunningham explained, he did not believe this algorithm change would be any different than the previous ones they successfully worked through in the past. In other words, this ain't our first rodeo. Cunningham remarked:
In general though we don't see anything in this one that gives us more pause than previous ones or increases our concerns. There are always something that you just have to kind of knuckle down and work through. So I think the short answer is nothing unusual or exceptional in this particular algorithm change versus previous ones.
Based on the company's CC, it appears the company has already recovered about two-thirds of the estimated 10% traffic fluctuation as further explained by the CEO:
We were able to get back about two-thirds of what we lost within say a month or so. We've continued to see progress since then. So I don't think -- I don't mean to imply that it's steady by any means. It tends to come in chunks. But on the whole we're pleased with the progress we have made today in terms of monetization. I think in general it's tracked pretty nicely to visits, I don't see it as being dramatically different.
CFO Doug Jeffries added his assessment:
I think just to highlight, when the algorithms reset, there was a period we talked about, a few weeks to couple of months following the algorithm change where rankings move around. And we've been going through that and we see nice recovery in our rankings. Really no changes we have made. Honestly it's just really kind of the algorithm grabbing the data and doing what it does to figure out who belongs in what position on the search outcome. So that will continue to basically move forward here as the algorithm does what it does.
Investors should understand that these corporate officers have a fiduciary and legal responsibility to the shareholders and the law to be open and honest about such matters. Should management attempt to mislead or conceal relevant information they would expose themselves to a great liability. So, in an abundance of caution management shared a very conservative and factual forecast with the public. I suspect that we will beat the 2014 full year forecast or come in at the high end.
2014 Full Year Net Revenue Forecast
On February 6, 2014 the company forecasted 2014 full year net revenues between $262 million to $270 million. On May 5, 2014 the company raised its full year forecast to be between $276 million to $282 million. On August 4, 2014 the company reverted back to its conservative 2014 full year net revenue forecast between $262 million and $270 million.
The original full year forecast estimated a net revenue growth of 27%. On May 5, the company adjusted it to 33%. Now, they are reverting back to the original 27% forecast. In short, the Google algorithm is estimated to impact the company's net revenue growth for the full year 2014 forecast "roughly 5%."
It should be emphasized here that we are speaking about net profits and the growth rate coming in at 27% for the full year 2014. Any seasoned investor knows 27% net revenue growth is a very healthy forecast. CEO, Cotter Cunningham explained:
To be specific, based on our current observations, we project that top line impact for our full year outlook will be roughly 5% of projected revenues and the impact on the second half outlook is approximately 8%, when compared to the midpoint of our guidance in May.
To summarize, the company is now forecasting a 27% increase in net revenues instead of the 33%. In my opinion this fractional adjustment does not equate with a 45% plunge in the share price from $31 to $17.
Just to clarify the EPS, the company actually reported:
The GAAP estimate $0.07 was actual $0.08, a penny better than expected. The non-GAAP estimate $0.17 was actual $0.18, a penny better than expected.
Conclusion
The facts speak for themselves. RetailMeNot appears to be an irresistible buy at this level. I fully expect that the present undervalued shares will rapidly climb to their former levels, but not without some volatility.
Disclosure: The author is long SALE. The author wrote this article themselves, and it expresses their own opinions. The author is not receiving compensation for it (other than from Seeking Alpha). The author has no business relationship with any company whose stock is mentioned in this article.