By Chris McKhann
Option traders understand that being long volatility can be a great hedge if equity markets fall, as evidenced by the recent barrage of new volatility products. But there are a lot of ways to get long volatility, and hedge funds are sticking with one tried-and-true method: using stock against long options.

The popularity of the VIX continues to grow, and products tied (or correlated) to it are rolling out seemingly on a daily basis. Barclays started the wave with the VXX, which has been wildly popular. Now Citi (NYSE:C) has joined the fray, as have UBS (NYSE:UBS) and VelocityShares.
It is clear why traders and investors would want to be long volatility, as it is inversely correlated with equity returns and is the one thing sure to go up when the market sells off sharply. But long volatility tends to have its cost, as does any other insurance policy.
Some traders like to keep it simple, and that simply means buying options against an opposing hedged position in stock. We have seen quite a bit of this type of volatility trading of late, and recent activity in BHP Billiton (NYSE:BHP) provided one example.
When BHP was trading around $85.45, an investor bought 3,330 of the January 2012 60 puts for $4.50. Now that alone would be a long volatility play, and if done against an equal number of BHP shares -- 333,000 -- it would be a protective put that would cap downside losses.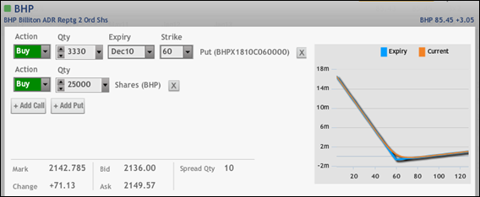 However, it appears that the trader bought 25,000 shares of BHP in the minutes following the put purchase, which is not quite the typical structure for this kind of position. The short delta of the puts is about twice the long delta of the shares so it has a decidedly bearish bias, but the trade can profit from shares rising or falling.
The enemy here is time decay, as the puts lose value every day if nothing happens. An increase in implied volatility should also increase the value of the puts. (See our Education section)
This is really the most basic of long volatility strategies and one of the oldest. Edward Thorpe discussed just such a strategy with convertible bonds in his famous "Beat the Market." It can be tailored to a more bullish or bearish bias depending on the amount of shares used to hedge the puts. And the costs of the strategy are very clear, unlike some of the new VIX-related products.