Recently, Capital Ladder Advisory Group (CLAG) wrote an analytical piece on Target Corporation (NYSE:TGT) that has, to a great degree, been validated by recent events surrounding the company. In this article, we will revisit our previously published statements surrounding the company, while updating investors on the current state of Target Corp. affairs.
We lead off our most recent analytical piece by discussing the topic surround the company's CEO search:
Target has recently embarked on its search for a new Chief Executive Officer given the resignation of its former CEO Gregg Steinhaffel. Target's Board, unfortunately, did not have an appropriate succession plan in place for such an event, but I would be of the opinion that the company understands the pressure to delivery shareholder returns and will aim to bring a high profile candidate to the company to fill the vacated position. Such a press release could provide shares of TGT with a much needed lift temporarily. Many institutional investors may be inclined to use the proposed announcement of a new CEO as a tool to reduce holdings and lock in long term profits. Short speculators may also use the proposed announcement as a tool to short shares in the company at higher levels.
It seems as though this has come to fruition just as we had outlined with the stock rising as a new CEO was named and the subsequent sell-off in the stock price as Target, once again, lowered quarterly guidance.
On July 31st, Target Corporation announced that its Board of Directors has named seasoned retail and consumer products veteran Brian Cornell as the company's next chairman of the Board of Directors and chief executive officer, effective August 12. Cornell, 55, joins the company with more than 30 years of experience at some of the nations leading retail and consumer product companies. Cornell most recently served as the chief executive officer of PepsiCo Americas Foods (NYSE:PEP). Before joining PepsiCo in 2012, Cornell served as president and CEO of Sams Club. Cornell also held the position of CEO at Michaels Stores, Inc. (NASDAQ:MIK), and prior to that, executive vice president and chief marketing officer for Safeway (NYSE:SWY). While the list of name brand consumer packaged goods and retail operators do certainly jump off the page for many, performance is key. If we recognize the performance of Sam's Club, Safeway and Michaels Stores over the last decade, we come to conclude that success has not been readily visible from these retailers over this time period. But what is of greatest concern is while Mr. Cornell has held executive titles in the aforementioned companies, he did not do so for any extensive periods of time. In fact, his longest tenure at any company previously named was 3 years. This is hardly enough time to extrapolate any successes or loyalty on the part of a proposed CEO positioned individual.
In the next segment of our analysis, CLAG discussed Target's Herculean task that lay ahead with regards to the company moving forward in 2014 after a dismal 2013, highlighted by the data breach during the 4th quarter. Capital Ladder is no stranger to turn-around stories and what it takes to achieve such turnaround success. In our last article we stated the following:
Turnaround stories are never easy and investors may have to change their time horizons and expectations for return on investment (ROI) given the current state of affairs for the company. In order for Target to regain its footing in the U.S., the company needs to refocus on sales. This focus on sales might result in margin contraction and lower operating profits for a period of time, but it is necessary to recapture the consumer's dollar and reinforce the company's value offerings.
We assess the validity in the previous statement not just on recent developments surrounding Target, but on historical experience in our Skullcandy (NASDAQ:SKUL), Nokia (NYSE:NOK), Nvidia (NASDAQ:NVDA) and Yahoo (NASDAQ:YHOO) coverage during 2013. If we refocus on Target's recent developments with regards to the company returning to its prior years of performance success we come to accept that the turnaround, indeed, will take longer than many have expected or anticipated.
On August 6th, the company lowered 2nd Quarter guidance. The lowering of guidance marks the fifth out of six applicable quarters in which the company will likely miss initially stated sales and earnings forecasts. While some may look to the data breach from last year as being the main driver of this underachievement from the company, it should be recognized that in each quarter leading up to the data breach, the company had also lowered guidance sequentially. Therefore, investors would be well-advised to recognize the data breach as nothing more than a spotlight shining on an otherwise poorly performing retail operator showing steep same-store-sales declines in perpetuity as evidenced in quarterly results.
Moreover, Target issued preliminary results on August 5th that greatly disappointed those investors whom did not recognize the company's headwinds appropriately. The following update on Target's full year outlook are as follows:
The Company now expects its second quarter 2014 Adjusted earnings per share (EPS) will be within a range around $0.78, compared with prior guidance of $0.85 to $1.00 per share, reflecting.
Second quarter 2014 GAAP EPS is expected to be approximately 41 cents lower than Adjusted EPS.
Much of Target's lowered guidance came from essentially flat U.S. same-store-sales which produced lower EBITDA margin form promotional markdowns and softer than anticipated sales in its Canadian business segment. Based on comments from other retailers surrounding the state of consumer spending habits, it may be prudent to expect similar spending habits and results from retailers to persist through much of 2014. Additionally, from the hundreds of stores that CLAG visits weekly, we would suggest that Target has taken missteps, continues to take missteps and will continue with these missteps in operations to turnaround the state of the company as will be evidenced later in this update. Target's strict adherence to what is known as "Best Practices" within the organization is facilitating the longevity in its recent declines.
This brings us to the next aspect of Target's operations. The stock has long since benefited from dramatic spending cuts in the most pliable area the company can cut spending, payroll. Unfortunately, and as has been proven, payroll/labor cuts are not enough for a company of this size with retail square footage of this size. Reduction in staffing usually leads to a reduction in sales when dealing with such large store formats. In our last article, CLAG stated the following to highlight this point of analysis:
Given the size of Target's retail footprint and operations, there simply aren't enough cost cuts the company can execute and still run its business at the corporate, logistic or store levels in order to maintain or increase sales profitably.
Essentially, Target is not J.C. Penney (NYSE:JCP) and there is not a billion dollars worth of cost cuts the company can seek out, going forward, in order to reduce expenses without additional and dramatic declines in profitability. Additionally, Target's retail footprint highlights how deep a retailer can fall when having scaled so high over a period of decades. Most simply stated:
Target stores are too large to scale down the store-level staffing without meaningfully impacting sales and profitability.
Unfortunately, and as we will outline, Target is continuing to believe otherwise in spite of a 2-year track record which proves its strategy is failing to achieve successful results.
Before moving forward, CLAG wishes for investors to continue to consider its previously outlined considerations for an investment in shares of TGT.
Current broader market levels compared to shares of TGT.
The state of affairs surrounding Target's business and prospects going forward.
Gross margin impact from promotional activities.
Competitive threats in Canada and United States (Loblaw (OTCPK:LBLCF), Sobeys, Wal-Mart (NYSE:WMT), Bed Bath & Beyond (NASDAQ:BBBY) etc.).
Channeling sales to e-commerce and cannibalization of brick and mortar sales.
Benefits from reinstitution of buy-back plan possibly later in FY14.
Easier comparisons later in FY14.
Share price valuation compared to peers.
Cash and cash equivalents are compelling aspects of Target's balance sheet and remain intact.
Future expansion efforts to come in both Canada and Mexico.
New CEO announcement and strategy deployment.
Historical company growth performance.
We are now forced to update this list of considerations to include the following:
Possible continuation of lowered FY14 guidance resulting in earnings deterioration.
Company may revisit its dividend structure.
Late in 2012, CLAG published an article titled "Target and The Big Retail Bust". Many of the aspects of the Target business and operations are outlined within this publication and many are and have been predictive and accurate. With this article in mind, we now aim to outline why Target's business may continue to show a lack of improvement in the near future. To be clear, CLAG believes the Target business to be a strong business under the right management and with the appropriate changes to operations both at the corporate and store levels. A divergence from what were once assumed to be "Best Practices" needs to be revisited and improved upon.
Capital Ladder Advisory Group field research staff visits dozens of retailers and thousands of retail stores monthly. We talk with in-store personnel and corporate management to get a feel for the business, the consumer and the company's longer term prospects be they good, bad or…ugly. Target retail store operations continue to display why the company fails to achieve positive same-store-sale results. Store operations are a birthing of corporate mandates through "Best Practices" which continue to produce poor and declining results.
Capital Ladder has illustrated and articulated the various failures that Target employs with regards to merchandising strategies in the past. To give investors and readers the most obvious problem within the Target merchandising strategy one only needs to look at a store foot print and accept that almost 20% of all Target stores are absent merchandise. Another term which best describes this space is unsellable retail square footage and Target ranks the highest among the big-box department store retailers in the United States with roughly 20% of its retail space going unused. Unlike its peers, Target only uses a plan-o-gram merchandising strategy. Wal-Mart uses a combination of floor stacks, plan-o-grams and merchant driven merchandising strategies.
As merchandising strategy continues to plague the company and while they continue to revamp their grocery segment offerings to drive greater foot-traffic, what is most concerning is the dramatic payroll cuts which are affecting daily store operations. The following illustrations/photographs and supporting narrative will clarify this point of view.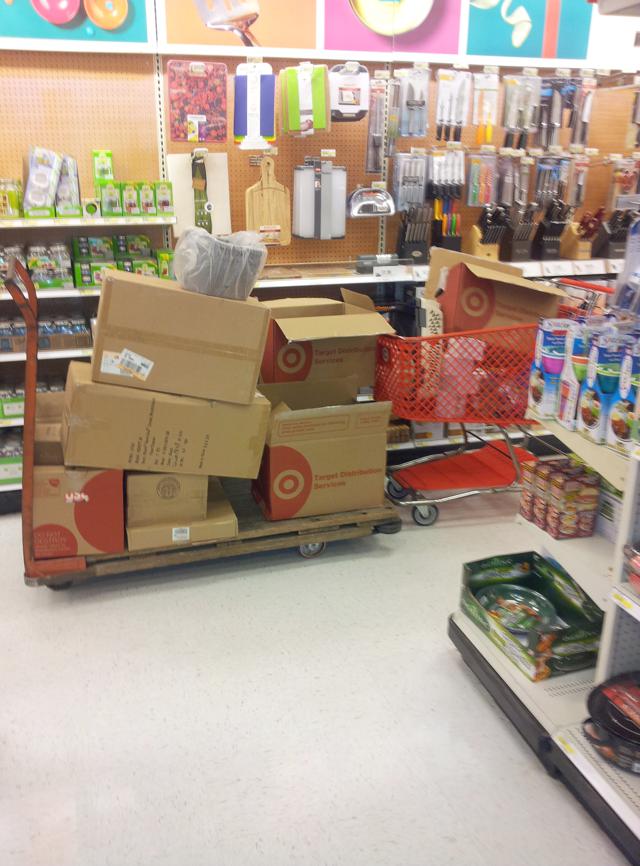 The illustration above is from an Target store at 9:00am. EST. If I were a customer, I certainly wouldn't be able to access the merchandise behind this flatbed and shopping cart filled with merchandise yet to be sorted and placed on shelves appropriately. It get's worse in the next picture and from a broader perspective.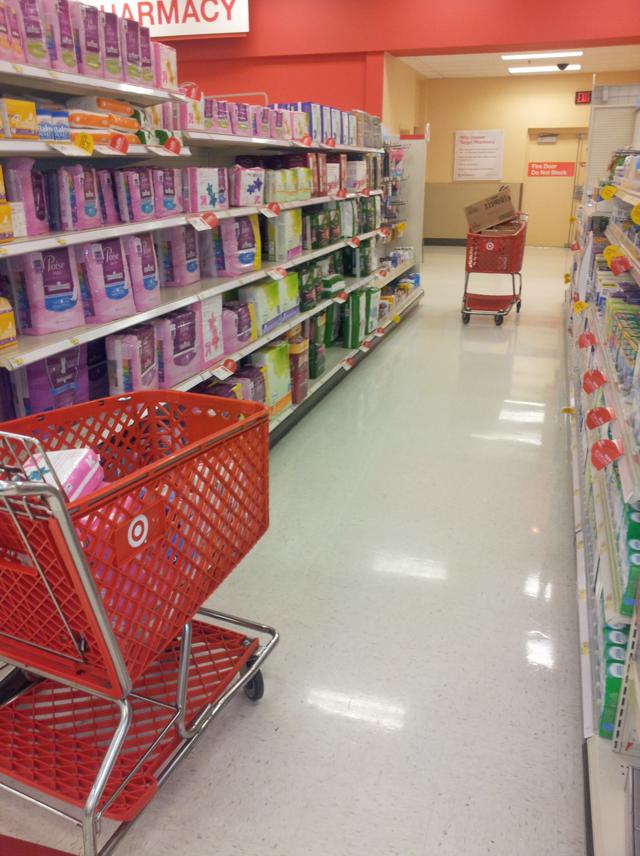 In the picture above, a customer would unduly have to navigate around these shopping carts which are used to deliver merchandise to the appropriate aisle for stocking. Obviously, these shopping carts have yet to be worked by the store staff and will remain an obstacle for the customer to navigate around until they are worked. It is no exaggeration to state that, yes, it gets even worse as the next picture will illustrate.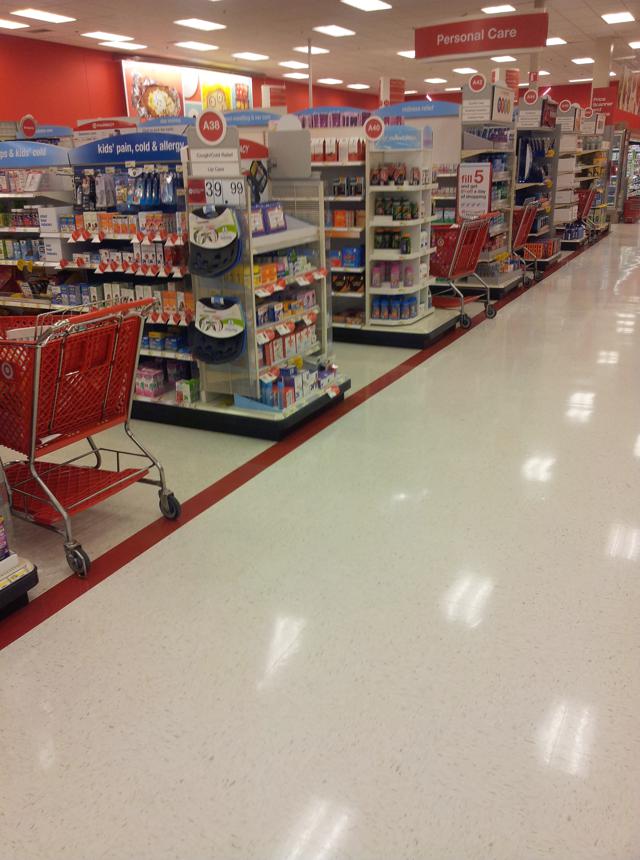 No, your eyes are not deceiving you. This is yet another Target store location at 9:22am EST with shopping carts filled with boxed and un-boxed merchandise waiting to be shelved by in-store personnel. I would be of the opinion this is not what a customer would want to see or wish to navigate around in almost every aisle of the store. As a research firm which is dedicated to covering the Target company and which has covered the company since 2007, CLAG has never witnessed such grossly mismanaged logistics store operations. As much as we wish we could say we have seen the worst of this issue with in-store logistics processing, unfortunately that is not the case.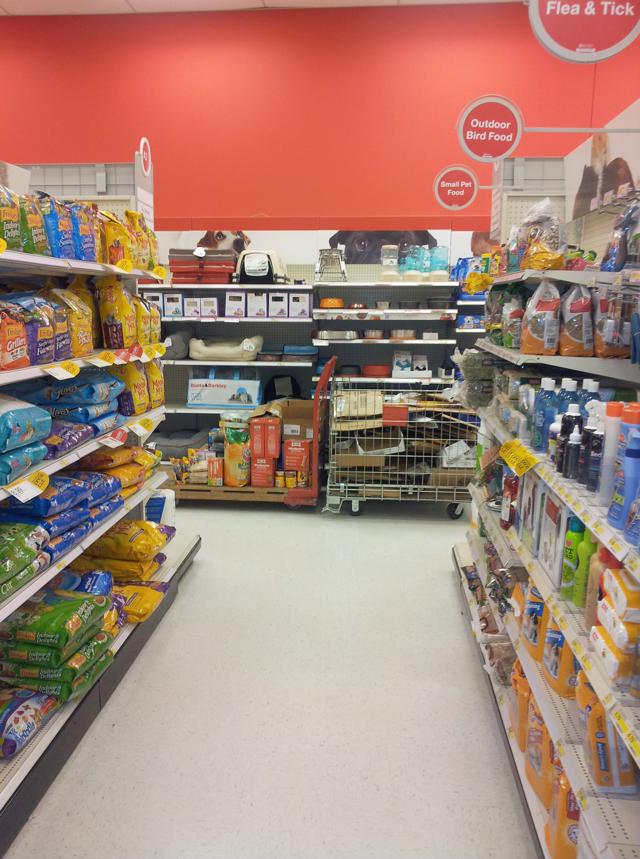 In this same store as the previous illustration, we see yet another flatbed of merchandise waiting to be worked and blocking access to product which may be desired by the customer. In addition to the flatbed we also see a trash bin for cardboard blocking merchandise that might be desired by the customer.
It is quite clear based on CLAG's consistent analysis of the Target business that investors might be inclined to take a closer look at in-store operations when deciding whether or not to invest in shares of TGT. Present problems identified in this article are only symptomatic of long-term issues that have plagued the growth of the company. Presently, we do not see the company's efforts changing, but rather it seems as though the company is simply "digging in its heels".
If we look at the 10-year operational expansion and subsequent contractions from Target we are forced to relent that nothing the company has done, has worked. Expanding into lawn and garden categories have resulted in the closure of all lawn and garden shops at Target. Expansion into grocery has resulted in gross margin contraction and a subsequent reformatting of the grocery product segment by the company over the last 4 years. P-fresh exploration is proving to be nothing more than a regional improvement rather than a chain-wide benefit. The "Home Bazaar" event that began in 2006, in order to drive Home Goods Department sales, was unsuccessful and ended in 2010. Cost cutting has proven to reduce foot traffic and average ticket. Product line sponsorships have not resulted in improving sales for Home, Apparel and Leisure departments. Expanding into Canada has not proven to benefit the company's bottom line and seemingly will not show improving trends for sales in the near future. Lastly, markdowns and price cuts, in store, are not improving traffic trends presently. In short, if the consumer needs a product Target has done well to deliver on this product at a low price. However, Target stores are far more populated with discretionary goods then they are populated with consumer staples or needs-based goods. Additionally, it takes a great deal of effort to deliver these goods to the consumer in a way that shows increasing profits for shareholders. Lastly, it should be considered that we have yet to even brush the surface of the topic regarding Target's competition for the "all-mighty" consumer dollar.
Disclosure: The author is long PEP. The author wrote this article themselves, and it expresses their own opinions. The author is not receiving compensation for it (other than from Seeking Alpha). The author has no business relationship with any company whose stock is mentioned in this article.