By Brad Zigler
There's nothing like a little cocoa to warm up these cold mornings. Readers who bought a little cocoa or its proxy, NIB, since we talked the commodity up on Monday morning ("Cocoa Getting Hot") might be feeling toasty and cozy now.
December ICE cocoa opened at $2,929 a ton on Monday and closed on its high at $3,084 in pretty much vertical trading. Tuesday was a reversal day, featuring an early run-up to $3,140 before the steam ran out and prices backed down, leaving the contract at $3,059. On Wednesday, downward momentum brought prices to the $3,031 level.
December ICE Cocoa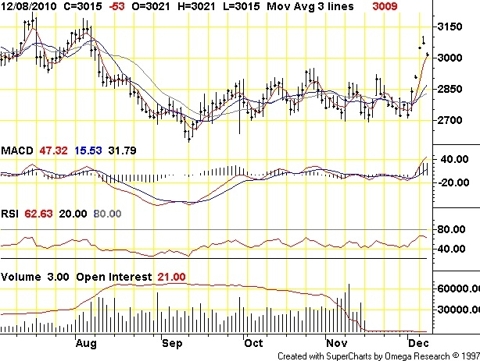 Click to enlarge
Even with the sell-off, the contract's still up 3.5% on the week. Buyers of the iPath note saw the note's upward mojo run out at $44.57 after getting out of the starting blocks at $42.76 Monday.
For the week remaining in the December contract's life, near-term support is at $3,011, which translates to a worry price of $42.61 for the NIB note.
By tomorrow, we should know if we'll be toasting the New Year with cups of the sweet stuff.