With the US dropping both aid packages and bombs in Iraq, investors appear to be thankful that the noise from Russia and Ukraine has quieted down and allowed for complete focus on the Islamic State insurgents. We give Putin a lot of credit, some would argue too much, but at the end of the day he usually winds up having been a step ahead of his adversaries. Which is why we wonder if he has engineered this calming of the storm in Ukraine in order to help his allies in Syria and Iran.
It sure looks as if he has freed up the US to militarily act in Iraq; which has the added benefit of allowing the US to weaken a terror group which has taken over part of Syria and is a potential threat to Iran - two of Russia's biggest allies. We are surprised that more of the talking heads on television are not talking about this, but many of them focus on providing reactionary commentary and not analyzing the current situation and explaining why certain characters act the way they do.
Chart of the Day:
Prices for lean hogs have come down a bit, trending towards both psychologically important levels and support on the chart. This is worth watching moving forward.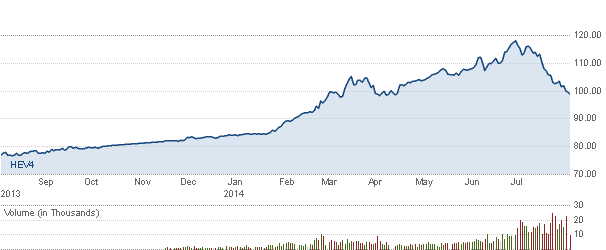 Source: CNBC
Commodity prices are as follows (at time of submission):
Gold: $1,309.20/ounce, down by $1.80/ounce
Silver: $19.98/ounce, up by $0.039/ounce
Oil: $98.27/barrel, up by $0.62/barrel
RBOB Gas: $2.7604/gallon, up by $0.0067/gallon
Natural Gas: $3.946/MMbtu, down by $0.016/MMbtu
Copper: $3.1745/pound, up by $0.001/pound
Platinum: $1,472.70/ounce, down by $5.60/ounce
MLP Structure Out of Date?
Richard Kinder has been ahead of the energy industry on a number of issues over the last two decades, and his latest move is another bold maneuver which flies in the face of common beliefs within the investment community right now. With all of the focus on yield, the MLP and REIT structures have become quite popular with investors. Kinder Morgan utilized the MLP structure to consolidate the industry but now believes that with the scale the various Kinder Morgan controlled entities have achieved that a C Corp is the proper entity type to move forward with.
Mr. Kinder will use his Kinder Morgan Inc. (NYSE:KMI) as the consolidating vehicle and use $44 billion in cash and equity to roll-up its MLPs, Kinder Morgan Energy Partners (NYSE:KMP), Kinder Morgan Management (NYSE:KMR) and El Paso Pipeline Partners (NYSE:EPB). The combination will simplify the capital structure of the firms and streamline new projects. No longer will growth and acquisition targets be limited by cash flow constraints and the lower yield will increase the combined entities' ability to fund growth moving forward.
We recently highlighted Kinder Morgan shares as they moved through $35-36/share, a key area of resistance. Our hope is that the gains hold on this upswing.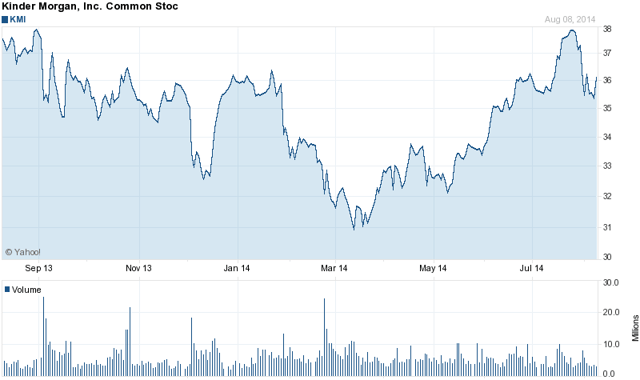 Source: Yahoo Finance
Kinder Morgan will issue 2.1931 shares and pay $10.77 in cash for each unit of Kinder Morgan Energy Partners, which is a 12% premium based upon the closing prices on Friday. Unitholders of Kinder Morgan Management will receive 2.4849 shares of Kinder Morgan which equates to a 16.5% premium and the unitholders of El Paso Pipeline Partners will receive 0.9451 shares of Kinder Morgan along with $4.65 in cash for a total premium of 15.4%.
Our Thoughts On MLPs Moving Forward
We have seen a lot of value in certain MLP names over the years, but as we have watched a number of these entities grow dramatically the law of large numbers has come into play. The larger MLPs become the harder it is to find attractive targets, either assets available for sale or other MLPs which can be purchased. At a certain size it becomes too difficult to manage and operate efficiently, and with Mr. Kinder moving to consolidate his empire it appears we now have a benchmark to use as a reference point.
Future Deals?
Mr. Kinder hinted that these deals will allow the combined entity to continue to consolidate the industry, and with Kinder Morgan's cost of equity declining dramatically it certainly appears that future deals are in the cards. The company could look to purchase assets from other companies or look to other MLPs as acquisition targets. We think that the new Kinder Morgan will be an equal opportunist buyer; looking to oil companies looking to raise cash to fund exploration efforts as well as MLPs with attractive valuations.
With 'Big Oil' and mid-tier oil companies looking to create their own MLPs, the potential acquisition pool will be growing over the next 12-18 months. Royal Dutch Shell (NYSE:RDS.A) (NYSE:RDS.B) and Hess Corp. (NYSE:HES) will be looking to create MLPs and the assets which are initially to be included in those entities could be of interest to someone like Mr. Kinder. Also, the new Kinder Morgan could team up with MLPs focused on the production side of the business to buy diversified MLPs with production and transportation businesses. This could be beneficial to a serial acquirer like Linn Energy (LINE), which also controls Linn Co (LNCO), that could view having a partner to offload the infrastructure assets to as a way to complete larger deals and maintain focus.
Disclosure: The author has no positions in any stocks mentioned, and no plans to initiate any positions within the next 72 hours. The author wrote this article themselves, and it expresses their own opinions. The author is not receiving compensation for it (other than from Seeking Alpha). The author has no business relationship with any company whose stock is mentioned in this article.
Additional disclosure: KMI has previously been recommended.