By GC Mays
The Department of Labor reported that in the week ending Dec. 4 the advance figure for weekly jobless claims was 421,000, a decrease of 17,000 from the previous week's revised figure of 438,000. The four week moving average declined to 427,000, a decrease of 4,000 from the previous week. The advance figure for continuing claims for the week ending Nov. 27 was 4,086,000, a decrease of 191,000 from the previous week's revised level of 4,277,000; the four week moving average was 4,226,000, a decrease of 64,250 from the preceding week's revised average 4,290,250.
I would be very careful about getting too exited about this decline. As I wrote a few weeks ago in "Weekly Jobless Claims Trend Improving - Prosperity Still a Long Way Off," in the short-term this decline is not likely to persist beyond the holiday season. Whenever we get an improving number there are some who point to the unadjusted claims number, which was 582,000 this week. However, in fairness, I think that this is a bit hypocritical to cite the unadjusted number when it suits your argument and ignore it when it doesn't. Between Aug. 20 and Oct. 16 the unadjusted claims number was below the magic 400,000 mark eight out of nine weeks and we heard not a peep from the jobless claims bears, of which I include myself.
Click to enlarge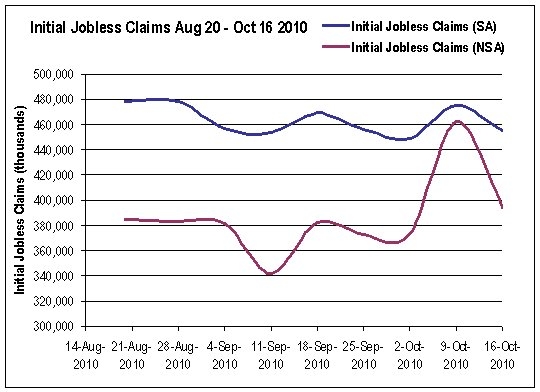 Source: Dept. of Labor/Mays Report
Am I a labor market bull? Not at all. Just someone who believes that pragmatism is superior to idealism when attempting to find out what is really the case. Even if we decide to analyze the unadjusted weekly numbers, they are also showing a longer term downward trend in weekly claims since the peak of the crisis in early 2009.
Click to enlarge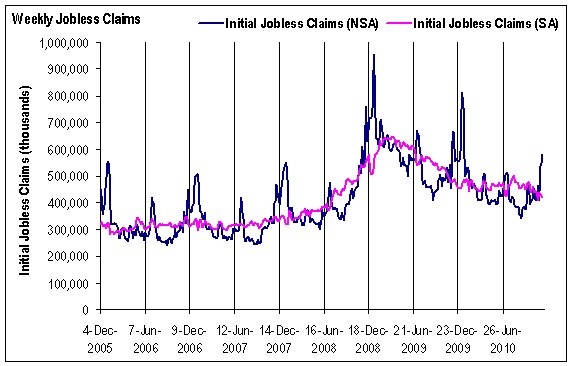 Source: Dept. of Labor/The Mays Report
The above chart also clearly illustrates a semi-annual spike in unadjusted initial claims, with the year-end spike being higher than the mid-year. It also illustrates that this time of year a spike in unadjusted claims is normal. However, a downward trend in these numbers does not necessarily equate to an improving labor market.
The Hard Problem
In a piece I wrote earlier this month entitled "Just How Relevant is American Labor," I touched on how the American labor force and working age population was growing at a faster rate than there were jobs being created. The truth is, the American labor market is undergoing a structural change that will create a sort of "new normal" that no one really understands at this point. Our working age population will continue to rise for the foreseeable future. If our labor force does not rise along as it has historically, we will wind up with more single earner households and a permanent decline in potential GDP. This means a lower standard of living for our nation.
A nation whose government and population is highly leveraged opens itself up to potentially catastrophic results under such conditions. The last thing a person who is highly leveraged would want to do voluntarily is accept a lower salary.
Each Thursday we analyze and discuss the weekly initial and continuing jobless claims figures as they are released. However, without addressing the changing structure of America's demand for labor, do the weekly gyrations really matter?