Kinder Morgan (NYSE:KMI) announced that it is consolidating its vast oil and gas pipeline empire into a $70B single company. The company announced that it is shedding its tax-advantaged legal structure it had popularized during the US shale boom; the MLP into one company. This will transform Kinder Morgan Inc. into a $92B market cap mega-corporation. This combined entity will be the largest energy infrastructure company in North America and the third-largest energy company overall.

The affected units include Kinder Morgan Energy Partners LP (NYSE:KMP), Kinder Morgan Management LLC (NYSE:KMR) and El Pasp Pipeline Partners LP (NYSE:EPB). KMP shareholders will receive 2.1931 shares of KMI and $10.77 in cash; KMR shareholders will receive 2.4849 shares of KMI; EPB shareholders will receive 0.9451 shares of KMI and $4.65 in cash. Both KMP and EPB shareholders will be able to elect cash or KMI stock consideration subject to proration. There is also some great news for KMI shareholders (including yours truly) -- the expected dividends for 2015 are $2.00, a 16% increase over current $1.72 KMI pays at a yield of 4.76%. In addition, KMI is expected to grow dividends at a rate of 10% each year from 2015 to 2020.

The current and simplified company structure is show below (source: Kinder Morgan presentation):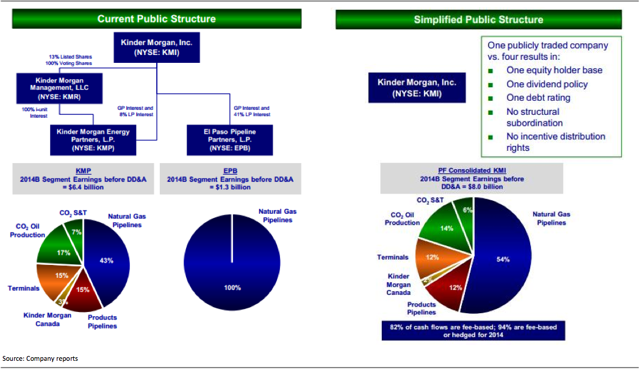 Full Disclosure: Long KMI. My full list of holdings is available here.