Two of the best income plays around are Linn Energy LLC (LINE) and its sister company LinnCo LLC (LNCO). LinnCo's sole purpose is to own shares of Linn Energy, making it wholly dependent on Linn Energy's operations. Last quarter, the buy thesis for both investments was heavily reinforced due to a couple of factors.
Linn Energy's output beat expectations and rose by 2.4% quarter-over-quarter to 1,131 MMcfe/d, up substantially from 780 MMcfe/d in the same quarter last year. The reason for the sharp year-over-year jump was the closing of the Berry Petroleum merger on December 16, 2013, which is why the sequential increase is more relevant.
The best thing that happened this quarter was LINN's distribution coverage ratio climbing back over one. In the first quarter of 2014, Linn Energy's coverage ratio dipped to 0.993, which didn't materially impact Linn or LinnCo's payout but prohibited either entity from increasing its distribution or dividend. Last quarter, Linn made $32 million in excess cash after its distributions, and is now guiding to generate $103 million in excess cash during 2014.
Considering Linn pays out $1.08 billion a year at its current distribution level, Linn could increase its payout by 7-9% and still be fully covered. Linn Energy and LinnCo yield 9.3% and 9.6%, respectively, and having a fully covered payout with upside potential makes the Linn and LinnCo family solid income plays. Looking ahead, Linn has plenty of opportunities to save on costs and continue boosting its distributable cash flow.
One man's garbage is another man's treasure
Most North American E&P players are focused on the shale revolution, as it offers the highest levels of growth. The downside to developing shale plays is that there are very high upfront costs, and shale production doesn't start producing free cash flow until after several years of capital intensive development. This is why shale assets don't fit into Linn and LinnCo's investment strategy, because the payout would have to be severely cut for years to develop shale plays.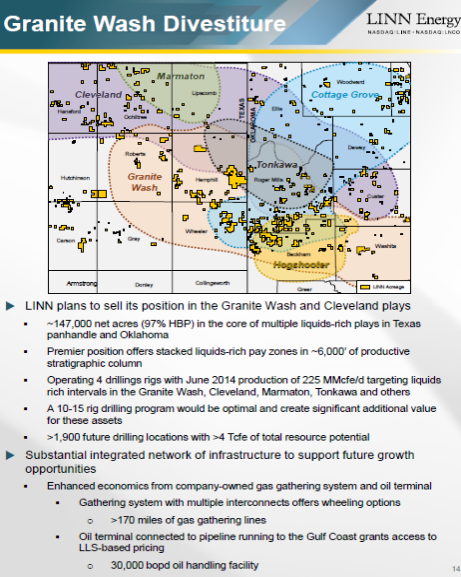 Source: Linn Energy Presentation
To fund its recent acquisitions, Linn is selling off its 147,000 net acre position in the Granite Wash, Cleveland, and various other plays in the Mid-Continent. This comes after Linn sold off $90 million of undeveloped acreage in the Anadarko Basin. While the Anadarko Basin has promise for other operators, the high upfront costs don't fit in with Linn and LinnCo's business model. Through the sale of these assets, Linn will be able to fund the purchase of assets better suited for its operations.
Gains through scale
Linn Energy has undergone three different acquisitions in the Hugoton Basin this year, making it the largest producer in the region. Last quarter, Linn grew its Hugoton Basin output by 5% sequentially to 275,000 MMcfe/d.
Source: Linn Energy Presentation
By growing its position through the asset swap with Exxon Mobil, purchasing $2.3 billion of Devon's assets, and buying up Pioneer Natural Resources' position for $340 million, Linn now has 1.6 million net acres in the play. While production from the play is 60% weighted towards dry gas, investors should take a look at Linn's hedging strategy.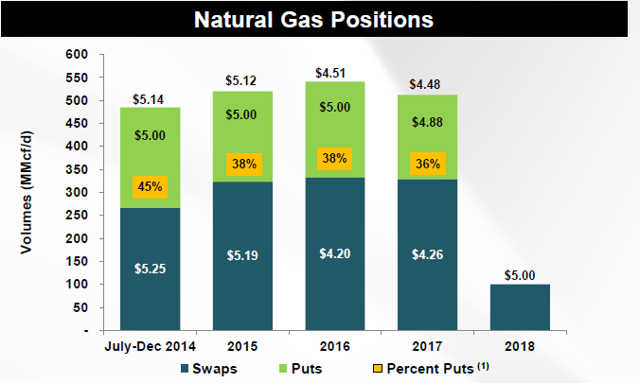 Source: Linn Presentation
From now till the end of 2015, Linn will be able to sell its natural gas for over $5 mmBtu, generating strong returns from a conventional gas play with low maintenance costs. Beyond 2015, the start up of LNG exports and increasing use of natural gas as a source of electricity in the United States could keep prices around $5 mmBtu. Management also noted that through scale, Linn will be able to lower its costs further through logistical synergies from overlapping acreage and by utilizing its gas processing capacity in the area.
Linn owns the Jayhawk and Satanta (51% interest) natural gas processing facilities in the area, with a combined capacity of 690 MMcfe/d. With one rig in the area, Linn will slowly grow production from the field, which it can feed into its two nearby plants and boost their utilization rates.
Moving into oil
Through the Berry Petroleum merger, Linn became a much bigger player in California's mature oil fields, and the results have been stellar. Output from California grew 9% quarter-over-quarter to 29,000 BOE/d. Linn is operating three rigs in the play, extracting crude through thermal or steam enhanced recovery programs.
What makes growth from California important is that the average wells' production mix is weighted 85% towards crude, generating high returns. In the South Midway, home to ~40% of LINN's California output, the average annual decline rate is 5% - 8%. Management has seen decline rates lower than that, which means that LINN's distributable cash flow from the area could hold up better than expected.
The North Midlay-Sunset region is currently in growth mode, in large part because of the Diatomite field. Production from Diatomite increased to ~9,400 BOE/d from ~7,200 BOE/d last quarter, 30% quarter-over-quarter growth. With 360 million barrels of oil in place, Linn has plenty of resources to extract from its acreage. Currently, Linn is using thermal enhanced oil recovery techniques in California, but in the future, Linn could use CO2 EOR to boost the recovery rate even further.
LINN's company-wide production mix is 44% natural gas, 39% crude, and 17% NGLs. Moving into California allowed it to reap the spoils of high return, low decline conventional crude production. As its California operations are still in the growth phase, Linn will keep cranking out higher and higher levels of DCF from the area over the next few years.
Final thoughts
The buy thesis for Linn Energy and LinnCo LLC is stronger now than it ever was. For investors looking for yields north of 9% that are fully funded and have room for upside through operational synergies in the Hugoton Basin and increased crude output from California, take a good look at Linn and LinnCo. These are two well run companies that will now be able to boost their payouts as LINN's distribution coverage ratio climbs upwards, providing a bullish catalyst in the future.
Disclosure: The author is long LNCO. The author wrote this article themselves, and it expresses their own opinions. The author is not receiving compensation for it (other than from Seeking Alpha). The author has no business relationship with any company whose stock is mentioned in this article.