Those that read QTR often know there aren't too many stocks that I like that don't have their fundamentals in order. Through and through, I'm generally someone that supports tangible financials and a low multiple to back up a stock's valuation. Big cash flow, big margins, tiny debt - you know the deal.
In the case of Tesla (NASDAQ:TSLA), I feel just the opposite. As Tesla is limped in with other "momentum" companies with high valuations, I continue to believe the automaker is on the verge of revolutionizing the auto industry as we know it, and I think the company's valuation now is still not too inflated based on what the company could potentially do in years to come - both with their vehicles, and with their battery plant.
So far, history has been kind to my bullishness on Tesla. TipRanks has my average profit per Tesla article at +19.6%, with all of my bullish pieces inevitably being profitable - as will happen when a stock touches new all time highs.

For those that ignored the FUD surrounding the fires heading back to articles that I wrote towards the end of 2013, Tesla is reaping substantial profits. And, there doesn't seem to be anything but positive momentum for the bulls right now.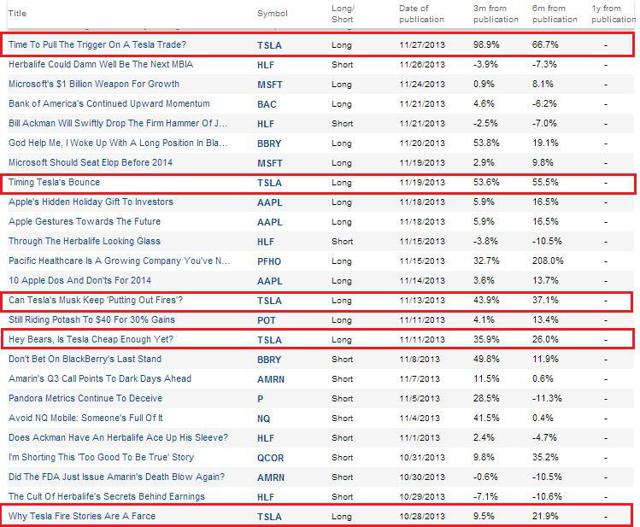 In the last 12 months, the stock has risen 70% and it's currently up 72.9% since the beginning of 2014. These are, of course, on top of the astronomical gains the stock has seen since its inception.
Today's trading is pushing the stock near all-time highs, as it's currently up 4.8% in mid-afternoon trading.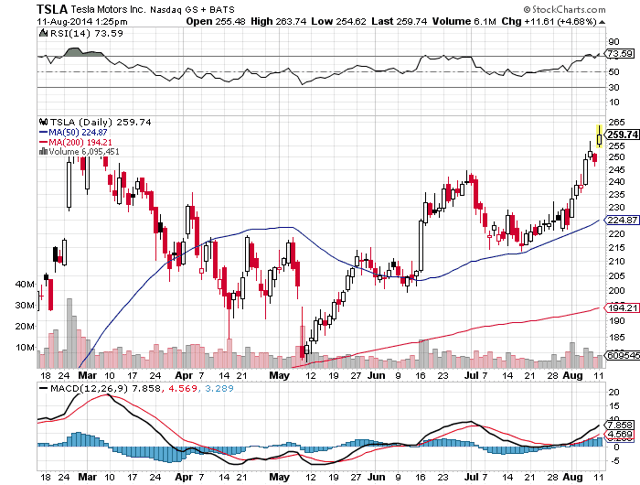 The trading comes on the heels of continued bullish sentiment from the analyst community, in the form of Deutsche Bank issuing a BUY and a $310 PT, as reported by Seeking Alpha:
Tesla Motors (TSLA +5.4%) trades higher after Deutsche Bank warms up to the EV automaker's prospects.
Nothing earth-shattering from DB, just optimism that Tesla will reach its higher production levels and stretch out margins with scale.
Shares are rated a Buy by DB with a price target of $310.
TSLA is only $3.50 per share away from an all-time high.
While there was nothing new per se in the report, it's encouraging to see analysts coming around to the viewpoint that longs have had for some time - even though the company is trading at a high multiple, it could still potentially be undervalued. This is something that those who have shorted the stock are being forced to consider as they continue to get their heads stomped in by the momentum players and big thinkers behind Tesla's stock.
The company's last earnings report - where they beat expectations - is likely adding fuel to today's fire. I noted after earnings that this company could easily see Morgan Stanley's price target of $320. I also wrote, after earnings, that Tesla could see $260 again in "no time". "No time" will now hereby be defined as "exactly 10 days."

As you can see from NASDAQ.com, analyst sentiment continues to vary, with the consensus simply rating the company a HOLD.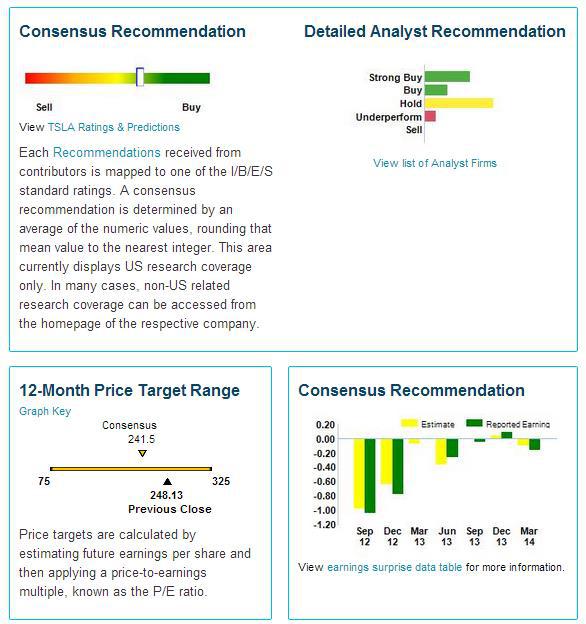 The company is currently trading over its 12 month price target range, but I believe that analyst sentiment will continue to churn and come around to favor the bulls. I actually expected a little change in the analyst sentiment after earnings, but today's BUY represents most of what I've seen in the spotlight.
To wrap up, I continue to reaffirm my bullish sentiment on Tesla and like the $300+ PT set by both bullish analyst reports. Congratulations to longs - today's new highs mean that everyone that bought before today is in the green. Consider this QTR taking a victory lap on your behalf.
Disclosure: The author has no positions in any stocks mentioned, and no plans to initiate any positions within the next 72 hours. The author wrote this article themselves, and it expresses their own opinions. The author is not receiving compensation for it (other than from Seeking Alpha). The author has no business relationship with any company whose stock is mentioned in this article.