By Craig Bowles
Overview
Wal-Mart Stores, Inc. (NYSE:WMT) is slated to report 2Q 2015 earnings before the bell on Thursday, August 14th. The earnings release is expected at approximately 7:00 a.m. EST with a pre-recorded call through phone numbers available at Wal-Mart Investor Relations. Results from the world's largest retailer and constituent of the Dow Jones Industrial Average tend to heavily influence the direction of the equity index futures.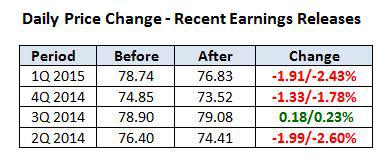 Outliers & Strategy
Key measures:
Earnings Per Share from Continuing Operations: The value for this measure is most often the figure that compares with consensus estimates. If an EPS from Continuing Operations is unavailable, GAAP EPS will be the comparable value. Wal-Mart projected EPS from continuing operations of $1.15 to $1.25 for the 2Q period. The current Street estimate is $1.21 (range $1.18 to $1.25). Estimates have been reduced from $1.28 three months ago. (Source: Yahoo! Finance)
Revenues: Analysts expect an increase of 1.8% y/y to $119.02 bln (range $117.87 bln to $120.23 bln).
Earnings Per Share Guidance for 3Q2015: The current Street estimate is $1.18 (range $1.11 to $1.25).
Earnings Per Share Guidance for FY2015: Current guidance of $5.10 - $5.45 was given in February and is expected to be updated in this release. The current Street estimate is $5.18 (range $5.09 to $5.73). Estimates have been reduced from $5.56 six months ago and $5.30 three months ago.
Wal-Mart insiders sold 109,698 shares over the past year and 9,653 shares in the last three months. Insider selling has become the norm for several years. Continuing another norm is the annual $15 billion stock buybacks.
Dividend yield of 2.6% compares to a 5-year average of 2.3% and industry's 2.1%.
Wal-Mart shares have a 1-day average price change on earnings of 2.11%. Options are pricing in an implied move of 2.17% off earnings.
Recent News
08/11 Wal-Mart analysts have very recently bumped up estimates for the quarter, according to a post on Zacks.com.
08/09 Chinese regulators are investigating a Wal-Mart store in the southern city of Shenzhen for food safety violations, according to a post on Reuters.com.
08/08 Wal-Mart's primary-care clinics will provide a broader network for healthcare and could disrupt another mass market, according to a post on Bloomberg.com.
08/04 Wal-Mart's redesigned website will benefit mobile users and assist in competing with Amazon.com (NASDAQ:AMZN), according to a post on Bloomberg.com.
Technical Review
Wal-Mart has fluctuated mostly between $70 and $77.50 since 1Q 2013 but 2014 has found support at around $72. The duration of this balance period suggests a large move in either direction when the stock eventually breaks out but the stock traded around $50 for a decade. Target has shown relative weakness since late last year but has done better more recently, so that's a positive. The overall market coming off oversold conditions with positive short-term seasonality certainly helps. 2014's chart for Wal-Mart resembles 2011 which had a late summer low but the overall market had been in correction mode for several months. The 200-day moving average is at $75.60 but the stock probably needs to get through $76.50 resistance to change the current negative sentiment. (Chart courtesy of StockCharts.com)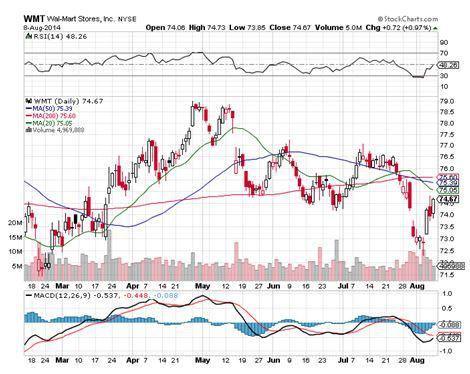 Summary
Wal-Mart's ability to limit downside price action is supported by $15 billion per year of stock repurchasing power. Over the past four quarters, the company has beaten estimates by only 1c when it hasn't missed. Analysts have reduced their consensus estimate from $1.28 over the last three months, so if the company probably needs to report at least $1.24 on revenue of $119.04 bln to have much upside potential. As we've seen so often this quarter, current quarterly results have to be accompanied by solid guidance for a positive market reaction.
DISCLAIMER: By using this report, you acknowledge that Selerity, Inc. is in no way liable for losses or gains arising out of commentary, analysis, and or data in this report. Your investment decisions and recommendations are made entirely at your discretion. Selerity does not own securities in companies that they write about, is not an investment adviser, and the content contained herein is not an endorsement to buy or sell any securities. No content published as part of this report constitutes a recommendation that any particular investment, security, portfolio of securities, transaction or investment strategy is suitable for any specific person.
Disclosure: The author has no positions in any stocks mentioned, and no plans to initiate any positions within the next 72 hours. The author wrote this article themselves, and it expresses their own opinions. The author is not receiving compensation for it (other than from Seeking Alpha). The author has no business relationship with any company whose stock is mentioned in this article.