Meritage Hospitality Group (OTCQX:MHGU) engages in restaurant and real estate development business. In this post, I hope to demonstrate that this micro cap company is trading at a significant discount to its true value on a variety of valuation metrics. In a way, the company itself represents a double turnaround play - they are exposed to any improvements in the weak Florida and Michigan markets AND any improvements in the Wendy's (NYSE:WEN) franchise system. In addition, they have substantial amounts of real estate hidden on their balance sheet.
What they do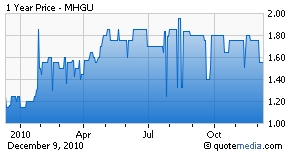 At this point in time, Meritage mainly operates restaurants. They currently operate 69 Wendy's (49 in Michigan, 20 in Florida), three O'Charleys (NASDAQ:CHUX) restaurants, and one Twisted Rooster (a restaurant brand the company developed), but they plan to convert all of the O'Charleys into Twisted Roosters. The company also owns an interest in a development property known as Lighthouse Point that owns 900 acres on the island of Eleuthera in the Bahamas.
How'd we get here? Some background on key events in recent years.
First, towards the end of 2006, the company engaged in a "going private" transaction in order to avoid the costs of complying with Sarbanes Oxley. To do this, they engaged in a 1 for 300 reverse stock split, then paid anyone who didn't have one full share after the split $5.25 per share (well above the current share price). They then re-split the stock 300 for 1 to get shareholders back to their original share count. By doing this, they reduced the number of shareholders below 300. They then delisted from national stock exchanges and moved their listing to the pink sheets.
Then, in an effort to shore up their balance sheet, in the past five years, the company has undergone sale and leaseback of 26 of their properties. The average proceeds from a sale and leaseback is well over $1 million.
More recently, they purchased the 20 underperforming Wendy's in Florida in order to diversify their business away from the weak Michigan market. The cost for this purchase? The assumption of all of the leases and an agreement to update substantially all of the restaurants.
Finally, the company, through a series of transactions in 2008 and 2009, also acquired a 92.25% interest in an LLC that owns a 50% stake (so they effectively own just over 46%) in a Bahamas development property.
Valuation
For such a small company, Meritage has a pretty complicated capital structure. However, I believe this capital structure is what has lead to the valuation discount and what gives investors a chance to earn outsized returns by investing in the company.
Their current balance sheet shows equity of $843k, assets of $33.2m, and debt of $12.9m. Shareholder's equity consists of two classes of convertible preferred stock and common stock. The convertible feature is at prices so much higher than today (over 2.5x today's price) that their conversion would give an investor a phenomenal return and will be ignored for valuation purposes (Note: they have warrants that expire within the next two years that I will ignore for the same reason). With $843k in equity, their class A preferreds have a book value of $10, the class B $1.1, and no value for the common.
However, the book needs some adjustments to reflect economic realities. First, the company has a deferred gain on their books for $12.5 million. This deferred gain is the result of the company engaging in sale and leasebacks of the land and building underneath their restaurants to shore up their balance sheet. Because this deferred gain is not a liability (they don't actually owe it to anyone), we should adjust the book and wipe the gain out. This would give the series A and B book values of $10, and the common $1.47.
Finally, the company freely notes in the most recent 10k that they believe the goodwill on their book substantially understates the true value of their good will. Using a cost of capital of 10.5% and a terminal multiple of 6x EBITDA, they believe good will is worth at least 600% more than what it is currently on the books for. This would give the preferreds a value of $10 and the common $6.34.
In the next post, I'll look at the value of the company based on a sum of their parts (land value, Bahamas property, and Wendy's franchises.)
Disclosure: I am long MHGU. Extreme illiquidity risk in the name.