How about valuing the company on an earnings basis? This year, they are on pace to earn 3.4 million in EBITDA. However, this is with their O'Charley's (NASDAQ:CHUX) operations bleeding money. The company stopped breaking out earnings for their divisions when they went private, but some research reveals how much they likely are losing on their O'Charley's. Their remaining three restaurants are on an annual revenue run rate of $1.7m per store. Corporate CHUX restaurants average 2.4m in annual revenue with a 6% EBITDA margin. With the stores so far below the corporate, they are likely averaging around a 250k loss per year, or around -15% ebitda margins. This can be confirmed by looking at their O'Charley's results from before they went public. In their last 10-q, they reported nine months worth of results for their 5 O'Charley's.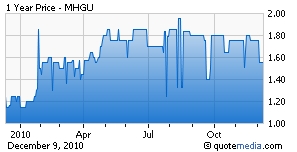 The restaurants had $7m of revenue (annual run rate of 1.86m per store) and lost $1.1m in ebitda (annual run rate of -293k per store) for a -15.7% margin. Since the restaurants were on a higher revenue run rate and my projected margin is actually higher than they were averaging then, I feel like the 250k projection is pretty conservative. Adding back 875k (three stores open for a full year, one store open for half a year) gives the Wendy's operations just over 4.275 million in ebitda run rate for their remaining operations. Applying a six multiple (the number used in the company's own goodwill calculations) would give the company an enterprise value of between $25 and $26m. After backing out debt and preferred shares, this would give the common shares a value of $1.35 per share (just below the current share price), with the land, Twisted Rooster concept, and Bahama's partnership thrown in for basically nothing.
Looking at the Wendy's (NYSE:WEN) operations another way, they are on pace for $73m in revenue (1.05m per store) from just the Wendy's operations this year. They get about 9% gross margin from sales, and then add another 3.3% for SGA. This implies a 5.7% ebitda margin for the Wendy's operations, or 4.16m in annual ebitda. Taking out 2% of sales for maint. capex ($21,100 per store, a pretty conservative number) gives a 3.7% ebitda – maint. capex margin, or 2.7m. With about 5.3m in deferred tax assets and depreciation of about 3% of sales, the company won't be paying taxes any times soon. Applying a ten multiple to this number would thus give an investor a 10% after tax yield on the shares and give an EV of $27m. Notice how close this number is to our first analysis of the Wendy's current earnings power. Again, this suggests an investor is purchasing the Wendy's business and getting everything else thrown in for free at today's prices.
Finally, let's take a look at what would happen if the stores performance improves. The average corporate Wendy's does 1.4m in sales per year with a 15% gross margin, and the average franchised wendy's does slightly higher than this. If Meritage's Wendy's can improve to 1.25m per store and 12% gross margin (either through improvement in the depressed Michigan economy, the introduction of breakfast, or some combination of the two, but still well below the average Wendy's), and assuming no fixed cost leveraging from the increase in sales, this would yield an ebitda – maint capex number of 5.78m. Applying the same 10 multiple would result in an enterprise value of 57.8m, and backing out the debt and preferred shares leaves a common share value of $7.23 per share.
Conclusion
In sum, even with conservative numbers the shares look to be a triple from today's prices. The value of the Wendy's operations and the land + building they own should firmly protect the downside, and the Twisted Rooster concept, Bahamas property, and improvement in Wendy's operation provide big upside potential. Even without factoring in these call options, share values are likely worth more than they are trading at today. In addition, a strong catalyst exists, as a switch from money losing O'Charley's restaurants to the Twisted Rooster concept, even if it's just breakeven, should unlock substantial value.
Catalysts
Continued sale leasebacks or sale of Bahamas property.
The company recently announced an increase in their share repurchase program and an authorization to buy back some of the preferred. However, they have yet to act on the authorization.
Improvement in the nationwide Wendy's systems. Wendy's system wide gross margins around 14% versus 17-18% at MCD and Burger King versus Meritage's 9-10%. Any improvement could drive significant bottom line gains. Also, Wendy's currently does very little breakfast business, but is soon to begin a nationwide roll-out of a breakfast program that management has high hopes for. Increased sales from breakfast alone should increase operating leverage and could improve results. Wendy's also recently formed a purchasing co-op with its franchises and Arby's in order to combine all the restaurants together to achieve more purchasing power. While this alone won't significantly improve margins, management notes they have seen some incremental cost improvement from the arrangement, and continuing to implement best practices like this one are important in improving the underperforming brand.
Improvement in Florida and/or Michigan economy or unfriendly Michigan tax structure
Changing O'Charleys franchised restaurants to new Twisted Rooster concept. The O'Charleys concept has not been successful in Michigan, and the new company owned Twisted Rooster concept seems to be receiving positive reviews. If the concept is successful, it could significantly improve the bottom line. Even if Twisted Rooster is only breakeven, it will be an improvement over the constant losses provided by O'Charleys, and because they no longer have to pay franchising fee royalties for a concept that was not established in the area, the Rooster concept should have a lower breakeven point / find it easier to achieve profitability.
Possible institution of dividend program - they paid dividends consistently before going private.
The company notes they plan to expand to 150 Wendy's franchises by 2015 – at that size, it might behoove them to relist on the stock exchange, which will increase liquidity and could draw analyst coverage.
Risks
Extremely illiquid, with control tightly concentrated in Chairman and the CEO (who are father and son).
Company is very tight lipped and difficult to get information from (this is one of the reasons they went private).
Disclosure: Long MHGU