by David Urani
Starting with the third quarter, the American consumer has run into an important crossroads. What I mean by that is household net worth, which rose in the third quarter to a one year high of $54.9 trillion, is at risk of falling back down again. Naturally, individual net worth has a significant effect on consumer confidence, which of course is the main driver of our economy. Right now, Americans are seeing themselves caught in the crossfire between rising corporate equities (the stock market) and falling home values. Unfortunately, given recent data we know that home prices are currently in a downtrend. Ben Bernanke may have pulled out the artillery just in time via QE2 (we explain the QE benefit to the stock market here) to stave off another dent to consumer confidence (or at least to soften the blow).
As we noted, household net worth rose in the third quarter, by an amount of $1.19 trillion. It was a needed boost after a $1.42 trillion decline in the second quarter. The biggest boost to consumer net worth during the quarter was clearly the rising stock market, which added $940 billion to Americans' bank accounts. A gain of roughly 11% in the stock market translated into a similar gain in households' holdings of corporate equities. That was fortunate too, because there was a $698 billion decrease in the value of households' real estate driven by declines in home prices.
The dilemma now is that we need the stock market to continue to rise because I can say with a fair amount of certainty that home prices fell through October, and they are almost certain to continue to do so through December. On Thursday, real estate tracking firm Zillow said that home prices fell by 0.6% in October (click on chart to enlarge). If accurate, that would extend upon September, when Zillow, Case-Shiller and the FHFA all showed a decrease in home prices. All signs are pointing to an accelerating decline in home prices as well, meaning that come the end of the fourth quarter, the hit to household equity may well be more than $698 billion, perhaps more like $1 trillion.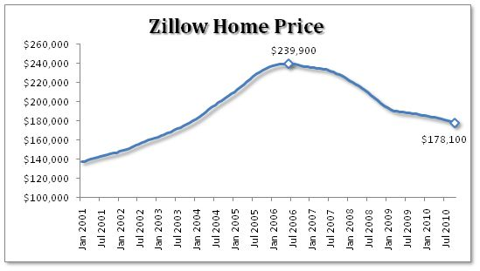 To offset that, the stock market will need to have risen by more than 10% by year end from the beginning of October, and it has risen by just 5% so far. The question looking to this month and beyond is, can the stock market continue to rise even as home prices fall? Ben Bernanke doesn't get a whole lot of accolades these days, but maybe his cash infusions into the markets are just what the doctor ordered. If that's not enough, the subsequent hit to consumer confidence would prove to be a monkey wrench in the economic recovery. On the other hand, it would certainly be ironic if Wall Street saved Main Street.