The Sprint (NYSE:S) and T-Mobile (NASDAQ:TMUS) merger is a no go, and unless you were living under a rock, this shouldn't sound like breaking news to you.
But, let's just briefly summarize what exactly happened. Iliad, a French Telecom, initiated a bid of $15 billion for 56.6% of T-Mobile. Regulators would obviously prefer a French operated telecom to own T-Mobile over Sprint. However, T-Mobile turned down the deal in favor of a more accretive merger between Sprint.
However, Sprint decided that it was in its own best interest to pursue growth through other means as the regulatory hurdle has become too much to overcome.
In this case scenario, SoftBanK (OTCPK:SFTBY) remains a buy whereas Sprint has become too speculative.
I was wrong
In the past, I thought there was a fairly decent chance that T-Mobile and Sprint could merge. Of course, I know I sound like a guy who's flip-flopping his position on the topic, but truthfully, I don't think anyone was expecting a French telecom to emerge as a potential buyer of T-Mobile.
So when the news broke, any rational person would have had to change their stance on the topic, including me. So let's re-examine what I said earlier in 2014:
Therefore, I still think there's a fairly decent chance of an approval. Between a natural occurring duopoly, and maintaining the status quo of the oligopoly, I think the oligopoly makes the most sense.
Wrong, wrong, wrong - hopefully readers will cut me some slack in the comments section.
Sprint will experience significant dilution going forward.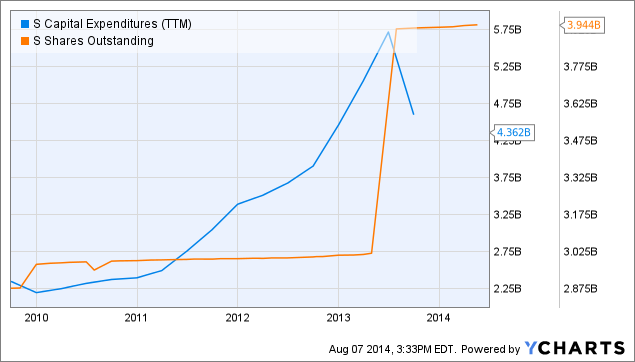 Source: Ycharts
So if we look over the past five years, Sprint experienced massive share dilution, following SoftBank's acquisition. Assuming Sprint needs further funding to expand its network (very likely to happen) further share dilution is likely, which is why investors are dumping the stock.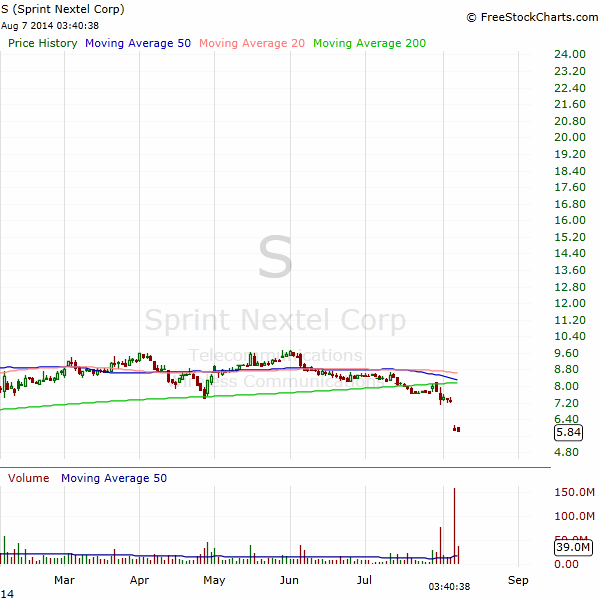 Source: FreeStockCharts
Also, Sprint's CAPEX needs to increase significantly from $5 billion per year to remain competitive with current and future generation data speeds/consumption trends. The added infrastructure requires further investment, which cannot be funded by Sprint's non-existent free cash flows. Furthermore, Sprint isn't credit worthy enough to fund its network build out with a large scale bond offering, and since telecom infrastructure rapidly depreciates it doesn't make for very good collateral, meaning that the debt would be unsecured. Since the debt is unsecured the debt extended to Sprint would be based on cash flow and credit rating, which Sprint doesn't have much of.
Examining the situation, what's the most logical investment?
Sprint's parent company is SoftBank, and SoftBank has assets - a lot of assets. The equity ownership SoftBank has in Alibaba (NYSE:BABA) is estimated to be worth $58 billion. Pair that with the net income generated by the Japanese telecom from Japanese wireless subscribers, and you can only imagine the sheer amount of resources Masayoshi Son will eventually bring to the United States in order to remain competitive with Verizon (NYSE:VZ) and AT&T (NYSE:T).
Since SoftBank and Sprint have a "legal" arms-length relationship, what would need to be done for SoftBank to further invest its resources into Sprint would require Sprint to go through a secondary offering, which would reduce the amount of equity interest current shareholders have in Sprint.
SoftBank already has invested heavily into Sprint, and I don't think SoftBank is treating this like a private equity deal, where you'd maximize profitability as you sell off assets. Instead, SoftBank is going to capitalize on the opportunity as a way to acquire a larger equity interest in Sprint, and directly compete with Verizon and AT&T through heavier marketing, lower prices and superior data speeds.
Assuming SoftBank can successfully compete and gain further market share without the acquisition of T-Mobile, it would technically become the most globally diversified telecom, with an established foothold in both the United States and Japan. Further international expansion into other markets makes logical sense, especially considering the sheer amount of free cash flow and assets the parent company has. Also the credit worthiness of the parent company plus foreign exchange advantages positions the parent company exceptionally well.
Bottom line
Typically telecoms are limited by geography, but in this specific case, a global subscriber base may lower the breakeven point and allow for a market equilibrium point at which only a global subscriber base can support. In this instance Softbank has much greater upside, despite the loss of the T-Mobile deal, as it can invest more heavily into Sprint and acquire another telecom in a foreign market to bring the global subscriber figure up, which will still allow for some cost synergies and resource allocation that purely domestic telecoms like AT&T and Verizon may not be able to leverage.
However, I cannot recommend Sprint as it will be subjected to heavy dilution, and assuming that case scenario plays out, investors will be left with a smaller equity interest, paired with an uncertain growth trajectory.
The parent company (SoftBank) possesses much more upside, so I think SoftBank is a definite buy. SoftBank has declined from 9,220 Yen to 7,041 yen and if you're buying the ADR, the stock has declined from $43.87 to $33.57, in either case you're buying it at a bit of a discount. Assuming SoftBank clears a path for Sprint to become market competitive and profitable, SoftBank investors would gain the benefit of domestic expansion, paired with expansion possibilities into other telecom markets.
I will offer a more in-depth article on SoftBank in the near future, and I will be around to answer questions in the comment section.
Disclosure: The author has no positions in any stocks mentioned, and no plans to initiate any positions within the next 72 hours. The author wrote this article themselves, and it expresses their own opinions. The author is not receiving compensation for it (other than from Seeking Alpha). The author has no business relationship with any company whose stock is mentioned in this article.
Editor's Note: This article discusses one or more securities that do not trade on a major U.S. exchange. Please be aware of the risks associated with these stocks.