Sysco (NYSE:SYY) is the largest food distribution company in the US by market share and market capitalization. The company has about 200 distribution locations spread throughout the US, Bahamas, Canada, and Ireland. When we last checked in with Sysco, the company had reported 3rd quarter sales growth of 3.2% year over year. Sysco released its full year results today.
Full Year and 4th Quarter Results
Sysco managed to grow sales 5.9% in the fourth quarter of 2014 compared to the company's fourth quarter of 2014. The company's adjusted earnings per share (which takes into consideration merger costs) was flat for the fourth quarter of fiscal 2014 compared to the fourth quarter of fiscal 2013.
Source: 2014 4th Quarter Press Release
Sysco grew revenue 4.7% for the full year 2014 compared to 2013. Adjusted earnings per share decreased 1.1% compared to 2013. Sysco's management says inflation is causing the reduction in earnings per share over full fiscal 2014.
Not only is inflation reducing margins, it also was the primary driver of growth for the business for fiscal 2014. When a business cannot pass inflationary price increases off to its customers it has a general lack of pricing power.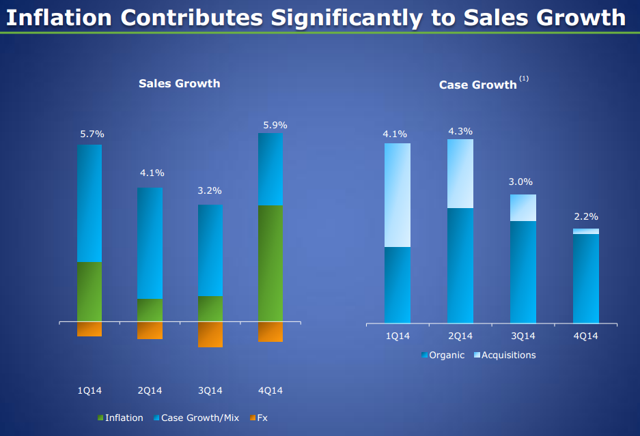 Source: 2014 4th Quarter Presentation
Competitive Industry & Merger Opportunities
Sysco is the market leader in the highly competitive food distribution industry. The company currently has a market share of around 18%. US Foods is its nearest competitor with a market share of approximately 9%. In late 2013 Sysco announced it plans to merge with US Foods to create a food distribution company that would control over 25% of the market.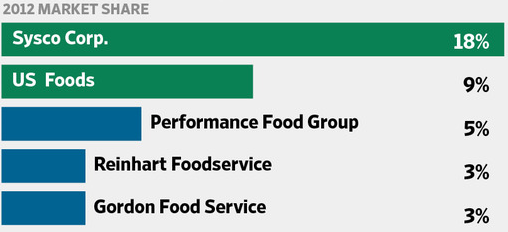 Source: Wall Street Journal
Sysco expects the proposed deal will create operating efficiency gains of around $600 million per year after 3 to 4 years of integration. The gains will come from elimination in redundancies in supply chain, management, and combined spending on marketing. The combined business will have nearly double the EBITDA of Sysco's current operations. The merger is expected to close in the 3rd or 4th quarters of fiscal 2015 for Sysco.
The real question with the merger is whether it will give Sysco the scale and marketing power to grow margins in inflationary environments. Sysco has seen its margins shrink in recent years. The business cites inflation as the cause, which means it cannot pass price increases on to its customers. Food distribution is a commoditized service. Sysco could generate additional returns by leveraging its industry leading scale. The merger will help give the company greater size than it has now.
Valuation
Sysco appears to be fairly valued or slightly undervalued compared to its peers based on its forward P/E ratio.
| | | |
| --- | --- | --- |
| Ticker | Market Cap | Forward P/E |
| SYY | 21202.35 | 18.84 |
| | 4246.17 | 22.76 |
| | 3032.13 | 21.2 |
| | 1145 | 19.84 |
| | 804.57 | 10.92 |
| | 419.67 | 21.08 |
Source: Finviz
Sysco's current P/E ratio is 22.39, which is slightly higher than the S&P 500's P/E ratio of around 19. Shares of Sysco are most likely slightly overvalued, as the company is trading near the high end of its 10 year average P/E ratio and forward P/E ratio.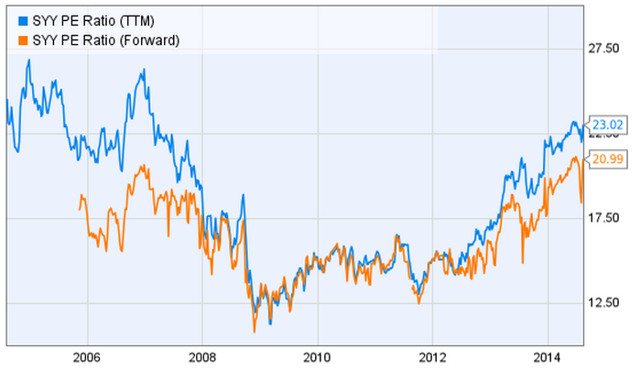 Source: Ycharts
Shareholder Return
Shareholders of Sysco can expect returns of 7% to 9% going forward from organic revenue growth of between 4% and 6% and dividends of over 3%. The company has been unable to grow earnings at the same rate as revenue in recent years as operating margins have compressed. Sysco has been unable to raise its prices with inflation, which is slowly eroding margins. If the company reverses this trend it will reward shareholders with growth in excess of revenue and dividends as operating margins expand, increasing earnings per share.
Comparison to Other Businesses with Long Dividend History
Sysco is the largest publicly traded food distribution company in the US. Sysco will be compared to other businesses with a long history of dividend increases using the 5 Buy Rules from the 8 Rules of Dividend Investing. The comparison will show if Sysco compares favorably to other investment options investors currently have.
Consecutive Years of Dividend Increases
Sysco has increased its dividend for 44 consecutive years. The business long streak of dividend increases shows its ability to gain market share in the competitive but slow changing food distribution industry.
Why it matters: The Dividend Aristocrats (stocks with 25-plus years of rising dividends) have outperformed the S&P 500 over the last 10 years by 2.88 percentage points per year.
Source: S&P 500 Dividend Aristocrats Factsheet
Dividend Yield
Sysco has a dividend yield of 3.20%, which is the 34th largest out of 132 businesses with 25+ years of dividend payments without a reduction.
Why it Matters: Stocks with higher dividend yields have historically outperformed stocks with lower dividend yields. The highest-yielding quintile of stocks outperformed the lowest-yielding quintile by 1.76 percentage points per year from 1928 to 2013.
Source: Dividends: A Review of Historical Returns
Payout Ratio
Sysco has a payout ratio of about 70%, which is the 119th lowest out of 132 businesses with 25+ years of dividend payments without a reduction. The company's high payout ratio means it will not be able to increase its dividend payments significantly faster than overall business growth.
Why it Matters: High-yield, low-payout ratio stocks outperformed high-yield, high-payout ratio stocks by 8.2 percentage points per year from 1990 to 2006.
Source: High Yield, Low Payout by Barefoot, Patel, & Yao, page 3
Long-Term Growth Rate
Sysco has grown revenue per share by about 4.75% over the last decade. The company's moderate growth rate gives it the 66th highest growth out of 132 businesses with 25+ years of dividend payments without a reduction. Sysco's historical revenue per share growth rate is at the low end of the company's expected future revenue per share growth rate of between 4% and 6% per year.
Why it Matters: Growing dividend stocks have outperformed stocks with unchanging dividends by 2.4 percentage points per year from 1972 to 2013.
Source: Rising Dividends Fund, Oppenheimer, page 4
Long-Term Volatility
Sysco has a fairly low volatility of about 22%. The company has the 29th lowest volatility out of 132 businesses with 25+ years of dividend payments without a reduction.
Why it Matters: The S&P Low Volatility index outperformed the S&P 500 by 2 percentage points per year for the 20-year period ending September 30th, 2011.
Source: Low & Slow Could Win the Race
Final Thoughts
Sysco is an industry leading business that has had recent headwinds from food inflation. The business could achieve higher margins after its expected merger with US Foods, but that is not certain. The market reacted favorably to the company's 4th quarter earnings release, with shares jumping about 3%. Sysco is ranked in the top 50% based on the 8 Rules of Dividend Investing. Shares of the company may appeal to investors seeking current income with fairly low volatility in a slow changing industry.
Disclosure: The author has no positions in any stocks mentioned, and no plans to initiate any positions within the next 72 hours. The author wrote this article themselves, and it expresses their own opinions. The author is not receiving compensation for it (other than from Seeking Alpha). The author has no business relationship with any company whose stock is mentioned in this article.