As all avid gamers know, Electronic Arts (NASDAQ:EA) and Activision Blizzard (NASDAQ:ATVI) are two of the largest gaming publishers in the industry. Both companies have produced highly successful gaming titles this year such as Titanfall and Call Of Duty: Ghosts respectively. This article argues that Electronic Arts has more upside than Activision Blizzard from a valuation perspective and overall is a more financially stable company.
Financial Ratio Analysis
Based on a simple P/E ratio analysis, one would determine that Electronic Arts has significantly more upside potential than Activision Blizzard. According to the CNBC website, the current P/E ratio of the Toys Industry is 37.90. Both companies' P/E ratios are trading well below this, with EA trading at 14.70 and ATVI trading at 20.

Assuming that maximum upside for the industry rests at the current P/E ratio of the industry, then both companies are significantly undervalued; EA by a much greater margin. If we wanted to be a bit more stringent and assume that maximum upside rests at the current PE ratio of the S&P 500 (22.2), then we see that EA has a far greater upside of 51% compared to Activision Blizzard's 11%.

Additionally, let's compare both companies' performance in terms of Profitability, Liquidity, Solvency and Activity.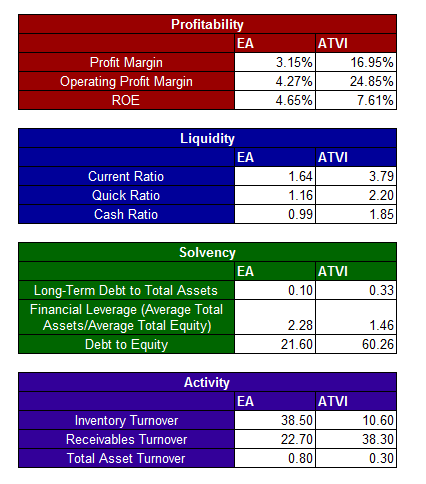 Source: Yahoo Finance and Bloomberg Businessweek
While there is little question that Activision Blizzard has outperformed EA on most financial metrics, the company's vastly higher debt to equity ratio suggests that the company is relying on higher debt levels to sustain sales and this may not be sustainable long term. While EA have yet to show high profit margins, the company's EPS per share increased sharply for 2014 compared to Activision Blizzard's projected EPS of $1.32. In my opinion, Activision Blizzard risks being somewhat underdiversified regarding the titles it offers its customers; their success appears to hinge on sales of renowned titles such as Call of Duty. For instance, CNBC's roundup of the 10 best-selling video games of 2014 included only one title by Activision which was Call of Duty: Ghosts. However, EA was ranked as having two major titles making the top ten; Battlefield and Titanfall. In my opinion, EA has the capacity to offer a broader range of stronger gaming titles that will bolster sales in the future. For instance, BMO Capital Markets states that at least 65% of all Xbox One owners in the United States play Titanfall. Additionally, we can see that EA (despite lower profit margins to date) has continued to maintain higher inventory turnover than Activision Blizzard. In this regard, Activision Blizzard may have been a better performer to date. However, I am taking the contrarian view that EA will begin to outperform in the future, as EA's lower long-term debt levels, stronger brand image and higher upside in valuation means that the stock may have more room to run than Activision Blizzard.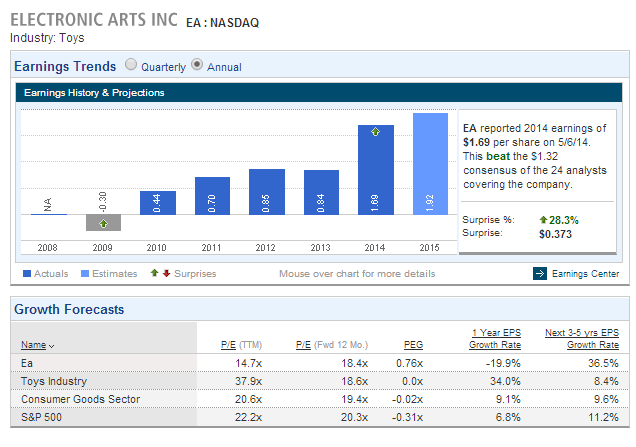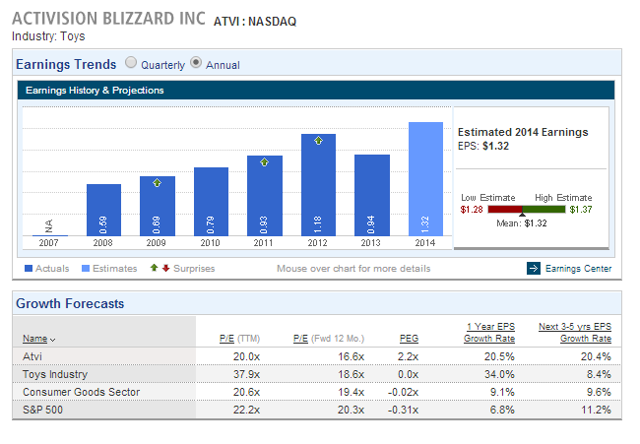 Click to enlarge
Source: CNBC
Valuation
In terms of potential future valuation, EA's earnings and free cash flow per share have so far performed strongly. The company's average growth in free cash flow from 2012-14 was 75%, and CNBC analysts suggest that the company's 3-5 Year EPS growth rate stands at 36.5%. Using a discounted free cash flow model, I assume that the company will grow earnings and cash flow by 30%. Since the company does not pay dividends, I attempt to value the company through the use of its discounted free cash flow by its Terminal P/E multiple. In accordance with historical rates of return on the S&P 500, a discount rate of 7% is used.

Click to enlarge

Click to enlarge
In conclusion, I forecast a five-year price target of $52.38, which results in over 50% upside from current levels. While Activision Blizzard has shown higher profit margins on paper, the company's high debt levels would make me weary of owning this stock. Given EA's acceleration in earnings and free cash flow, along with an undisputed brand image, this company is certainly one to watch.
Disclosure: The author has no positions in any stocks mentioned, and no plans to initiate any positions within the next 72 hours. The author wrote this article themselves, and it expresses their own opinions. The author is not receiving compensation for it (other than from Seeking Alpha). The author has no business relationship with any company whose stock is mentioned in this article.