Two of the leading ETFs on the Trade-Radar ETF Scorecard report at Alert HQ Premium are semiconductor ETFs, specifically the Merrill Lynch Semiconductor HOLDRS (NYSEARCA:SMH) and the ProShares Ultra Semiconductors (NYSEARCA:USD).
Both of these ETFs carry the highest possible score for maintaining a bullish trend. As an example, take a look at the chart of SMH below: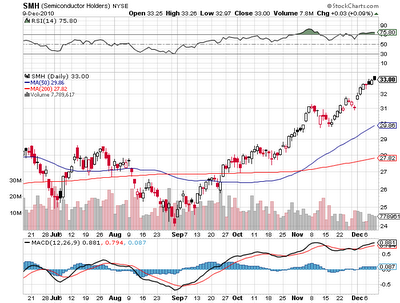 (Click to enlarge)
How Long Can This Go On?
KPMG conducted a global survey of semiconductor executives. Most of the results are quite positive. Executives expect mid-single digit improvements in hiring, R&D and profitability in 2011 compared to 2010. That sounds good, but in actuality 2010 was a very strong year and the outlook for 2011, while quite decent, reflects a potential moderation in the pace of growth.
In particular, the survey indicates that only 39% of executives expect revenues to increase by 10% or more, whereas 54% expected 10% revenue gains in 2010. Similarly, 37% of respondents anticipate profitability growth in excess of 5% for 2011, while a year ago 76% expected that level of growth for 2010.
More ominously, survey results show that 53% of respondents anticipate the semiconductor cycle will peak within the next 12 months.
It's okay to ride the trend, but investors should be alert and exercise caution. Note that just today (Thursday, 12/8), National Semiconductor (NYSE:NSM) reported Q2 EPS of $0.34 (+78%), which beat estimates by $0.02. Revenue was $391M (+13.3%) versus $400M. In after-hours trading, shares initially fell 8% before recovering somewhat to -4.7%. The drop was attributed to a weak revenue forecast that came in significantly below analyst expectations. This just goes to show how volatile the chip sector can be, and it may also be an early confirmation of the more downbeat predictions of these survey respondents.
Disclosure: No positions