LinkedIn Corporation (NYSE:LNKD), the world's largest online professional network with over 300 million members, recently reported its quarterly results for the second quarter of 2014. LinkedIn reported a 13% growth in its revenue, increasing to $533 million in the second quarter of 2014 compared to $473 million in the same period last year. This increase was primarily driven by an increase in the number of members and membership fee. The revenue can be segregated into 60% field sales and 40% online sales, unlike Twitter (NYSE:TWTR) and Facebook (NASDAQ:FB), where most of the revenue is earned from advertising. This growth in revenue was able to reduce the net loss reported in the first quarter of 2014 by 93%.
LinkedIn's Key Metrics
LinkedIn added about 16 million members during the quarter ended June 2014, bringing its total members to nearly 313 million. In response to this increase in membership, net revenue witnessed a growth of 47% as compared to previous comparable period. Analysts have estimated sales growth of 36.50% for the third quarter of 2014.The consensus estimate for the whole year is a growth rate of 42% in the top line. The analyst estimate for the next year ending Dec. 15 is 33.40% growth in the top line. LinkendIn needs to maintain its financial discipline so that the staggering top-line growth can flow down to the bottom line and justify the high valuation of the stock in the market.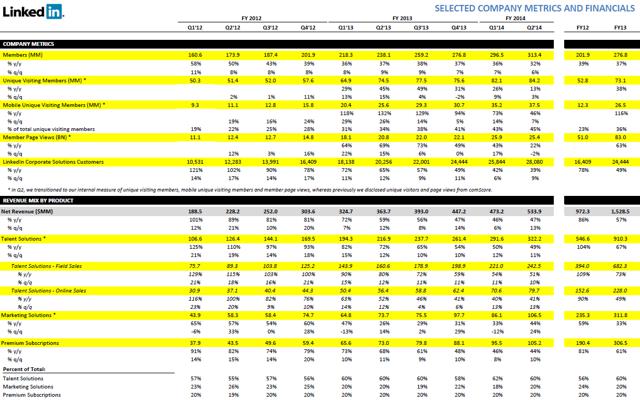 Source: Quarterly Statement
Moving forward, LinkedIn will mainly depend on its talent solutions business for revenue generation i.e. charging businesses and headhunters that use its site to find job candidates. This segment accounted for 60% of the second quarter revenue, while marketing and premium subscription revenue took in 20% each. LinkedIn has catered to a total of 28,080 corporate solution customers compared to 20,256 in the same quarter a year ago, which shows its presence in almost all the market sectors.
LinkendIn's Sales Navigator app offers a potential medium-term opportunity, while China provides a long-term growth opportunity for the company. China has recently become LinkedIn's fastest growing market for new members.
Bottom Line
As LinkedIn just started its growth phase I don't have high expectations from its bottom line. Average EPS estimate for the current year ending December 14 is $1.87. However, if we look at the analysts' average EPS estimate for the next year ending December 15, growth of 47% is expected. Analysts expect EPS to reach $2.74 from this year's expected level of $1.87. The increased number of users clearly shows that LinkedIn does create value for its users. So I strongly believe that LinkedIn will create value for its shareholders by the end of the next year as well.

Source: Yahoo Finance
Stock Valuation:
At the beginning of 2014, LinkedIn's share price was floating around $220 but since then the share price has fallen by 24.72% up until now. LinkedIn's stock had previously shot up too much without any solid ground and thus, this fall in price is a logical outcome. Now, it appears that the correction is complete and long-term investors who want to invest in LinkedIn and realize the value created by LinkedIn should consider taking a position at its current price. Long-term investors should take a position in the stock before the speculation causes its share price to quickly rise once again.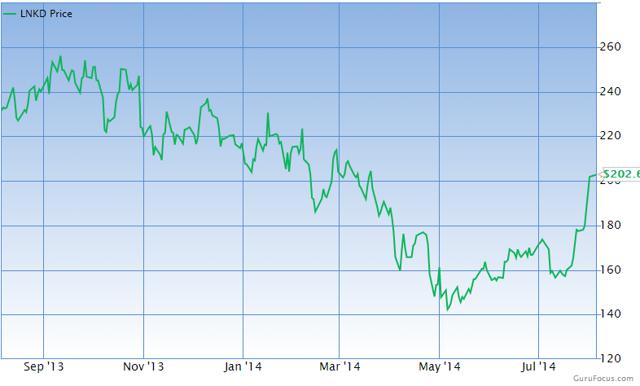 Source: Guru Focus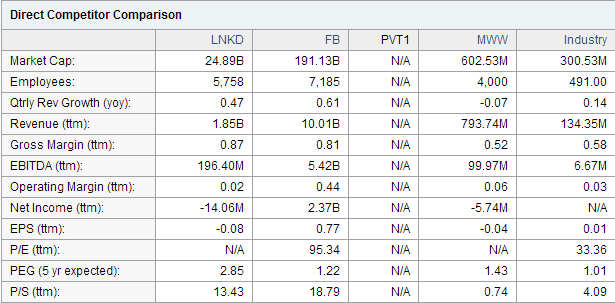 The P/E ratio is not a suitable multiple to estimate the value of a rapidly growing company such as LinkedIn. LinkedIn is not presently focusing on earnings growth. The PEG ratio that builds in growth into the P/E measure seems to be a meaningful measure to employ. LinkedIn's PEG ratio of 2.85 shows that it is currently overvalued compared to the industry and sector. LinkedIn's P/S ratio of 13.43 shows that it is currently overvalued compared to the industry and sector but undervalued compared to one of its main competitors, Facebook.
Source: Yahoo Finance
Factors to Consider for the Next Quarter:
LinkedIn has undertaken some initiatives in order to increase its user base. One of these initiatives is the launch of a cheaper subscription service called Premium Spotlight. Apart from this, LinkedIn has redesigned its member profile pages with larger profile photos and header images.
Moreover, LinkedIn has launched a job search app for Apple's iPhone users to provide for the growing number of its members who search for jobs via mobile devices. Additionally, LinkedIn has made strategic acquisitions, such as Newsle and Bizo, to not only enhance the user experience but also to save additional dollars through targeted marketing strategies.
Continued investments to improve product and service offerings might enhance LinkedIn's profitability in the near future. By improving the company's operational performance in the short run, these investments are expected to drive member growth and user engagement over the long term. I believe that the company's strategic acquisitions will further boost its customer base in the coming periods.
Final Words:
LinkedIn is a social media network with an expanding user base. It is changing the job hunting and recruitment process. I believe that its top line will grow in the next quarter but at a lower rate than the second quarter of 2014. Its bottom line is expected to produce positive results next year. Although different multiples show that LinkedIn's stock is currently overvalued, I believe this will change as the company's earnings turn positive. Hence, it is too early to make a judgment about this stock based on these multiples.
Furthermore, LinkedIn is working on its long-term strategy that is expected to generate more revenue. The strategy is to increase its customer base by further improving standard of service. In order to achieve its target, LinkedIn plans to improve its services and accelerate global expansion, particularly, in China. LinkedIn is currently working on these two strategies which have already shown some positive results. LinkedIn has already acquired Newsle and almost locked in the $175 million deal to acquire Bizo, a B2B marketing platform for brands. Following the stock price correction in the first half of the current year, Linkedin is currently available at an attractive share price for long-term investment, hence I recommend buying this stock.
Disclosure: The author has no positions in any stocks mentioned, and no plans to initiate any positions within the next 72 hours.
Business relationship disclosure: The article has been written by a Gemstone Equity Research research analyst. Gemstone Equity Research is not receiving compensation for it (other than from Seeking Alpha). Gemstone Equity Research has no business relationship with any company whose stock is mentioned in this article.