Introduction
The Internet of Things (or IoT) has the potential to change how we engage with the world. It will make our lives more connected and more productive.
Companies are already linking all kinds of devices, from cars to house appliances, to the internet. Unfortunately, with the arrival of IoT comes the next generation of security threats.
BlackBerry's (NASDAQ:BBRY) QNX software is uniquely positioned to take advantage of the security needs of this future trend and recent news could provide an additional upside for this company.
In this article I focus on QNX's role in connected cars and provide an update of my estimates and valuation for the company.
Connected Vehicles are more than just Infotainment
Connected cars are past simple infotainment systems. Having a screen on your dashboard that displays a GPS map or a voice recognition software that allows you to make hands-free calls is the stone age compared to what some vendors are offering in the market right now.
Take for example Nvidia's (NASDAQ:NVDA) portfolio of products for connected vehicles: collision avoidance, traffic sign recognition, assisted parking and night vision, among other very cool features.
The next generation of smart cars will consist of a "swarm of sensors" according to a Cisco (NASDAQ:CSCO) presentation.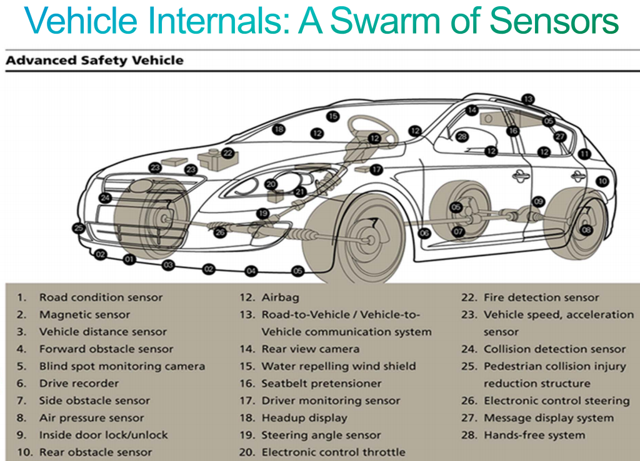 Source: Cisco
Your car could have anything from an inside door lock/unlock app and an electronic control brake system to an airbag sensor and a camera for videoconferencing.
These features sound amazing and could enhance not only the driver's experience but reduce vehicle-related mortality. However, as more safety features become connected, the potential risks of a cyber attack become more serious.
The Tesla Hack
Qihoo 360 (NYSE:QIHU), an internet security Chinese firm, sponsored the latest SyScan 360 Security Conference, which offered a $10,000 reward to anyone who could hack a Tesla (NASDAQ:TSLA) vehicle, and showed that it can be done. The company reported recently that it was able to develop ways to remotely take control of your Tesla Model S while parked or even in motion.
According to Forbes, the hackers were able to remotely control the car's locks, horn and headlights. There was sparse information available on the mechanics of the hack. However, some media sources speculated that a vulnerability in a web app could be the culprit.
This isn't the first breach of Tesla's security. On April 2014, a researcher showed that exploiting the way a Tesla car communicates with your smartphone could allow a remote hacker to continuously track its location and unlock its doors.
Tesla's Embedded Software
What platform does Tesla use as an embedded software for its cars? Given its security issues you could probably guess its not BlackBerry's QNX, it's actually a version of open-source Linux.
The three most widely used embedded software systems for connected cars are QNX, Microsoft and Linux. For 2013, IHS Automotive estimates market shares as follows: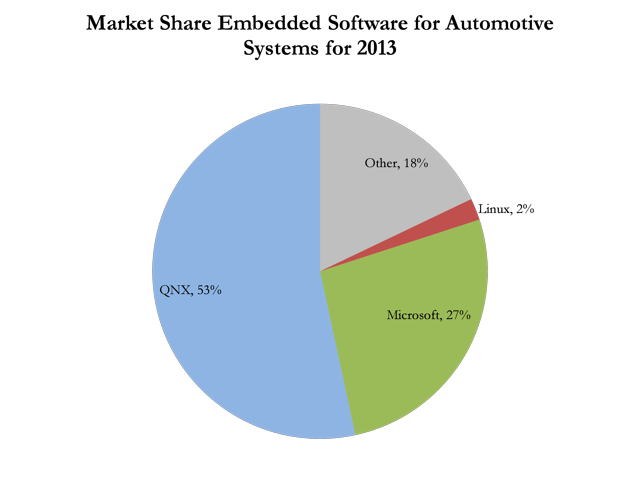 Source: IHS Automotive
IHS Automotive isn't so crazy about QNX's prospects for retaining control of the market. It forecast that by 2020 QNX will hold 36% of the market vs. 42% of open-source Linux.
Their chief argument for Linux's growth is the "auto industry's desire to control and set its own system architecture" as well as assuming that the auto industry prefers OS platforms in which it can control direction and features." Such control is deemed impossible in proprietary OS platforms, such as QNX and Microsoft, and only open source environments seem to guarantee it according to IHS Automotive.
However, I think there is a serious flaw with this argument. Auto companies are certainly not experts on software design. As much as they would want to control their own infotainment software themselves, this could expose security vulnerabilities that could be exploited with dangerous consequences. Instead of the headaches of developing your own software, why not license it from a platform known for its security and reliability such as BlackBerry's QNX?
What this Means for BlackBerry
The Tesla Model S hack will only reinforce the need for security in the internet of things. BlackBerry's QNX, a company with a reputation for building reliable OS, is poised to continue to lead the embedded software industry for connected cars. Additionally, QNX's strengths should position BlackBerry as the go to company to secure most devices in the IoT.
Earlier this year, according to insider reports Ford (NYSE:F) was ready to phase out Microsoft and turn to QNX to power its automotive infotainment systems. This transition makes sense after all the headaches that Ford had to put up with regarding its MyFord Touch and MyLincoln Touch technologies powered by Microsoft. These issues include taking major hits in consumer surveys and a class action lawsuit demanding compensation for the defective software.
A Valuation of QNX
Assuming that QNX retains 53% market share in the following years, a conservative view given its advantages over both Microsoft and Linux, and taking into account revenue from Ford's vehicles starting in 2015, I estimate the following revenue for the automotive segment of QNX:
| | | | | | |
| --- | --- | --- | --- | --- | --- |
| Calendar Year | 2014 | 2015 | 2016 | 2017 | 2018 |
| QNX Automotive Revenue mln | 68 | 101 | 122 | 147 | 173 |
Source: My own calculations using IHS Automotive forecast
Additionally, for the rest of QNX's portfolio, I estimate revenues of $25 million for 2014 and a CAGR of 16.7% for the next years, in line with Cisco's forecast for the growth of the IoT. The total revenues are as follow:
| | | | | | |
| --- | --- | --- | --- | --- | --- |
| Calendar Year | 2014 | 2015 | 2016 | 2017 | 2018 |
| QNX Total Revenue mln | 93 | 131 | 157 | 187 | 220 |
Source: My own calculations using Cisco's forecast for the CAGR of the IoT
In a previous article I discussed possible peers for QNX and concluded that a reasonable peer group is composed by Mentor Graphic (NASDAQ:MENT), Cadence Design (NASDAQ:CDNS), Synopsys (NASDAQ:SNPS), Red Hat (NYSE:RHT), Accenture (NYSE:ACN) and Tata Consultancy (NYSE:TCS).
Given the lack of disclosure it's difficult to estimate QNX's EBITDA or FCF, so I use the EV/Sales multiple to gauge QNX's value.
| | | |
| --- | --- | --- |
| Company | EV/Sales 2014 | EV/Sales 2015 |
| Mentor Graphics | 1.75 | 1.67 |
| Cadence Design | 2.79 | 2.60 |
| Synopsys | 2.38 | 2.23 |
| Red Hat | 5.83 | 5.11 |
| Accenture | 1.48 | 1.39 |
| Tata Consultancy | 4.46 | 3.97 |
| Average | 3.12 | 2.83 |
Source: Yahoo Finance using analysts estimates
Given the potential revenue upside from the Ford deal, using the average EV/Sales multiple for 2015 and a total revenue of $131 million, a reasonable value for QNX could be around $370 million or $0.70 per share considering 527 million shares outstanding. At a current share price of $9.3, QNX could be worth 7.5% of BlackBerry.
Given the strengths of QNX against its competition and its possible accelerated expansion in other industries such as healthcare, I think this is a conservative valuation.
Conclusion
The IoT comes with the next generation of security threats. The more connected our lives become, the more serious we have to take into account potential security flaws.
BlackBerry's QNX is uniquely positioned to solve security liabilities in the IoT and the market will eventually reward BlackBerry accordingly.
Disclosure: The author is long BBRY. The author wrote this article themselves, and it expresses their own opinions. The author is not receiving compensation for it (other than from Seeking Alpha). The author has no business relationship with any company whose stock is mentioned in this article.