Overview:
The DoubleLine Income Solutions Fund (NYSE:DSL) was launched on April 26th 2013. It is a taxable bond fund led by Jeff Gundlach, one of the most widely followed bond fund managers. This fund allows Mr. Gundlach and the team at DoubleLine significant flexibility to invest in their best ideas with very few restrictions. The fund was launched at an unfortunate time, just before the Fed discussed tapering their quantitative easing policy. Taper concerns caused a selloff in fixed income markets, which impacted closed end funds particularly hard. These factors have caused the market performance of DSL to be underwhelming as the IPO premium quickly turned to a discount. However, the NAV performance has been strong and should help narrow the discount over time. The current discount of over 9% offers an attractive entry point for this DoubleLine Fund.
Key Investment Highlights:
DoubleLine Management Team: DSL is managed by the team at DoubleLine, headed by Jeff Gundlach. Mr. Gundlach is one of the top bond investors in the country. The team has shown strong performance at TCW and then moved to DoubleLine where the strong performance has continued. DSL gives leveraged access to the best ideas of this strong team and is currently available at a discount.
Discount to NAV: DSL is trading at a 9.36% discount to NAV. This is approaching its widest discount since launch of 11.73%. This discount is also much larger than the discount on DoubleLine's other closed end fund DoubleLine Opportunistic Credit (NYSE:DBL), which is trading at a 2.24% discount. DSL's wide discount is an attractive opportunity to enter the fund.
High Current Distribution: DSL currently offers an 8.71% distribution. This is very attractive compared to other options currently available in the market. The distribution isn't fully covered by earnings on the portfolio. However even if the distribution was cut to match the current portfolio earnings the distribution would be above 8% at current prices.
Key Investment Risks:
Bond Default Risk: 83% of DSL's holdings are either rated below investment grade or unrated. These securities have a higher risk of default and loss of principal. A slowing economy or major currency changes could increase the risk of defaults, which would hurt performance.
Interest Rate Risk: DSL's portfolio has an effective duration of 6.47. The duration isn't particularly long but if interest rates increase substantially it could have a meaningful negative effect on the portfolio's value.
Spread Risk: High yield bond spreads have contracted dramatically as default rates have remained low and investors stretch for yield. If risk tolerances decrease, it could drive high yield bond spreads wider causing losses in the portfolio. This would have a negative impact on the fund.
Key Portfolio Metrics:
Premium/Discount: -9.36%
Z-Statistic -1.21
Market Distribution Rate: 8.71%
Current Monthly Distribution: $0.15
Average Earnings/Share: $0.1462
Average Earnings/Distribution: 97.5%
UNII Per Share: $-0.0228
Effective Leverage: 30.58%
Effective Duration: 6.47
Average Bond Price $101.12
Performance:
Using ETFs with a similar investment objective can give a good comparison to evaluate management's performance. DSL has a very wide mandate so it is hard to find a good ETF proxy. The majority of DSL's portfolio is currently invested in high yield and emerging market debt so the iShares iBoxx $ High Yield Corporate Bond ETF (NYSEARCA:HYG) and the iShares JPMorgan USD Emerging Markets Bond ETF (NYSEARCA:EMB) offer good goalposts. DSL is a relatively young fund so there isn't much history to evaluate the fund's performance. However, over the short term DSL compares favorably to HYG and EMB on a NAV total return basis.

Data as of 7/31/2014 Source: Morningstar
Premium/Discount: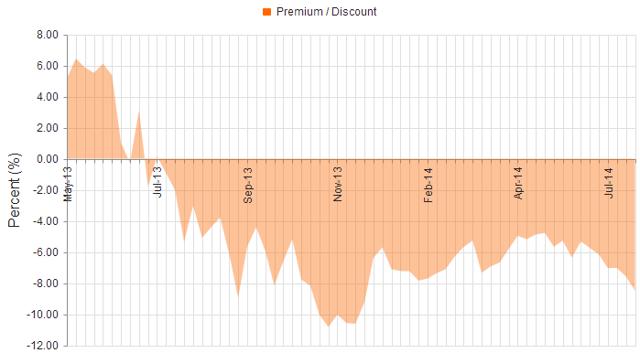 Source: CEFConnect
The fund closed 8/7/2014 at a 9.36% discount to the NAV, or underlying value of the portfolio. This is below the 52-week average discount of 6.78%. Bad timing for the launch of the fund seems to be a major contributor to the wide discount along with concerns about higher interest rates. Due to the notoriety of the management team, it would not be a surprise for the fund's discount to narrow at least to the discount of DBL. If the fund can drive strong performance, it could move to a premium like many funds from PIMCO and other well-known management teams.
Expense Ratio:
DSL pays 1.00% of daily managed assets to DoubleLine for investment management. The fund also pays a 0.15% administrative fee on daily managed assets. The fund also pays interest expense on the leverage employed. The annual expense ratio for DSL as of 9/30/2013 was 1.76%. This is pretty high for a fixed income fund but management has shown its ability to earn this level of fees.
Distribution:
DSL pays a monthly distribution of $0.15/share. This equates to an annual distribution yield of 8.71% based on current market prices. Based on the most recent reports the fund's distribution isn't fully covered. The fund also has a negative UNII both indicating that a distribution cut could be on the horizon. However, only a mild cut would be required to get the distribution in line with portfolio earnings and the yield would likely remain above 8%. An 8% yield is still very attractive in the current market and a distribution cut could offer an even better entry price if DSL sells off further.
Leverage:
DSL employs leverage through $1.1 billion credit facility from Bank of America Merrill Lynch. As of 3/31/2014, the rate was LIBOR + 0.80% and rose to LIBOR +1.00% as of 5/30/2014. For the six months ended 3/31/2014, the cost of leverage was 0.96%. As of 6/30/2014, the fund was 29.52% levered. The use of leverage can increase the volatility of the portfolio.
Liquidity:
DSL is one of the largest CEFs with $3.4 billion in assets. Trading volume is also large with 515,000 shares traded on average. This represents $11 million in daily volume at current prices. This is significant liquidity for a CEF and should allow investors to fill orders without problems. It is always wise to use limit orders to purchase or sell shares of closed-end funds, as the bid/ask spread can be wide.
Management:
DSL is managed by DoubleLine. DoubleLine is a well respected fund family with significant fixed income resources. The team is lead by Jeff Gundlach who is a well known bond fund manager.
Portfolio:
Geographic Allocation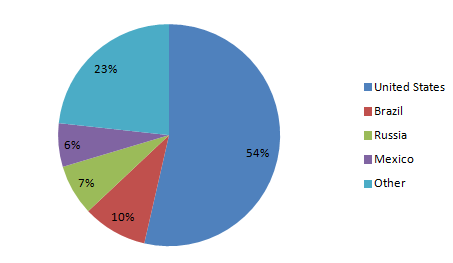 Source: DoubleLine as of 3/31/2014
DSL has broad geographic exposure with only 54% of assets invested in the United States. The rest of the assets are spread around the world. One area of concern is the 7% allocation to Russia. This data is from 3/31/2014 so things may have changed, but the Russian allocation should be watched due to sanctions against Russia.
Sector Allocation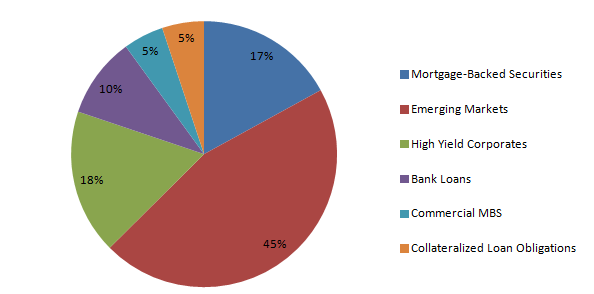 Source: DoubleLine as of 6/30/2014
DoubleLine is best known for its management of mortgage-backed securities. DSL has a relatively small exposure to MBS. The largest allocation is to emerging market bonds, which Mr. Gundlach identified as one of the most attractive areas of the market in a recent presentation. That belief is on display in the allocation of DSL. High yield bonds are the second largest weight. Mr. Gundlach has identified high yield bonds as an area of increased risk and has discussed reducing exposure.
Credit Ratings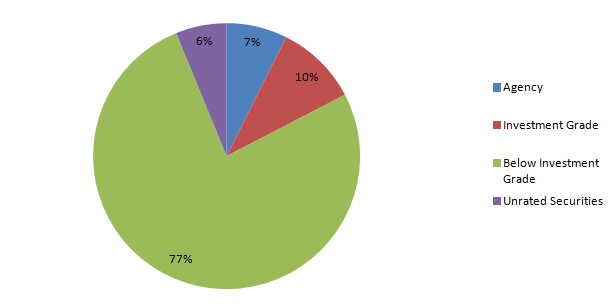 Source: DoubleLine as of 6/30/2014
With 83% of the portfolio either unrated or rated below investment grade this is a relatively risky portfolio.
Maturity Breakdown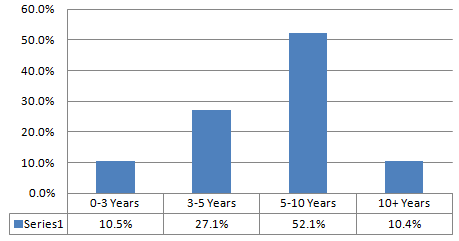 Source: DoubleLine as of 6/30/2014
Only 10.4% of the portfolio matures beyond 10 years. Most of the portfolio has a relatively short maturity, reducing portfolio volatility. However, this increases the risk that yields will not be maintained when proceeds from maturities are reinvested.
Duration Breakdown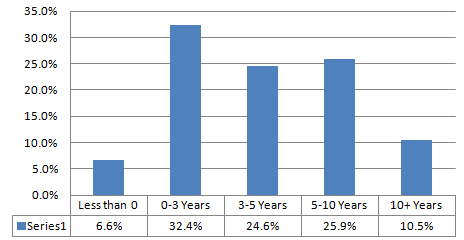 Source: DoubleLine as of 6/30/2014
Only 10.5% of the portfolio holdings have a duration beyond 10 years. This is partly offset by the 6.6% of the portfolio with a negative duration. Overall, the portfolio duration is 6.47, lower than many portfolios with similar yields.
Strategy:
DSL's primary investment objective is to seek high current income with a secondary objective to seek capital appreciation. Beyond the stated investment strategy, there are few limits on how the fund will invest. The prospectus does state, "DoubleLine expects that the fund will normally invest at least 80% of its net assets (plus any borrowings for investment purposes) in debt securities and other income-producing investment anywhere in the world, including emerging markets." They also don't expect to invest more than 50% of total assets in any single debt sector. This is a pretty broad mandate, but in the hands of a capable management should provide attractive returns.
Tax Issues:
As of March 31, 2014, the fund had $73,273,399 of net unrealized losses in the portfolio. These losses are small relative to the size of the fund but can be used to offset any gains realized in the portfolio.
Conclusion:
DSL launched during a difficult time for fixed income CEFs. While underlying NAV performance has been strong, DSL's market price has yet to recover. This divergence has opened up an opportunity to add this high yielding fixed income fund at an attractive discount. The combination of a strong management team, an 8.71% distribution and a 9.36% discount is uncommon. The fund appears to be a compelling option for addition to a balanced portfolio.
Disclosure: The author is long DSL. The author wrote this article themselves, and it expresses their own opinions. The author is not receiving compensation for it (other than from Seeking Alpha). The author has no business relationship with any company whose stock is mentioned in this article.