Israeli semiconductor microcap Nova Measuring Instruments (NASDAQ:NVMI) traded as low as 34 cents in February 2009. Now NVMI shares are up over 2000%. With those gains, its easy to assume that all the upside is already priced into the stock.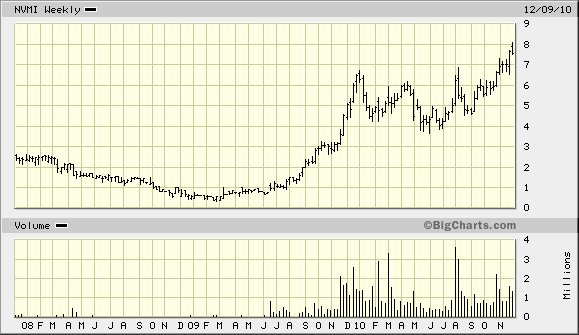 (Click to enlarge)
I bought NVMI last week even after the massive runup. Here's why:
Earnings Growth: Back in 2008, Nova Measuring was losing money. Now it is strongly profitable, earning $0.27 per share last quarter. Annualized, that makes NVMI shares look pretty cheap on a P/E basis.
Revenue Growth: Nova Measuring is growing its top line just as impressively as its bottom line. In the latest quarter, NVMI reported total revenues of $24.2 million, an increase of 112% relative to the prior year, and an increase of 25% relative to the previous quarter.
Strong Guidance and Catalysts for the Coming Quarters: While it is always possible that Nova — like any company — will disappoint in the last quarter of 2010 and early 2011, all indications point to continued outperformance. Management recently stated that NVMI would likely "reach or slightly exceed the top-end" of its FY 2010 guidance of $75-$85 million in revenues and net profitability of 21%-24%. More importantly for me, NVMI has announced substantial customer wins that should be reflected in revenues beginning in early 2011. Gabi Seligsohn, President and CEO of Nova, said:
Q3 was another excellent quarter, with record performance achieved in all aspects of our business. During the quarter we also continued to execute on our strategy of expanding our customer base with the stand alone metrology product line, adding two new foundry customers and one new memory customer. We expect to recognize most of the related revenues at the beginning of 2011.

On the integrated metrology front, we continued to enjoy record business volumes with many fabs ordering and installing dozens of tools per fab. Given the significant challenges experienced in design rule shrink in all our served markets, the extent by which integrated metrology is being deployed is the highest it has ever been. Meanwhile, we successfully started the proliferation of our latest integrated metrology product, the Nova i500, and continued the delivery of the Nova T500 stand alone tool. We believe that the combination of new products and the recent customer design wins will support further growth in the future.
Strong Technicals. Nova Measuring Instruments has had time to digest its parabolic move up in late 2009, and spent most of 2010 locked in an inverse head-and-shoulders pattern (see weekly chart). Recently, NVMI broke above the neckline (around $6.90) and the breakout has held. Both a measured move out of the inverse head-and-shoulders pattern and an AB=CD move from the 2009 lows suggest to this amateur chartist a target in the mid 9-10 range. I think it gets there rather easily.
Disclosure: Author long NVMI