MFA Financial Inc. (NYSE:MFA) is a mortgage REIT primarily engaged in investing in RMBS on a leveraged basis. It invests in both Agency and non-Agency MBS. These include hybrid mortgages (3-10-year fix rate periods), ARMs, and 15-year or longer fixed rate mortgages. The coupons earned on Hybrid and Adjustable rate MBS adjust over time as interest rates change (typically after a fix-rate period). Therefore they are generally less sensitive to interest rate changes than fixed rate MBS. For MFA, 68% of its MBS are adjustable, hybrid, or step-up. Therefore MFA's portfolio is thought to be much better positioned for possible interest rate rises (or falls) than the portfolios of most other mortgage REITs, especially the primarily Agency fixed rate RMBS REITs. MFA also has low leverage (2.8x as of June 30, 2014). The above all make MFA a "safe" long-term mortgage REIT investment. MFA's portfolio break out as of June 30, 2014 is below.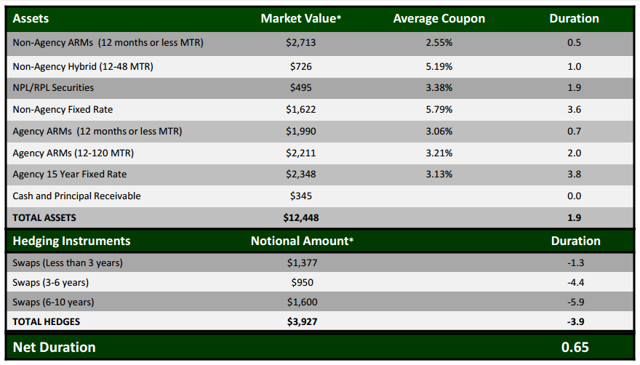 As investors can see, the only Agency fixed rate RMBS investment is $2.348B in Agency 15-year fixed rate RMBS. Investors should be aware that 15-year Agency fixed rate RMBS lose value much less quickly than longer dated fixed rate Agency RMBS as interest rate rise. They present less extension risk. Plus the repos and the hedges to finance them and to insure them are cheaper than for longer dated fixed rate Agency RMBS. Another important item above is that the portfolio duration is 0.65 as of June 30, 2014. This means that the portfolio is relatively safe from interest rate rises, as long as rates don't rise too quickly. In the current relatively weak US and world economy, that last scenario seems unlikely.
The charts below show the relative stock price performance over the last five years of MFA and two primarily fixed rate Agency mortgage REITs: ARMOUR Residential REIT Inc. (NYSE:ARR) and CYS Investments Inc. (NYSE:CYS).
The five year chart of MFA is below.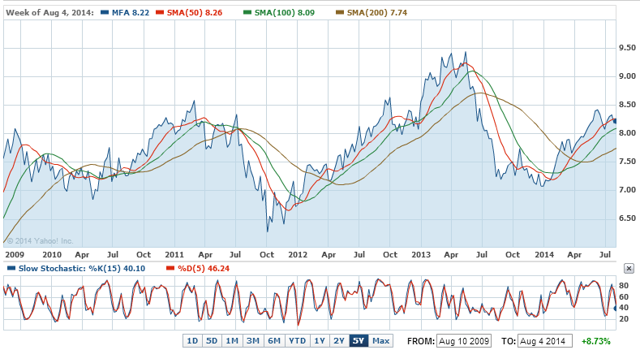 The five year chart of ARR is below.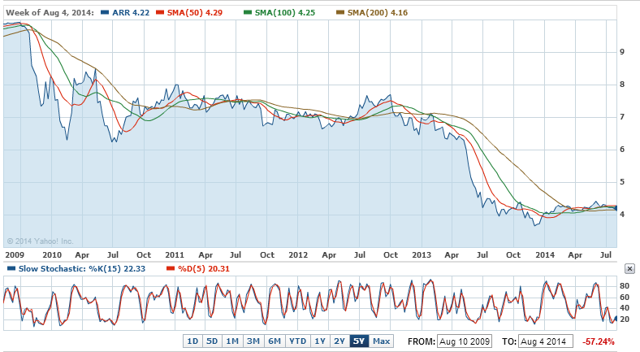 The five year chart of CYS is below.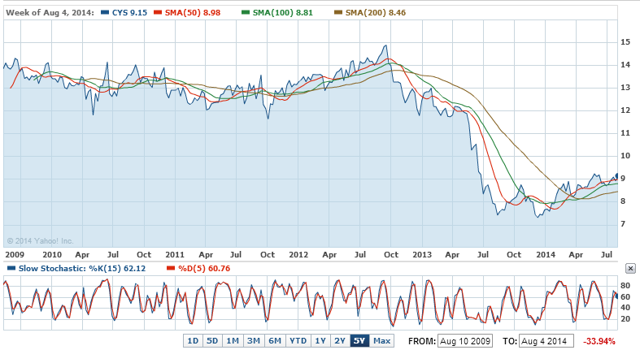 As investors can see, the chart of MFA fluctuates up and down; but the price of the stock is slightly above where it was five years ago. In ARR's case, the stock price is less than half of what it was five years ago. In CYS' case, the stock price is roughly two-thirds of what it was five years ago. These latter two probably paid higher dividends along the way. However, if you wanted to be more sure of being able to get your principal (or close to it) back when you sold the stock, you might feel a lot safer in MFA; and it still pays a great 9.7% annual dividend.
From the slow stochastic sub chart for MFA above, MFA is neither oversold nor overbought. It can be bought. One might also consider that the special dividends by MFA in 2013 probably subtracted from the stock price. One might think that one could effectively add those back in. They consisted of $0.50 and $0.28 per common share special dividends (in addition to the regular dividends). If the stock price was $0.78 higher (almost 10% higher), would you like MFA better?
How did MFA do in Q2 2014? MFA had net income of $75 million (or $0.20 per common share) in Q2 2014. It declared a dividend of $0.20 per common share. It increased its book value from $8.20 as of March 31, 2014 to $8.37 per common share as of June 30, 2014. Between the dividend and the book value gain of $0.17 per common share, MFA produced a total economic return of about +4.5% for Q2 2014 alone (about 18% annualized). This should help the stock price rise higher.
Of course some insist that MFA's non-Agency portfolio is too risky. The numbers over the last 2+ years belie that assertion. MFA estimates that the LTV (loan to value ratio) has fallen from about 105% as of January 2012 to about 80% as of June 30, 2014. The percentage of underwater loans has fallen from 52% to 13% over the same time period. As a result, for Q2 2014 MFA transferred $24.5 million from credit reserves to accretable discount. This brings the monies in Accretable Discount up to $435 million (or about 8% of the face value of MFA's non-Agency portfolio). These monies will add to the net interest income for the remaining life of MFA's non-Agency MBS. This should help ensure MFA's future earnings and dividends. It should make investors feel more secure. The table below shows the various earnings of MFA's assets in Q2 2014.

The net interest rate spreads seen above are probably the most interesting of the statistics. The overall portfolio leverage was 2.93x, which seems safe.
The Case Shiller 20-city index of US Home Prices rose 9.3% in May 2014 from a year earlier. This was less than the 10.8% rise in April; but it was still a healthy rise. Prices are expected to flatten out after sales slowed last summer following a sustained run up in prices. However, prices are still climbing; and "flattening out" is a long way from falling. The non-Agency RMBS market still seems like a safe bet, especially if you bought many of your MBS years ago at a large discount to face value.
On the Agency side, the continuing decreases in 10 year US Treasury Note yields keeps adding to book values, although it does constrict the net interest spread for these. The yield has fallen from 3.03% on December 31, 2014 to 2.72% on March 31, 2014 to $2.53% on June 30, 2014 to 2.42% on August 9, 2014. Rates seem to be trending lower even in the face of the likely ending of QE3 in October 2014 and the likely start of Fed Funds rate raises within about 6 months after that.
In the face of the above, the interest rate decreases probably indicate worsening global economic times, especially in the EU where Italy recently fell back into recession. Let's not forget the Argentine default or the growing number of economic sanctions between Russia and the US and EU, which are sure to dampen economic growth. This likely means that Agency RMBS may be a good place to be for the near future. Plus MFA's non-Agency MBS are sufficiently strong at this point, that they should be able to weather some bad economic times. That means that MFA may be a good place to put some of your money. It should be able to weather either decreasing or increasing interest rates. It is a buy.
The five-year chart of MFA has already been shown above. The slow stochastic sub chart shows that MFA is neither oversold nor overbought. The main chart shows that MFA is in a short-term uptrend. MFA can be bought. The average analyst agrees with my assessment with a mean recommendation of the stock of 2.2 (a buy). Insiders have increased their holdings by +0.3% over the last six months. This is a minorly positive indicator; but it is still a positive indicator instead of a negative one.
For those readers who are strongly interested in the mortgage REIT sector, here are some links to other articles that provide recent reviews of important mortgage REITs:
"Western Asset Mortgage Capital Turned In A Huge Total Economic Return For Q2. Any Problems?"
" A Great Book Value Gain In Q2 2014 By Annaly Capital May Put It In Line For Stock Gains."
"14%+ Dividend Payer ARMOUR Residential REIT May Be A Bargain"
"10%+ Dividend Payer Capstead Mortgage Corp. Is Just Loping Along to Profits."
"American Capital Agency Had A Tremendous Q2 2014, But Was It A Flash In the Pan?"
"CYS Investments' Large Book Value Gain In Q2 Bodes Well For Annaly Capital Management."
I hope the above are helpful. Click on the colored areas to go to the selected article.
NOTE: Some of the above fundamental fiscal data is from Yahoo Finance.
Good Luck Trading.
Disclosure: The author has no positions in any stocks mentioned, but may initiate a long position in MFA over the next 72 hours. The author wrote this article themselves, and it expresses their own opinions. The author is not receiving compensation for it (other than from Seeking Alpha). The author has no business relationship with any company whose stock is mentioned in this article.