Many well-known TV channels have succeeded in adapting to new media while maintaining quality of their content, including Viacom's (NYSE:VIA) Nickelodeon & MTV, Time Warner's (NYSE:TWX) HBO & TNT and Disney's (NYSE:DIS) ESPN. These channels are also some of the largest contributors to their respective parent company's value due to high market penetration combined with subscription fees and advertisement revenues.
The television industry has undergone a fundamental change as the emergence of alternative video platforms has changed consumer viewing habits. TV shows are no longer confined to traditional pay-TV services and broadcasters are increasingly seeking dual revenue streams of advertisement and subscription to support their profits. This strategy has become essential in order to diversify the risk arising from economic uncertainty and changing consumer behavior.
Below we explore which TV channels are the most valuable on a standalone basis and provide some ad and fees data to help provide context.
Comparing Dependence on Advertising
Advertising dependence measures the proportion of channel revenues that come from selling advertisement slots. MTV and Nickelodeon have the highest dependence on advertisements followed by TNT and ESPN. HBO measures 0% on this statistic as the premium channel generates revenue from higher subscription fees.
CBS (NYSE:CBS) and Viacom noted improvement in the advertisement market during their recent earnings releases with ad pricing showing growth. This trend should particularly benefit the channels with the greatest ad dependence as shown in the table above.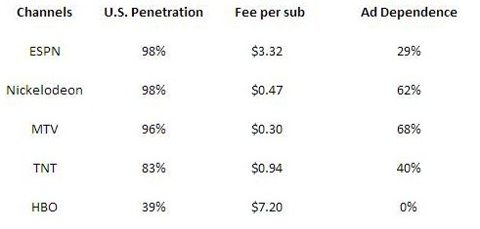 (Click to enlarge)
Which Channel is Most Valuable?
A. HBO
B. TNT
C. ESPN
D. Nickelodeon
E. MTV
Make a selection above to see the relative value of each channel, calculated as a function of each parent company's market cap and our estimate for the contribution of each channel to their parent company's stock value.
Disclosure: No position