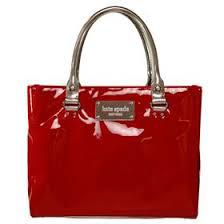 Kate Spade bag. Source: designerwholesalesources.com
Kate Spade & Company (NYSE:KATE) is set to announce quarterly earnings Tuesday morning. The company offers luxury apparel under the brand name of Kate Spade. Its Adelington Design Group segment supplies jewelry for the Liz Claiborne and Monet brands. Given that Kate Spade has not expanded too rapidly like Coach, Inc. (NYSE:COH) or engaged in discounting to move product like Michael Kors Holdings Ltd (NYSE:KORS), I had assumed the company was prepared to win the earnings war with competitors. However, after looking at its disappointing financial results, I have changed my mind. Below are Kate Spade's historical financial results: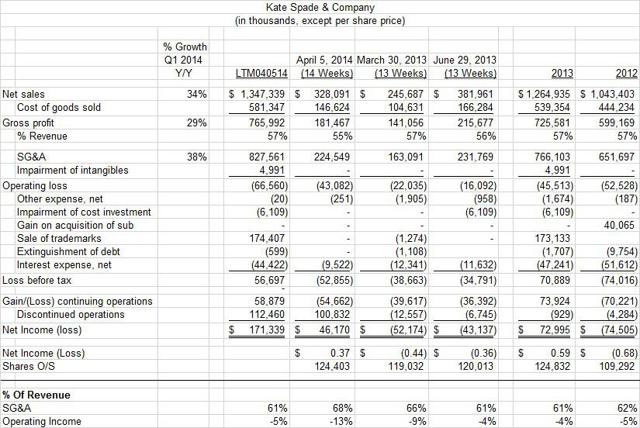 Revenue
For the 14 weeks ended April 5, 2014, revenue of $328 million was a 34% increase above results for the 13 weeks ended March 30, 3013. On a quarterly and full-year basis, Kate Spade has exhibited consistent revenue growth.
The average analyst revenue estimates for the current quarter is $237.83 million, nearly 40% below the results for the 13 weeks ended June 29, 2013. The company sold its Lucky brand and Juicy Couture business in Europe in February 2014 and April 2014, respectively. Such discontinued operations may reduce revenue, but will hopefully reduce operating losses as well.
Earnings
In addition to consistent top line growth, Kate Spade also has generated consistent operating losses, which I find concerning.
The company's gross margin has been in the 55% to 57% range. Coach (about $1.1 billion in quarterly revenue) and Michael Kors' ($900 million in quarterly revenue) gross margins have historically been in the range of 70% and 62%, respectively.
Kate Spade also cannot cover its SG&A expense, which was 68% of revenue in the quarter ended April 5, 2014. SG&A expense for Coach and Kors has been about 48% and 30% of revenue, respectively.
For the quarter ended April 5, 2014, the company had net income of $46.2 million ($0.37 per share). Excluding a gain on sale of operations of $101 million ($0.81 per share), the company would have recorded a net loss.
Analysts are expecting the company to breakeven in the current quarter.
Valuation
Kate Spade has an equity market capitalization of $4.9 billion. With debt of $390 million, the company's enterprise value is $5.3 billion. That said, Kate Spade trades at 4x revenue of $1.3 billion through the last 12 months ended April 5, 2014. Given that the company has generated consistent operating losses, I think the valuation has gotten ahead of operating performance.
Conclusion
Kate Spade is a well-known brand whose cache and elusiveness has led to strong topline growth. However, the company's consistent operating losses are cause for concern. I recommend that investors avoid the stock until operating performance catches up with its frothy valuation.
Disclosure: The author has no positions in any stocks mentioned, and no plans to initiate any positions within the next 72 hours. The author wrote this article themselves, and it expresses their own opinions. The author is not receiving compensation for it (other than from Seeking Alpha). The author has no business relationship with any company whose stock is mentioned in this article.