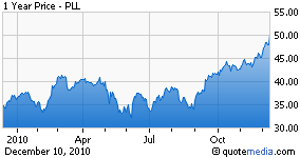 Pall Corporation (NYSE:PLL) recorded a strong first quarter fiscal 2011 results, reporting earnings per share from continuing operations of 62 cents, above the Zacks Consensus Estimate of 50 cents. On a year-over-year basis, earnings per share were up 55%. The company witnessed strong growth in most of its markets.
Revenue
Total revenue in the quarter increased by 10.7% year over year to $605.5 million, including negative impact from foreign currency translation of 1.4%. The revenue reported by the company was above the Zacks Consensus Estimate of $583 million.
Segment wise, the company's revenue in Life Sciences segment increased by 10.4% in local currency to $311.6 million and in Industrial segment was up 14.1% in local currency to $293.9 million.
Within Life Sciences, Biopharmaceuticals sales were up 14.6%, benefiting primarily from growth in the biotech and plasma industries. Medical sales were up 4.9%, driven primarily by increased OEM sales in Europe. Sales of Food & Beverage were up 8.9%, led by improving market conditions and increasing demand in the emerging regions.
Within Industrial segment, Aeropower revenue increased by 24.4%, led by increased machinery and equipment demand with a growth in production level worldwide. The company saw increased sales in both commercial and military Aerospace. Energy & Water revenue declined by 3.1% due to a fall in fuels & chemicals and systems sales, partially offset by increased sales of consumables, power generation and municipal water. Microelectronics revenue in the quarter increased by 29.4%, led by increased utilization rates by chip producers and growth in demand for electronics.
Margin
Gross margin in the quarter was 51.0% compared with 49.4% in the first quarter of fiscal 2010.
Life Sciences operating margin increased by 110 bps year over year, driven by increased sales and supported by an improvement in pricing and cost savings initiatives. Industrial segment operating margin was 15.4%, up 610 bps year over year.
Balance Sheet and Cash Flow
Cash and cash equivalents was $479.4 million with long-term debt of $729.7 million and shareowner's equity of $1,284.9 million.
Netcash flow from operations was $58.7 million and capital expenditures were $25.4 million during the quarter.
Outlook
For fiscal 2011, the company expects pro forma EPS to be in the range of $2.48 to $2.63.
The company enjoys above-average financial returns and reasonable growth prospects as it leverages its highly engineered technology, reliable global distribution, high share in market niches, long and close working histories with customers, few competitors and solid product quality supplemented by technical service.
Pall's Aeropower business derives significant benefit from the emerging markets, particularly in Asia. Key drivers include increasing passenger air miles flown, a ramp-up in US military budgets, new military and commercial aircraft, and demand for new aircraft and mobile construction equipment. In the long run, Pall will likely benefit from several secular trends, such as global infrastructure growth, increasing demand for water filtration systems and continued steady growth in the medical and pharmaceutical markets.
However, changes in product mix and product pricing may impact the company's operating results, particularly with the expansion of the systems business, in which the company experiences significantly longer sales cycles with less predictable revenue and no certainty of future revenue streams from related consumable product offerings and services.
Pall Corporation, based in New York, was incorporated in July 1946. Along with its subsidiaries, Pall Corporation is a leading supplier of filtration, separation and purification technologies, and uses its engineering capability and fluid management expertise.
We currently maintain our Neutral rating on Pall Corporation for the long term, with a Zacks #2 Rank (short-term Buy recommendation) over the next one-to-three months.
Disclosure: No position