One of the commenters on my first article requested that I do a deep dive into Nuveen Real Estate Income (NYSE:JRS). As with other CEFs, JRS is trading 6.4% below its July 2014 highs. Is it deserving of investors committing new capital at these levels? Aggressive investors can focus on reversion of NAV discount to the mean. Conservative, income-seeking investors, however, may want to look elsewhere.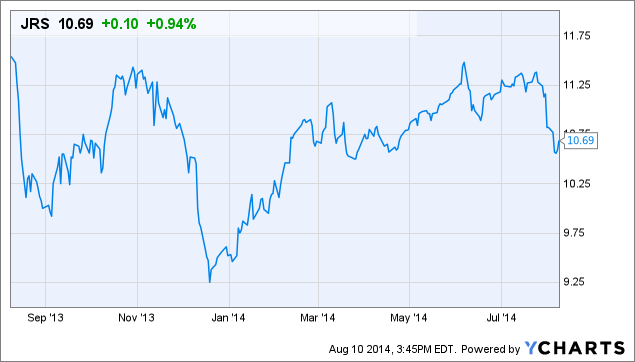 JRS data by YCharts
Nuveen Real Estate Income's stated strategy is to invest "primarily income-producing common stocks, preferred stocks, convertible preferred stocks and debt securities issued by real estate companies (REITs)". The Fund's leverage ratio is 29%. It pays a 8.4% quarterly dividend and the next ex-date is mid-September.
JRS is trading at a 5.3% discount to NAV, just off a 5-year low. The weighted average premium/discount over the last 5 years is a premium of 4.0%. A reversion to the mean implies price appreciation of 9.9%.
| | | | | | |
| --- | --- | --- | --- | --- | --- |
| | 6mo | 1yr | 3yr | 5yr | Wgtd Avg |
| P/D | -0.8% | +2.0% | +4.8% | +4.4% | +4.0% |
Source: CEFConnect.com
JRS also has a history of strong, fairly steady NAV growth. The management team of Kenneth Statz; Anthony Manno, Jr. and Kevin Bedell have been in place for over 8 years so I do not expect any changes in portfolio management style. The weighted average NAV return over 5 years is 20.8%.
| | | | | | |
| --- | --- | --- | --- | --- | --- |
| Qtr | YTD | 1yr | 3yr | 5yr | Wgtd Avg |
| +2.2% | +23.1% | +17.1% | +21.4% | +20.2% | +20.8% |
Source: Morningstar.com
Why is the stock down 6.4% from its July highs? NAV is down only 0.4%, in line with the 0.5% fall of the Vanguard REIT ETF (NYSEARCA:VNQ). NAV deterioration is not the answer. Let's look elsewhere.
Is the dividend safe? In December 2013, the Fund cut the quarterly dividend by 6.3% to 22.5c from 24c. Could the market be anticipating another cut? The latest SEC filing is the Fund's Annual Report, dated December 31, 2013 and the Semi-Annual Report is anticipated for early September. The Fund has been paying a majority of its dividend from Capital, not Income. This year's dividend has been 35% paid from Income, 46% Capital Gains and 18% Return of Capital. Last year, the dividend was 20% funded by Income and 80% from Return of Capital. Remember, that as a Fund dips into Capital, it reduces its ability to generate returns. This is a warning sign and when the Semi-Annual Report is released in September, investors will have more clarity. (Source: Annual Report)
In conclusion, investors may want to look at JRS for its history of consistent NAV growth and its historically low discount to NAV. Income investors seeking a more secure dividend may want to look elsewhere in the Real Estate CEF space. An alternative would be Cohen & Steers REIT (RNP), which pays a 7.4% dividend that is 66% covered by Income, although in the last 4 years has been 100% covered.
Disclosure: The author is long JRS. The author wrote this article themselves, and it expresses their own opinions. The author is not receiving compensation for it (other than from Seeking Alpha). The author has no business relationship with any company whose stock is mentioned in this article.