One of the greatest growth stories in the market recently has been that of Tesla Motors (NASDAQ:TSLA). As revenues have skyrocketed in recent years, so has the company's share price. In fact, shares nearly touched their all-time high on Monday after another analyst upgrade. When it comes to Tesla, I've been rather bullish on the name, but I have exercised caution at times where the stock seemed to get ahead of itself.
Today, I want to examine one major issue that concerns me, and that is profitability. This is an area where Tesla needs some improvement, as we've seen dramatic hits to yearly expectations. Even when it comes to non-GAAP numbers, the company needs to do better over the long term. Let's examine why.
Q2 did beat, but...
When Tesla reported Q2 earnings, the headline numbers did beat analysts' estimates, and by a wide margin. Non-GAAP revenues of more than $857 million came in well ahead of analysts' estimates for around $810 million. Beating revenue estimates handily is something that Tesla has done quite well in recent quarters. Additionally, the company reported non-GAAP EPS of $0.11, which smashed estimates for a profit of just $0.04.
Just looking at the headline numbers, this seemed to be a massive beat. However, I would have been much more impressed if Tesla hadn't basically guided down a bit with its Q2 guidance, given at the Q1 report. This is especially true in terms of profitability, where the company stated it only expected to be marginally profitable on a non-GAAP basis in Q2. In the table below, I've detailed where analysts' estimates stood for Q2 at both the Q1 and Q2 reports, and what the company actually reported. Remember, all analysts' numbers and actual that I'm using are non-GAAP for both revenues and EPS.

The revenue beat was still sizable, although it loses a bit of its shine with estimates down by more than $8 million between reports. The bigger issue is in terms of non-GAAP EPS. Sure, a beat of 7 cents is quite impressive when the street was looking for just 4 pennies of earnings. However, you must consider that estimates going into the Q1 report called for more than a quarter of EPS. In fact, just about two weeks prior to the earnings report, analysts were still looking for $0.06 of EPS. Tesla's guidance caused EPS estimates to fall by more than 85% between the Q1 and Q2 reports. Thus, the $0.11 number was not that impressive in my opinion, which is why the profitability issue is so important.
2014 and 2015 estimate changes:
The reason I'm discussing this profitability issue today is that this is more than just a one quarter item. Q2 was just part of the issue, but we really need to look at this over a longer period. In the table below, I've detailed analysts' estimates for 2014 going back to the Q3 2013 report - where they stood at each earnings report and where they are currently.

As you can see, revenue estimates continue to go higher and higher. That might not be a surprise, given how Tesla continues to beat handily on the top line. However, EPS estimates have gone lower. The current estimate of $1.08 is the lowest number I've seen during 2014. The fact that Tesla detailed a production shutdown in Q3 at the Fremont factory that will impact deliveries has not helped. Analysts have cut revenue and EPS estimates for Q3 since the Q2 report came out. Additionally, Tesla stated that it only expects to be marginally profitable again on a non-GAAP basis for Q3. Since the Q2 report, analysts' estimates for Q3 EPS have dropped from $0.30 to $0.07. It would not surprise me if Tesla shows another beat in a couple of months, but again, that would be after another large takedown.
Since I started tracking 2014 estimates, analysts have raised their average revenue number by nearly 25%. However, the average EPS number is down by 37%. Looking forward into 2015, the numbers show a similar story. In the table below, I've detailed next year's estimates since the day after the Q4 2013 report.

Since the Q1 2014 report, of which the reaction was not pretty, revenue estimates are up by half a billion dollars. However, EPS estimates have come down by 60 cents. Even since the Q2 2014 report, revenue estimates are up 7.46%, while EPS estimates are up just 5.21%.
What's driving the profitability concern?
I can mention a lack of profitability and say that it is a concern, but I also need to discuss what's behind all of this. In the table below, I've compiled selected financial data from the first six months of last year and this year.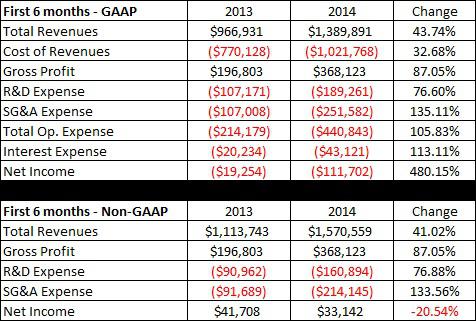 The one bright spot is that gross profit has improved nicely, and Tesla is working on improving its gross margin figures. However, operating expenses are just too much at this point. It's very tough to boost your profitability when operating expenses rise at a rate that's double (or more) the rate of your revenue rise. Additionally, when your interest expense doubles, your GAAP net loss can quickly expand, or your non-GAAP net income declines. Tesla guided to another 20% sequential rise in R&D expenses for Q3 and 15% for SG&A, which are both likely to be faster than the rise in revenues.
The rise in the share count:
One other major issue when it comes to earnings per share is the rise in Tesla's outstanding share count. In the chart below, you can see the increase in this number going back to Q3 of 2010. These numbers were taken from Tesla's quarterly and annual filings, which you can access here.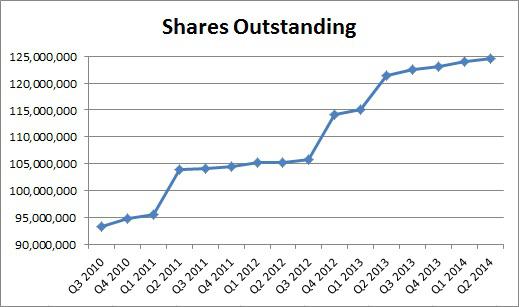 Tesla's outstanding share count rose by nearly 550k shares in Q2, and is up about 1.5 million shares so far in 2014. This is not uncommon for a growth company, especially as executives are paid through stock options. However, going back to Q3 of 2010, the share count is up by more than 31 million shares, nearly 34%. It's really hard to grow earnings per share when your share count is rising.
In terms of non-GAAP numbers, Tesla's diluted share count used for EPS was 140.948 million in Q2 2014, compared to 130.503 million for the prior-year period. Non-GAAP net income was just over $16.1 million, after more than $26.2 million in the year-ago period. Those two items are why non-GAAP EPS fell to $0.11 in this year's period from $0.20 in last year's Q2.
Additionally, while the share count has risen, interest in Tesla has fallen recently. A couple of months ago, I detailed how trading volumes for Tesla were dropping over their prior-year periods. That trend has continued. In the table below, I've compared average daily volume during each month this year against last year.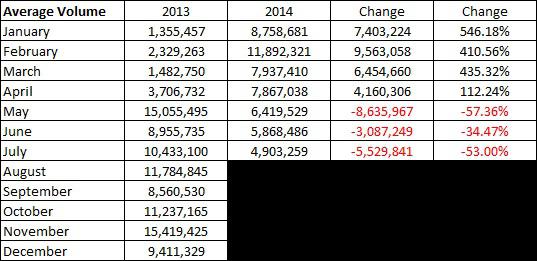 It doesn't surprise me that volume has declined during the summer, although it is interesting to note that July did not have a single volume day over 10 million shares traded. We've now seen five sequential monthly declines in volume, and the last three months have seen huge drops over prior-year periods.
Final thoughts:
While Tesla beat analyst estimates for Q2, those estimates did come down a bit thanks to Tesla's light guidance. Especially when it comes to the bottom line, the company does need to show some improvement going forward. Revenue estimates continue to soar, but EPS estimates are going lower and lower. This is primarily due to fast rising operating expenses combined with a rising share count. Tesla hopes that its gigafactory will reduce battery costs in the long run, but the company needs to also get other costs in check. In the end, Tesla shares still have long-term potential if the story plays out as expected. However, a stock trading at more than 5.5 times 2015 expected sales and 80 times expected 2015 EPS (both non-GAAP numbers) won't stay elevated forever if the company doesn't improve its profitability.
Disclosure: The author has no positions in any stocks mentioned, and no plans to initiate any positions within the next 72 hours. The author wrote this article themselves, and it expresses their own opinions. The author is not receiving compensation for it (other than from Seeking Alpha). The author has no business relationship with any company whose stock is mentioned in this article.
Additional disclosure: Investors are always reminded that before making any investment, you should do your own proper due diligence on any name directly or indirectly mentioned in this article. Investors should also consider seeking advice from a broker or financial adviser before making any investment decisions. Any material in this article should be considered general information, and not relied on as a formal investment recommendation.